In the shadow of fatal shooting at MSU, advocates push for change
With the Michigan Capitol as backdrop, standing less than 10 miles from the site of a deadly mass shooting at Michigan State University one week ago, advocates pressed state lawmakers to enact legislation to end the epidemic of gun violence that strikes fear in schools and communities.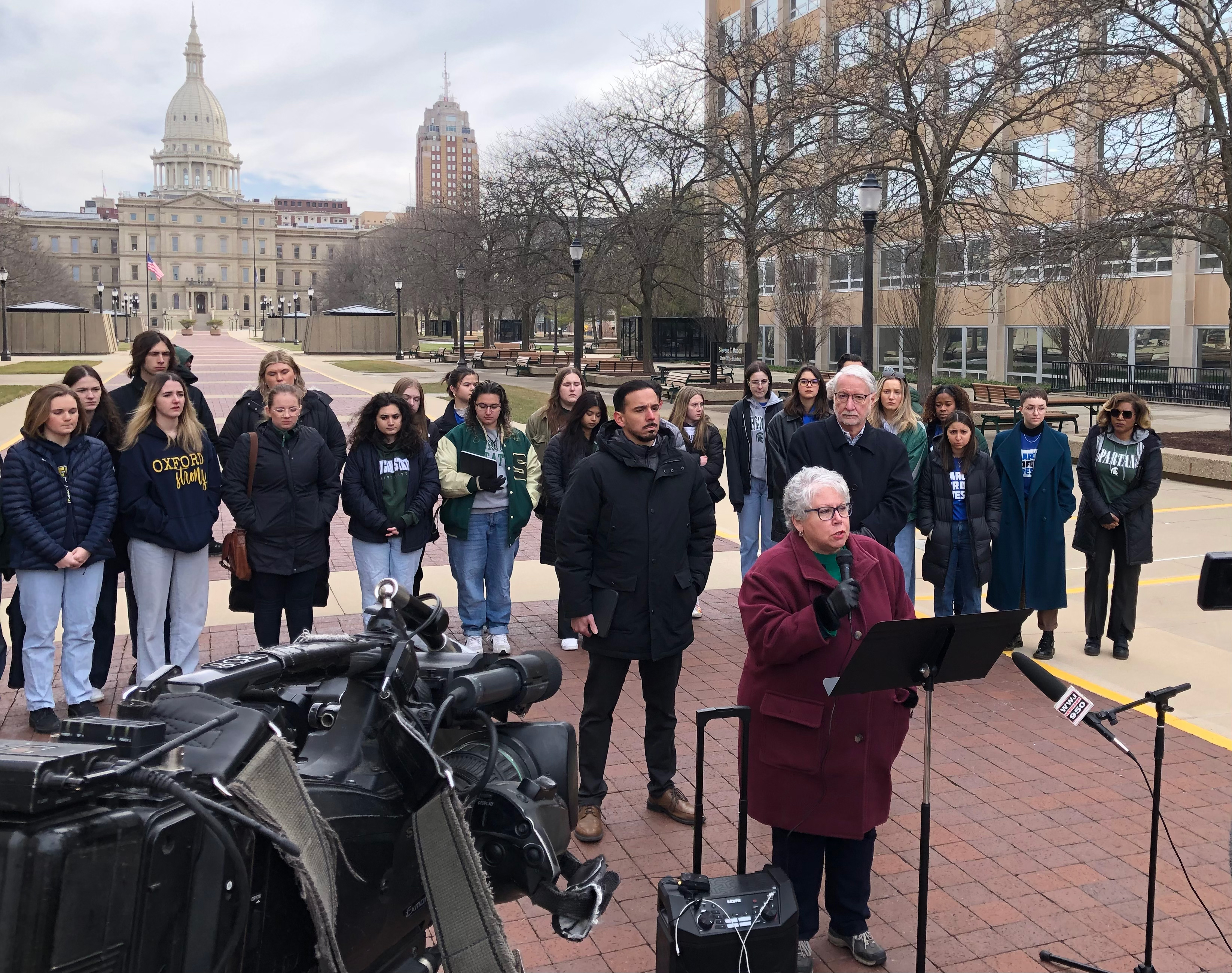 MEA President Paula Herbart noted that sadly, it's too late for Arielle Anderson, Alexandria Verner and Brian Fraser, the three students killed last week by a gunman with a troubled past who first entered a classroom on campus and fired indiscriminately before heading to the MSU Union to continue the shooting spree.
"Exactly one week ago, Arielle, Brian and Alexandria had likes and dislikes, favorite foods and TV shows; they had hopes and dreams – their whole lives ahead of them," Herbart said, urging immediate legislative action. "Now they're gone."
Sen. Rosemary Bayer (D-Beverly Hills) also spoke in favor of swift movement of a package of bills she and others introduced in the Senate on Thursday, just a few days after the tragedy at MSU.
Bayer, who represented Oxford where a teenage gunman killed four students and injured seven during a rampage at the high school on Nov. 30, 2021, said she has been working on getting the measures passed for four years.
"The majority of people in Michigan want us to do this," said Bayer, chair of the Firearm Safety and Violence Prevention Caucus for the past two years. "They've been telling us for years to do this."
The package of bills includes changes to require universal background checks for all firearm purchases in the state, mandate safe storage of all firearms and consequences for failure to do so, and prohibit the purchase of firearms by individuals deemed a risk to harm themselves or others.
All three proposals are simple, straightforward and popular but could not get a vote in previous legislative sessions under Republican leadership, Bayer noted. In January, Democrats took control of both chambers of the Legislature following last November's election results.
"Today, I am relieved to finally be able to say that we are taking action," she added. "We are finally changing the story and introducing gun safety legislation in a new environment where we are going to have hearings, we are going to have votes, and we're darn well going to pass those bills."
The Senate Civil Rights, Judiciary, and Public Safety Committee will begin hearings on the bills on March 2.
Other speakers included several MSU student members and leaders of March for Our Lives along with survivors from the Oxford school shooting, such as Dylan Morris and Madeline Johnson – now high school seniors who together formed a nonprofit, No Future Without Today, to advocate for mental health resources and laws to prevent gun violence.
Johnson began by saying her biggest fear used to be public speaking, but now she has faced bigger terrors head-on because adults have failed her generation of school children who have had to grow up in the shadow of active shooter drills and political inaction.
"I'm here today because I'm angry," Johnson said. "I'm angry that all of us had to learn first-hand that there are much scarier things in this world than giving speeches. I am angry that four children died at my high school – including my best friend – and that their lives were not worth enough for you to enact change."
Morris spoke forcefully in favor of the bills introduced by Bayer, saying the No Future team has been urging action ever since their community was forever changed by gun violence.
"These protections are practical, they're well understood, there is a consensus for them, and they will save lives," Morris said.
"The impressive turnout in Michigan this past election was at least in part due to the students at MSU who got out the vote in record numbers to put Democrats in power," Morris continued.  "Now is the time for Democrats and the Legislature to deliver on the gun-sense legislation they campaigned on."
Pamela Pugh, president of the State Board of Education and one of the press conference organizers, asked all who care about ending gun violence to reach out to friends across the political aisle to bring everyone together behind policymakers who are poised to act.
"Now is the time that Michigan must unite," Pugh said. "Enough is enough."