'It's Magical': New Teacher of the Year Sparks Learning Love
MEA member Leah Porter knows the power she holds as an early childhood educator to spark a love of learning in students that will stay with them forever. She remembers one who lit hers.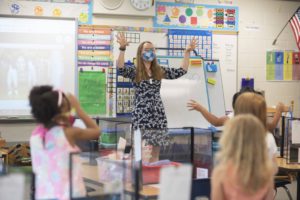 She still gets choked up thinking of her second grade teacher at North Elementary School in Lansing, Mrs. Henderson, who simply made her feel seen—a lesson Porter took to heart and carried into her own classroom in Holt 15 years ago.
"My uncle was in the Persian Gulf War, and he was stationed in Baghdad, and the night the war started Mrs. Henderson called my mom to check on her. I'll never forget that moment when I realized—oh my goodness, a teacher sees and knows and cares about the personal lives of her students."
It's the special ingredient for a kindergarten teacher named the 2021-22 Michigan Teacher of the Year in May.
Along with the award, more change is on the way for Porter, who will transition to third grade this fall—a change she has considered for some time, she said. For her MTOY year, Porter will co-teach with a colleague and focus her attention on struggling readers.
"Winning an award at this scale is such an honor, but it's humbling after all of the collaboration and work of this past year. As teachers we went back to the drawing board and together we rebuilt what education looks like in ways I couldn't have imagined when schools closed down last March."
Under the strain of the pandemic, working closely with colleagues was essential, "to be able to make as robust and powerful and as rich of an experience that we could possibly provide. I just hope I can represent all of the incredible teachers I've known and be a voice for us as teachers and our students."
As is customary, former state teachers of the year have reached out to offer congratulations and advice for finding balance with all of the demands that come with the role.
Embrace the journey, they said. Take advantage of opportunities. Welcome the learning and growth you will experience as you see new things and meet new people. We're here to help. "The education community is just so wonderful," she said.
Community is valued by Porter, who understands the importance of building connection with and among students. She begins every day outside of her classroom, greeting every student by name with a personal salutation chosen by the child—like a wave, fist bump, or high five.
She builds time into her class schedule for a morning meeting, where a general check-in with each student is followed by them greeting each other, "so every child is seen and talked to by their peers," and a short team-building activity, such as a question, survey or team game.
Porter also values movement to help children learn to emotionally regulate and get ready for the day, "so we do lots of singing, lots of dancing. We'll do breathing exercises and stretches or things to get our minds ready to learn."
Porter thrills at helping children discover a love for books, and tries to balance increasingly rigorous state standards with the need for children to "get their hands into objects, to be able to play and explore."
A typical day has included whole-class read-alouds and small group reading during center time when students rotate through stations that also include hands-on activities, story retelling, and social play built around a theme, such as farmer's market, post office, and bakery. "We're engaging so much of those academic standards in math, literacy, writing, and oral language by embedding them in play."
During the school year, her love of science translates into outdoor experiences focused on the five senses as students become nature "spies" and explorers, writing and drawing observations.
In summer many of her passions merge in outreach programs she has worked on for several years, and those interests will be her focus as Michigan Teacher of the Year: literacy, science, equity.
For the past year, Porter has served on her district's equity and access team, and she runs a committee developing K-6 lessons on character and leadership built around social justice standards and embedded with diverse texts centering empathy, perseverance, celebrating differences, and advocacy.
"I see a lot of my work this year stemming from these questions. How do we provide equitable experiences for our students, and how are we helping students build lifelong skills and traits that will give them tools to be active, outspoken citizens who stand up for what they believe in and work to improve systems around us?"
Before the pandemic, Porter and other volunteers from Wilcox Elementary School brought summer enrichment to neighborhoods, particularly in under-served areas.
The program offered science experiments, STEM activities, and community service experiences—paired with related reading—free to neighborhood kids. At the end of each week, children selected books to take home and keep, thanks to grant money the team secured.
Although COVID forced cancellation for the last two summers, Porter looks forward to resuming the program next summer. "It was such a fabulous time to connect with kids in ways we can't always do given the pressures of the school year."
She worries about the growing emphasis on standardized test scores since time spent on mandated assessments cuts down on developmentally appropriate social, oral language, and play experiences. Teachers know where kids are strong or struggling, and they meet students where they are because children don't all learn in the same way or at the same pace, she said.
"Being a child's first teacher is magical, helping them build the confidence to dive off the cliff and take risks in their learning as an author, a mathematician, a scientist, and reader. I want kids to know this is a place where they can be themselves, and I'll always be there to support them and help them grow."