Grandville Union Stands in Support of Diversity, Equity & Inclusion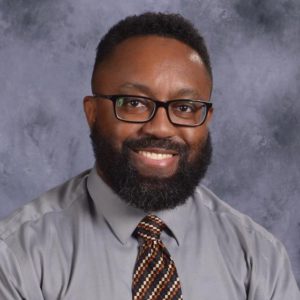 For MEA member Henry Stallings, systemic racism and bias is nothing new in the U.S. "As a Black man, I live this every day," he says. But one thing is changing, he believes: public awareness of issues surrounding marginalized communities in America.
With the May 25 one-year anniversary of the brutal police killing of George Floyd, which sparked worldwide protest and calls for change, the local union in Grandville—where Stallings works as a third-grade teacher—passed a resolution and presented it to the school board in support of the district's beginning work to broadly promote diversity, equity, and inclusion (DEI).
In addition to race, the Grandville Education Association's resolution in support of equal rights and opportunity considers individuals' color, creed, gender, LGBTQIA+, national origin, and physical, intellectual or emotional ability.
The resolution's first statement addresses "both the current and historically disparate treatment of and biases against the aforementioned persons, and a growing awareness of these injustices in our Grandville community, our State, and our Nation."
Stallings served on a committee of the GEA that drafted the resolution. He acknowledged fears and difficulties that educators face in discussing controversial topics in school, but teaching kids how to understand and discuss complex issues is partly the role of education, he said.
"We have all of these events converging at this one point in history. Can we just talk about it? The time is now. In order for things to even remotely change and be better for the next generations, we have to be able to talk about difficult things."
Grandville is a small suburb southwest of Grand Rapids where the 5,600-student school district is predominantly white, although the racial and ethnic demographics of the city are becoming more diverse as is happening elsewhere.
Last year the district's administration formed a DEI committee and is next hiring a DEI director to build awareness of and support for students who belong to underrepresented communities. That is the work supported by the GEA in the union's resolution.
Middle school math teacher Kristin Bakker co-chaired the GEA's resolution committee, her first time stepping up to a leadership role with her local union since she began working in Grandville three years ago. Bakker spent her first 12 years teaching in the more diverse Grand Rapids Public Schools.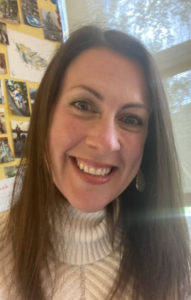 "I came in with a different-angle view on various students and populations I had worked with in Grand Rapids, which is where I developed a real heart for this work around diversity, equity, and inclusion," Bakker said. "It's a passion of mine."
The committee met virtually each week for several weeks to develop a draft resolution, which was put out to membership for line-by-line feedback and further revised based on the comments and suggestions submitted.
The resolution pledges support for the district's DEI work and calls upon the administration to "allot and require professional development opportunities related to race and other challenging topics such as confronting biases, racial micro-aggressions, using school-wide data on race and discipline, fears, cultural ignorance, inclusion, and stereotypes of the aforementioned youth to all district staff and associated employees."
The resolution also announced the establishment of a permanent GEA Diversity, Equity and Inclusion Committee and pledged the union's commitment to promote those values within the local association by "reviewing our bylaws and policies that may be contributing to lack of diverse representation within our Association."
The union's resolution plays an important role in giving voice to educators who want to show support for all of their students and staff colleagues by acknowledging social justice struggles playing out in society and on the news every day, Bakker said.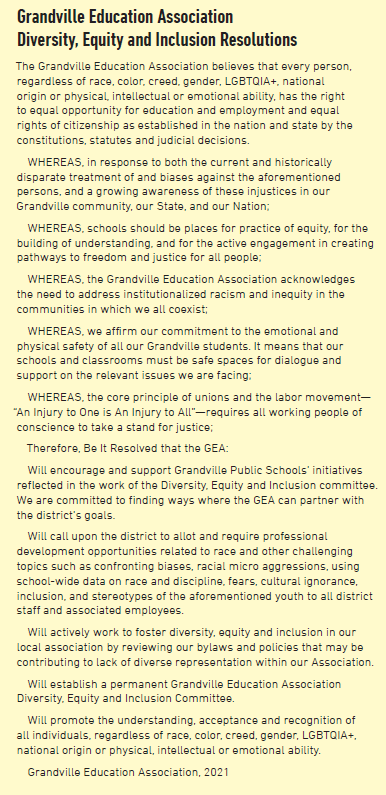 "Having a statement like this gives support to teachers by saying together we are standing behind this work and it's important for our students to feel heard and seen," Bakker said. "It says that it's OK to talk about tough issues within our union and to look for ways to make things better for our students."
The resolution overwhelmingly passed a vote of the membership, and GEA President Blake Mazurek presented it to the school board a few weeks later. He stressed the resolution's purpose—to highlight the importance of strengthening the community's bonds.
"A close reading of our statement shows acceptance, not exclusion; encouragement, not indictment; recognition, not repudiation," he told the board. "We are your partners in building a stronger, more equitable school district and community."
Mazurek teaches middle school history and knows firsthand that discussing controversial issues in school can be fraught with peril, he said. Educators must be careful not to appear to espouse political points of view with a captive audience of students.
"Many teachers—especially if they're newer or don't believe they'll be supported by administration—don't want to get anywhere near that line," Mazurek said. "Even if they feel a discussion about what is happening today could help students understand the curriculum, their caution about how they may be misconstrued holds them back."
However, with his knowledge of U.S. history, Mazurek also realizes all of us are living in a period when "we're rubbing up against some of our past history that keeps dogging us and that we need to find a way to let go of and move beyond"—and the union has a role to play in helping members stand up and speak out together.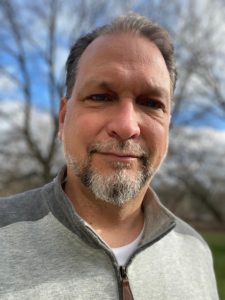 "These things that we struggle with as a nation, as a community, they're not easy topics," he continued. "It's hard to look in that collective mirror as a nation and see some of the things that we're carrying forward from the past that we need to address and find solutions for by continuing to listen and trying to understand."
Bakker agreed that talking and learning are important steps toward healing divisions in the country.
"We're all learning here, and no one is a master on the subject," she said. "This is not pointing a finger that I'm right and you're wrong. It's about saying, 'Hey, let's have the discussion and be willing to hear each other out.' That would be a massive step forward anywhere."
Being willing to talk and listen is a vital first step that is overdue, Stallings added. "If we can't be in a place where we aren't afraid to talk about difficult things, the wheel is just going to keep spinning and things will just keep going the way they have been going," he said.