Lansing Educators: It's Time to Rally for Public Education
By Brenda Ortega
MEA Voice Editor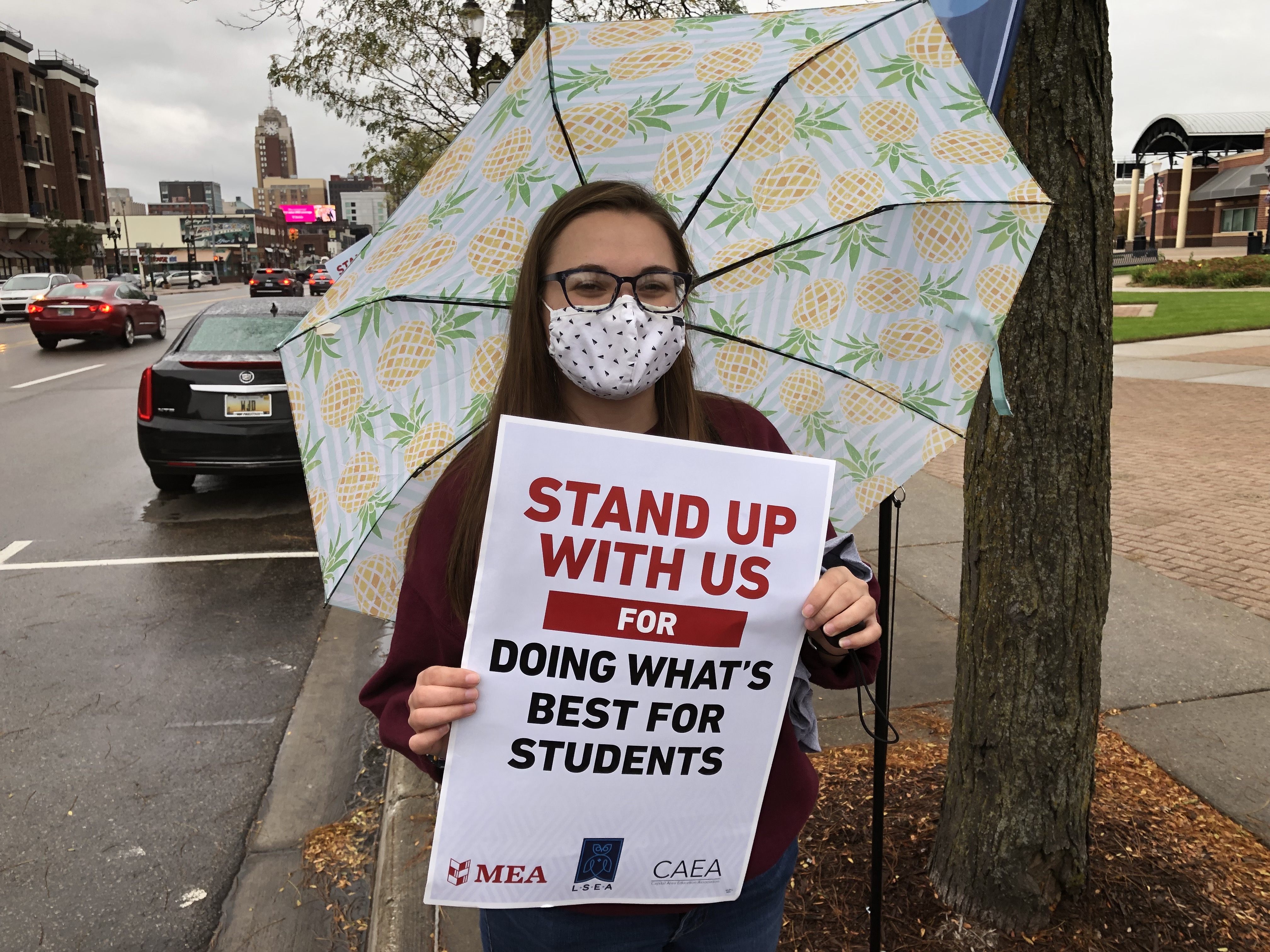 MEA member Mariah Gaither had a challenging entry into her teaching career in 2020, having to adapt her secondary science curriculum for remote learners through the full school year in Lansing.
Now Gaither is working in-person and getting an eye-opening lesson of her own: she's discovering how much educators spend out-of-pocket to do their work.
That realization is one factor that brought the second-year Sexton High School teacher to a rush-hour rally in downtown Lansing last week.
"Science is a lot of hands-on stuff, and last week I did an experiment with my students where I had to pay for all the materials by myself because there was no budget for it," she said. "We're not provided enough resources to deliver our curriculum and help our students learn.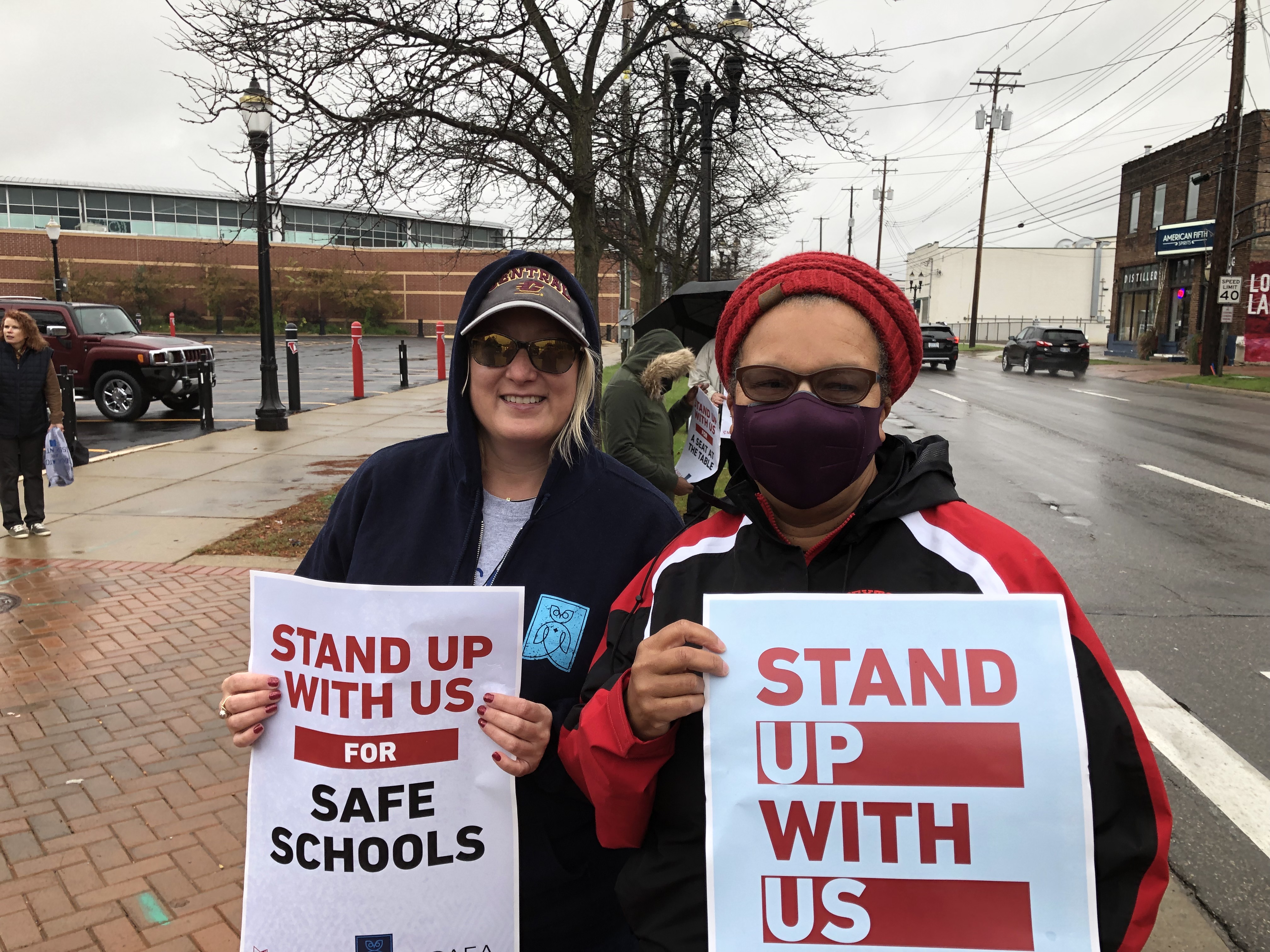 "We have microscopes that don't work, scales that don't work. We're using lab kits from the 1990s. I don't have books—I'm making the curriculum and providing everything, and it's very frustrating."
Gaither was among more than 100 Lansing educators who waved signs in a dreary, cold rain on Thursday to the sound of honking horns of support.
The educators are calling for more staff and resources to address students' multifaceted needs, plus higher pay, greater attention to safety, and fair evaluations for educators who have stepped up amid the pandemic despite growing educator shortages for nearly two years.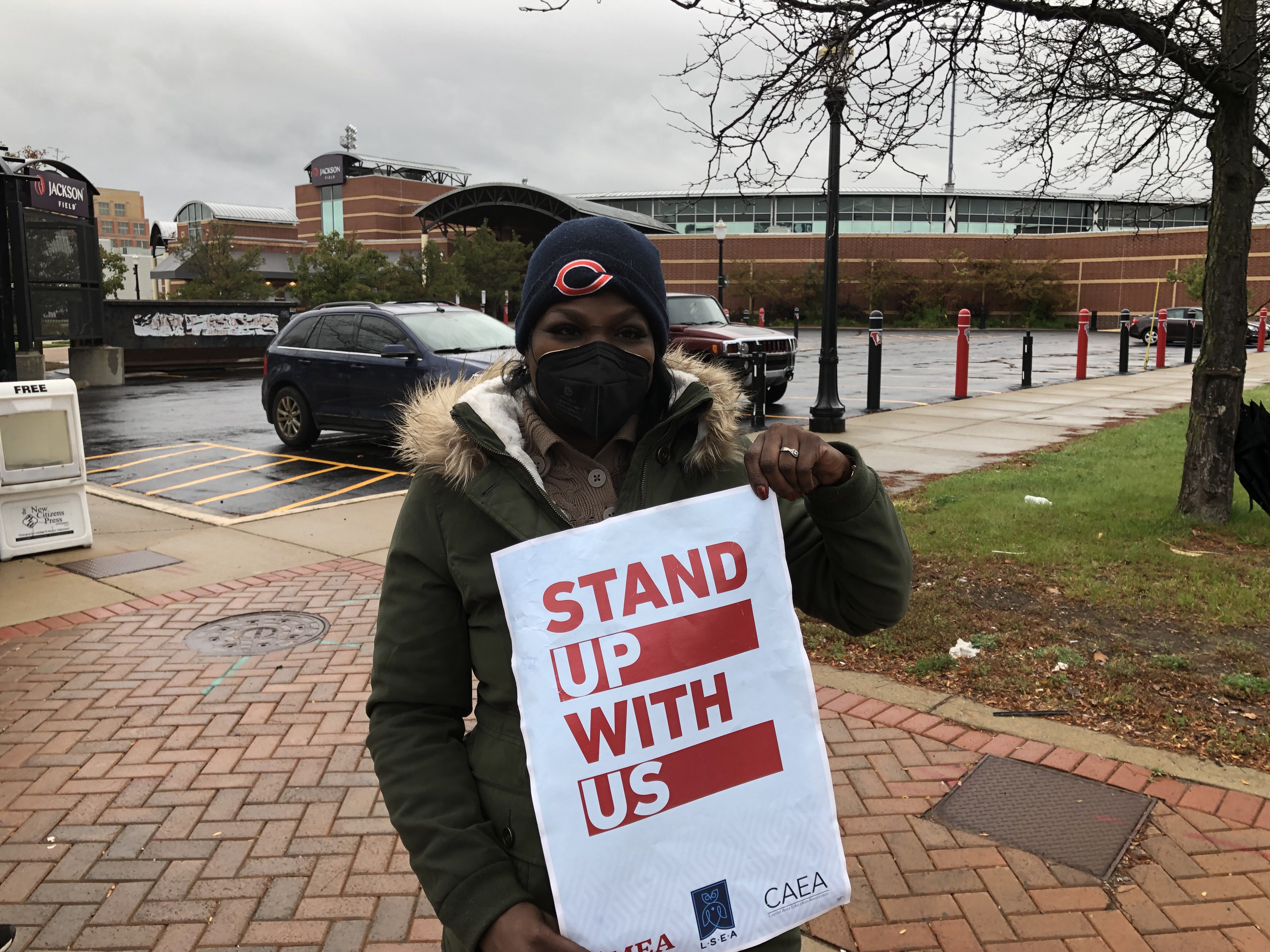 "It affects the students," said Sheila Nash, a special education teacher in the district for more than 30 years. "We can't service the students as they should be serviced, and we are running on all cylinders all the time."
School employees are being asked to fill gaps and do more with less, while feeling their concerns are ignored, said Lansing Schools Education Association President Chuck Alberts. Many are leaving for better-paying districts—or quitting the profession altogether—which is why it's important for everyone to stand up and make some noise, he said of why LSEA held the event.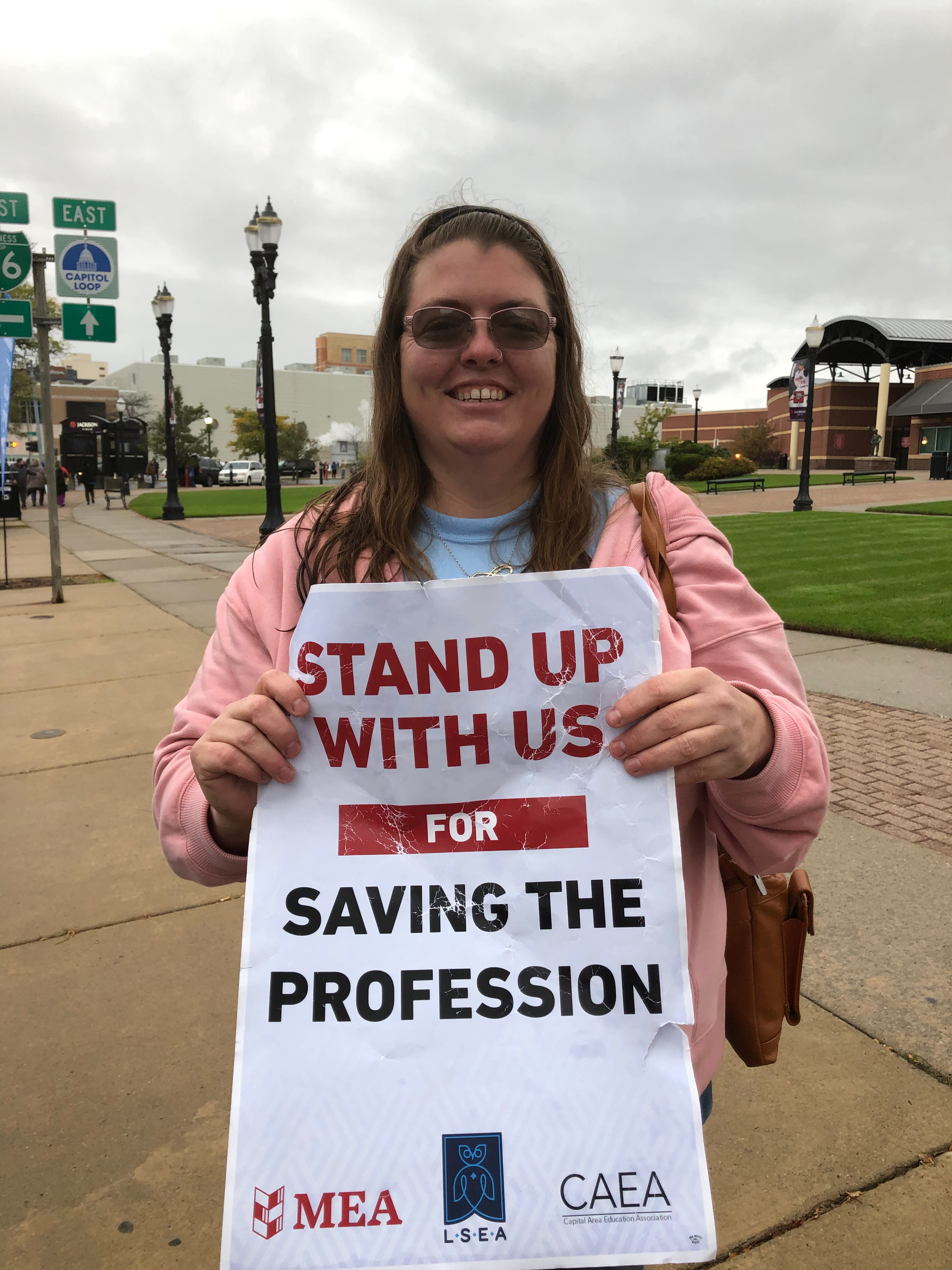 "We'd better start addressing these problems soon or we're going to see even more of an exodus from Lansing and from this region."
Staffing shortages affect every job classification, including teaching assistants such as Sharron Martin, who has worked in the role for four years and said the lowest-paid school employees are being tapped to do more and more work.
"I'm out here in the freezing cold rain, fighting for our rights," she said. "I'm here for a voice at the table, for higher pay—all of it."
With the return of in-person school this year, the respect and acknowledgment that educators felt last year has evaporated at a time when they need it the most, said paraeducator Justine Sleight. "We need help in our schools and communities," she said. "We need to work together."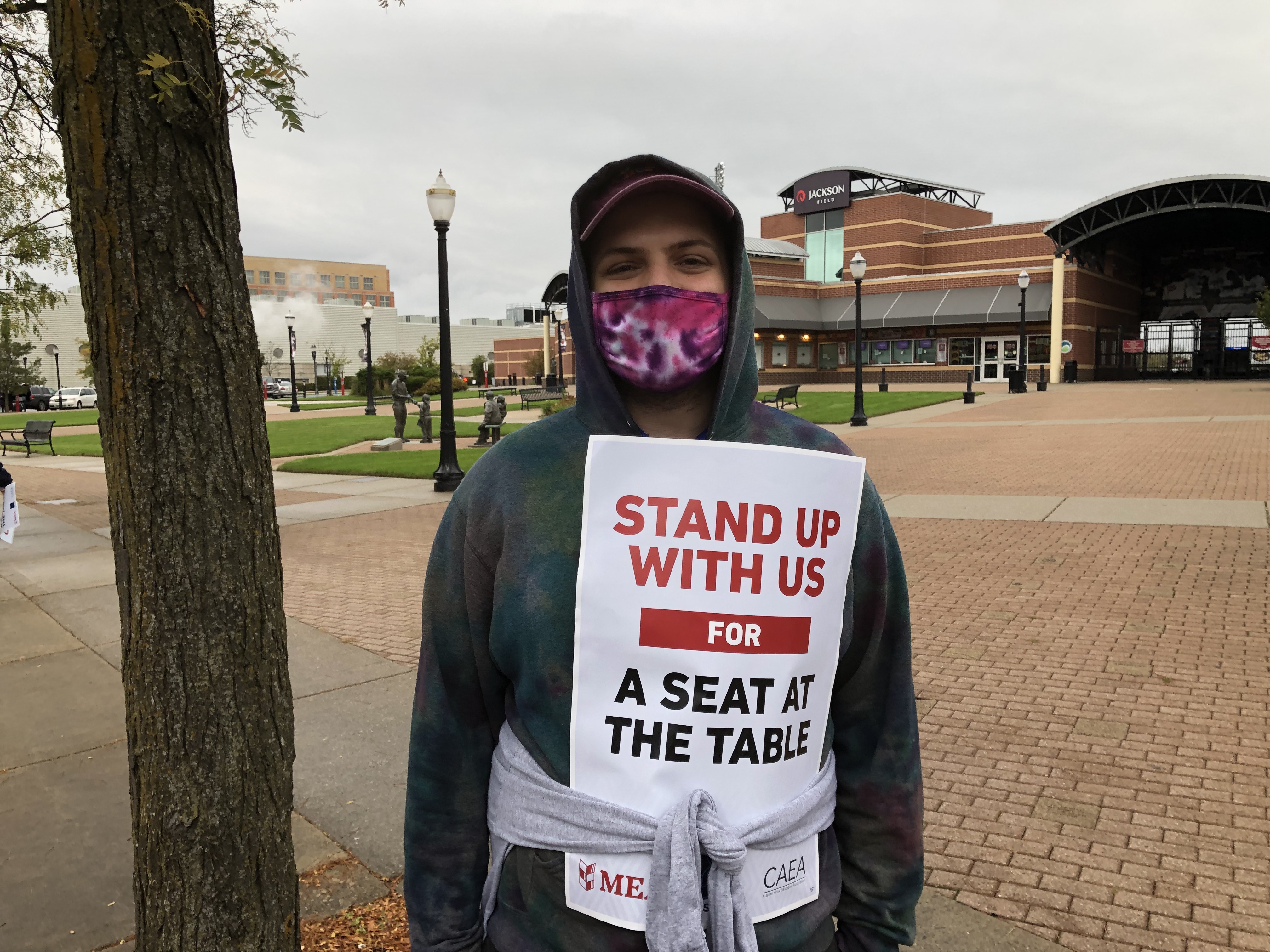 Second-year teacher Alex Traverso, a math teacher at Sexton High School, said he's been challenged by having to do additional unpaid tasks because of staffing shortages, including adapting all of his in-person lessons for fully remote learners.
"We only have 80 minutes of planning every other day to do all of our lessons for in-person and virtual kids – plus grading and all of the other responsibilities of teaching," Traverso said. "We keep getting asked to do more and more and more, but we're given less and less."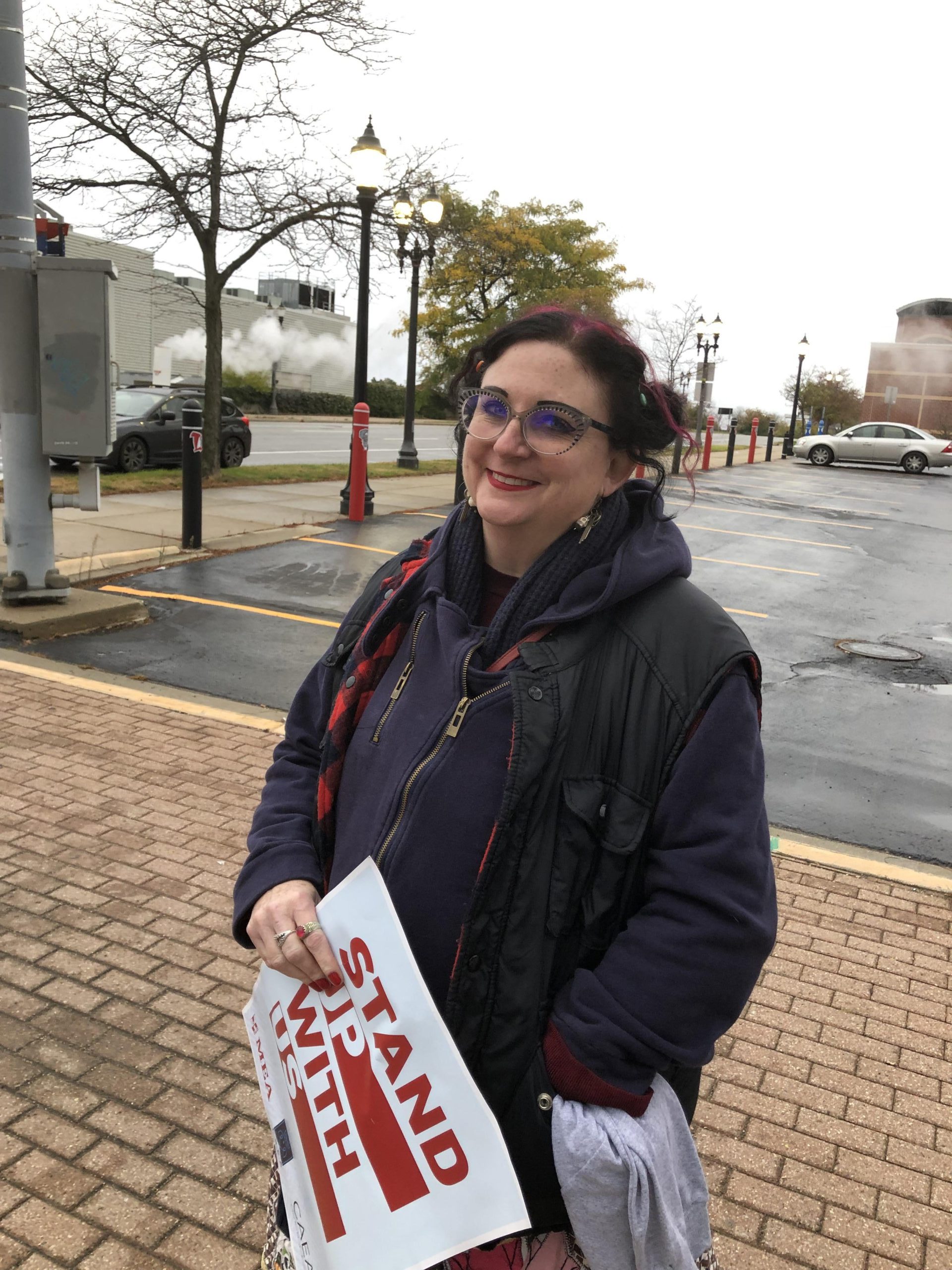 Many at the rally pointed to increases in daily pay for substitutes that have eclipsed what classroom teachers make per hour or day. In some buildings, the daily rate for subs has risen to $300 – which would amount to $54,000 over a year – while starting teacher pay is $41,000.
"It starts to feel like they don't want us to stick around," said Cat Weaver, a 22-year veteran of the district who has been shifted into a seventh-grade teaching position from a lead teacher role to cover one of eight unfilled teaching jobs in her building alone.
Educators deserve higher pay for the amount of work they do – including working through their prep hours on a regular basis – agreed second-year teacher Tessa Shaw, who noted that she and most other new teachers work second jobs on top of a heavy school workload that goes beyond time with students during the school day.
"It's becoming a norm for teachers to have side hustles, even though this is the career we chose and went to school for," Shaw said. "It doesn't feel like we are valued."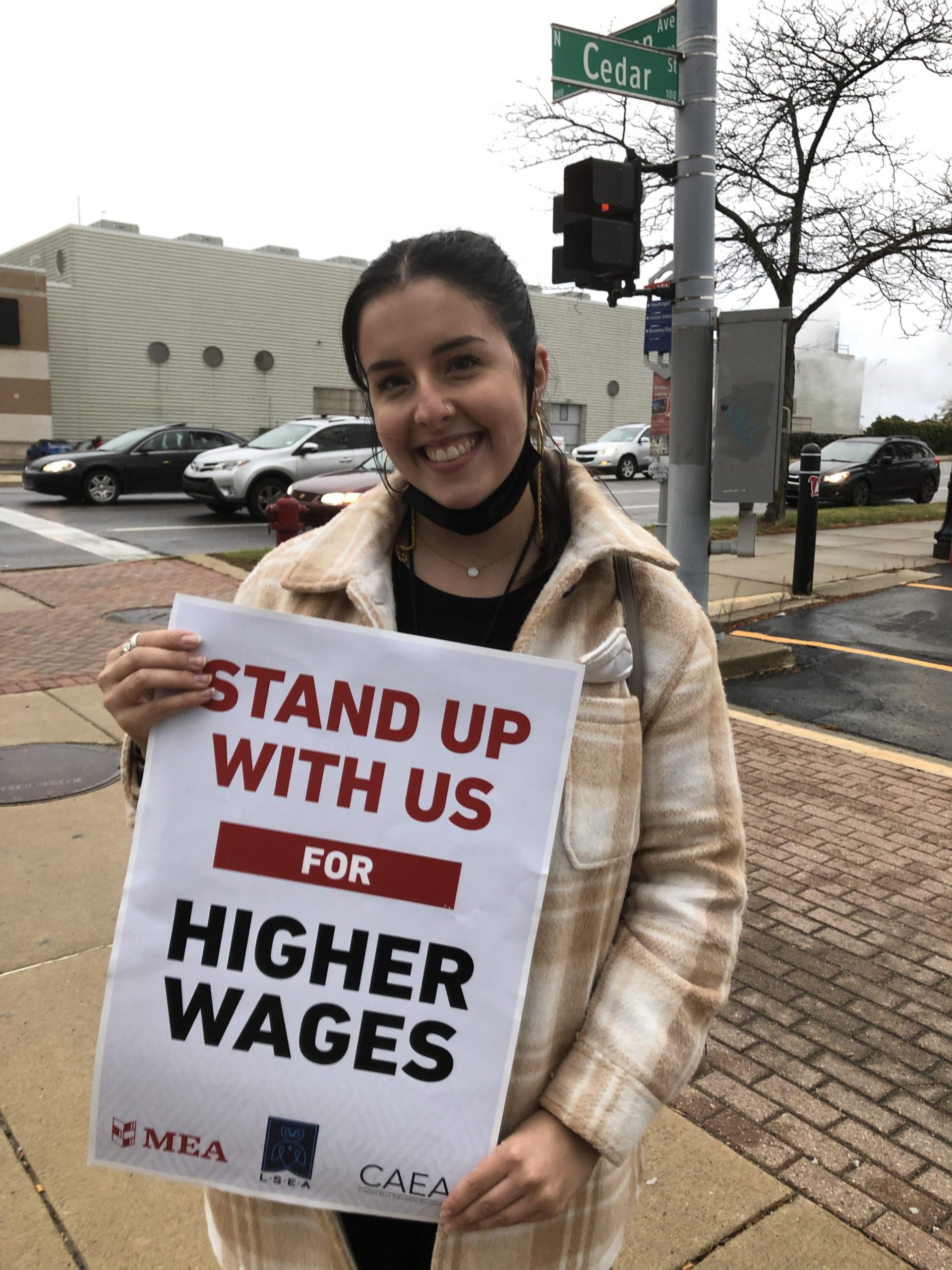 One of the sticking points for Robin Smith, a 17-year district employee and MEA member, has been a combination of factors that continue to add up: more work, higher expectations, pay that doesn't keep pace, and unfair evaluations.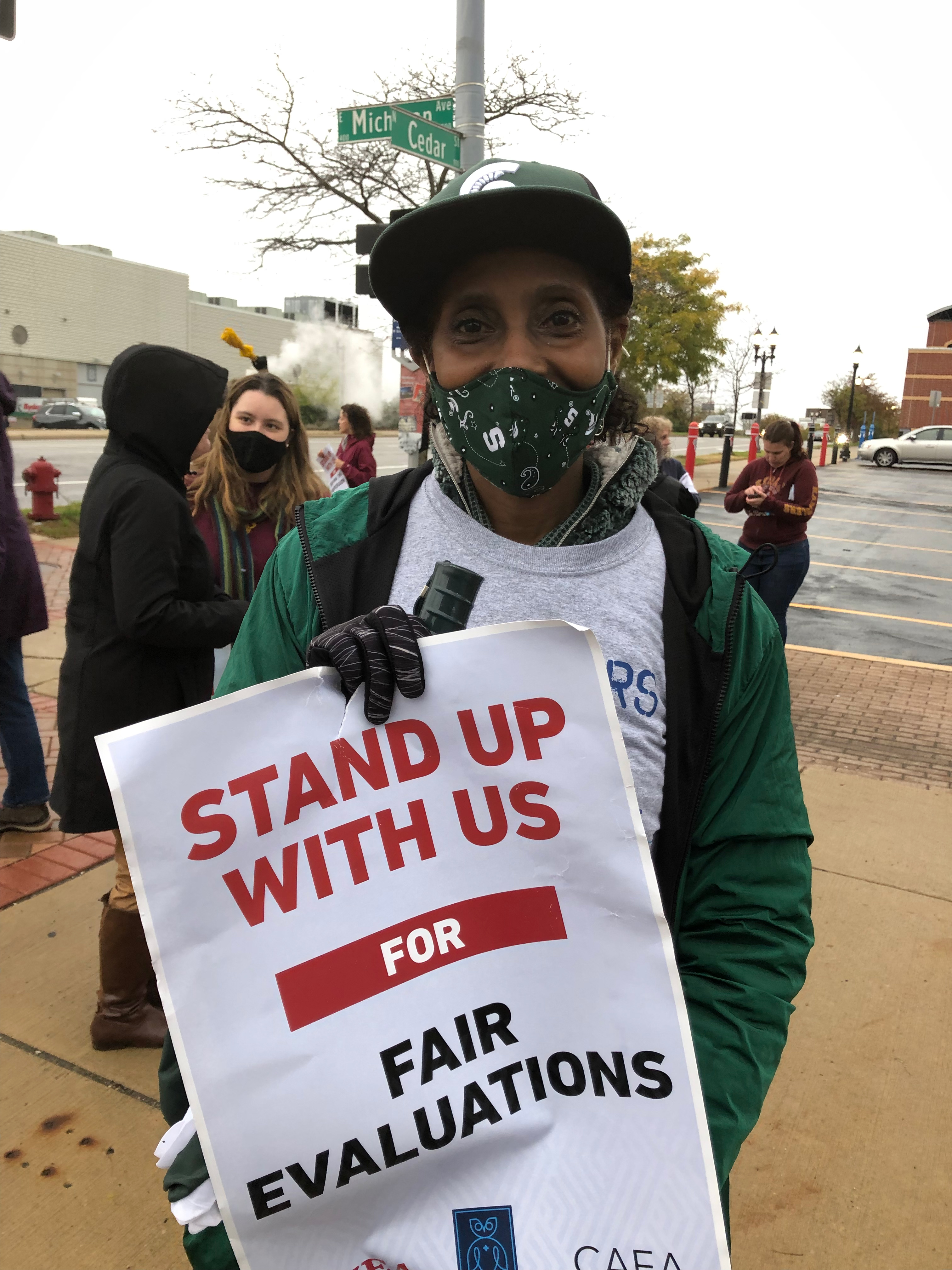 "There's so much more being placed on the evaluation tool – like student test scores becoming a bigger part of our evaluations – factors that we as educators can't control," Smith said. "We can't control who walks through our doors or what happens to students outside of our schools. It's just not fair."
Amid all of the turbulence in the world, paraeducator Jaynean Cornelius turned out for Thursday's event to urge the community to come together for safety for the sake of the kids, so students can remain  safely in-person where they learn best.
"It's been a year and a half, and our numbers are still spiking because people aren't getting on board," she said. "Whether it's wearing a mask or getting vaccinated, this is our new normal for right now, and everyone needs to do what they need to do."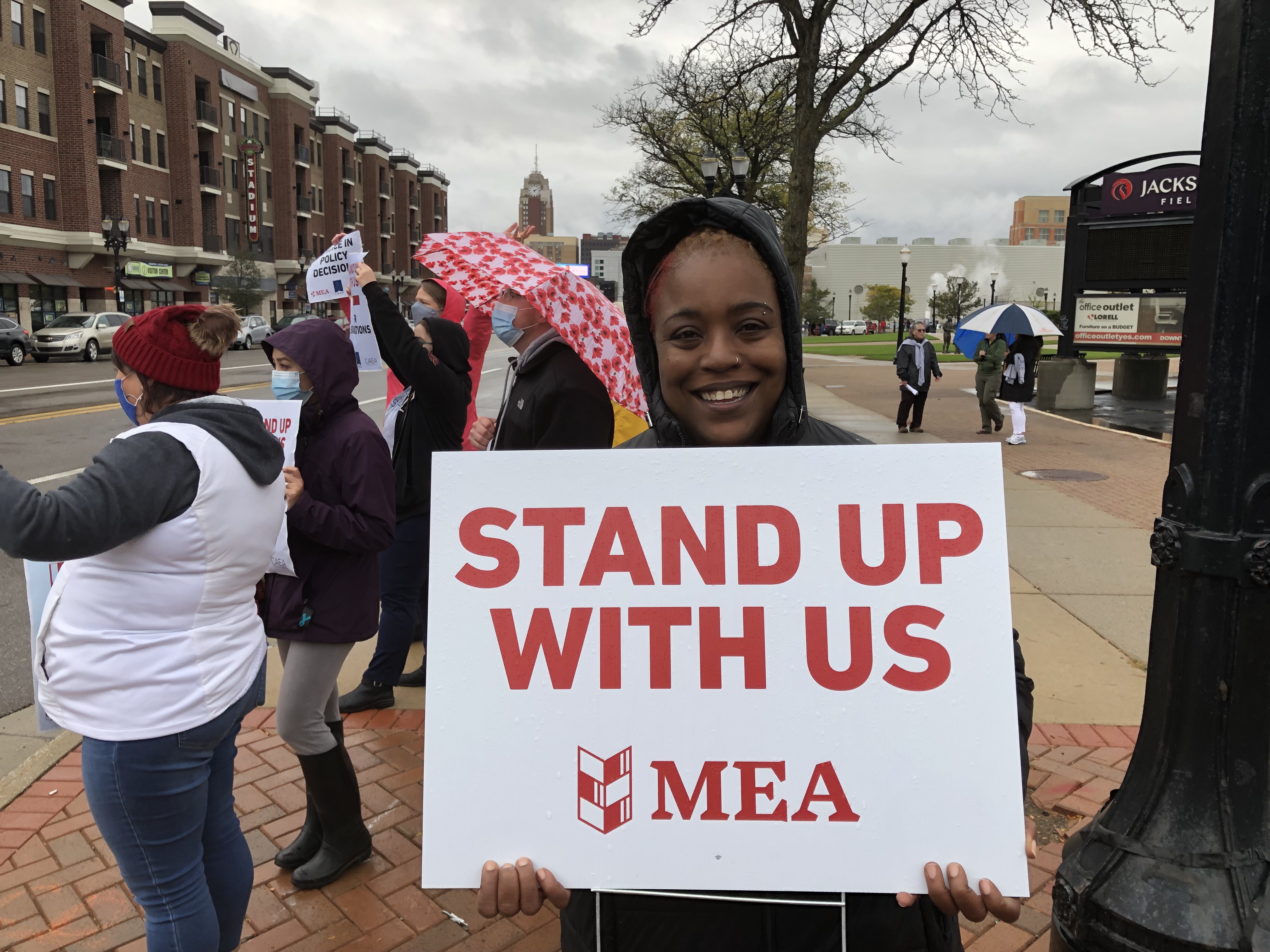 A shared concern for students and the profession unites educators and union members who must come together now to press for needed changes, said MEA Executive Director Mike Shoudy, who turned out and drew inspiration from Thursday's rally.
"It's been an incredible two years of hardship and frustration, and as a society we've got to get back to supporting our kids and supporting institutions like public education," he said. "At the local level, we need to keep raising our voices like this and be advocates and activists for change."