MEA Economist Starting New Life as Educator
By Brenda Ortega
MEA Voice Editor
Ask MEA Economist Ruth Beier about her youth, and you might get a wry joke with a deadpan delivery: "I describe my childhood as Lord of the Flies in the suburbs. It was a pack of kids and some Cap'n Crunch."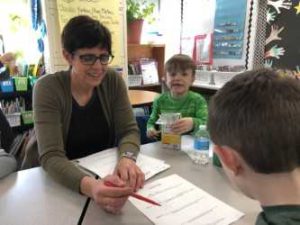 Truth is – she's not kidding.
On the precipice of retirement after 27 years at MEA, Beier finds herself discussing her distant past to explain her imminent future. That's because people can't seem to understand the thing that she plans to do next.
Next month, at the age of 59, she will close the book on school finance and begin the next chapter of her life – as a public school educator. "I always wanted to be a teacher," she says. "It just took me so long to get here."
That is the short answer to the question she keeps hearing: "Why?" Most people expected her to ride off into the sunset after a successful career as an economist in several high-level roles and recent terms as a city councilwoman and mayor of East Lansing.
Beier holds a bachelor's degree in economics from Michigan State University and a master's in economics from Duke University. She was hired by the state of Michigan to be deputy treasurer for taxation and economic policy at age 26.
She also served as associate director of the Institute for Public Policy and Social Research at MSU before bringing her expertise to MEA in 1993. In her union role, she earned a reputation as a straight shooter with a sharp mind for cutting to the heart of complex education budgets.
Ruth always made herself available to districts across the state to assist in their bargaining, said former MEA Vice President Nancy Strachan, who leaned on Beier during a 2008 strike in the Wayne-Westland school district where she was president at the time.
"Nobody could analyze a school budget like Ruth," Strachan said. "Her ultimate goal was to assist the bargaining teams to reach a fair and equitable settlement. At the Bargaining Conference each year it was standing-room-only in her sessions."
However, it was personal talk around Beier's kitchen table several years ago that started her on a quest for a teaching credential.
"The conversation was about regrets, and I remember saying, 'Why should we whine about things we can change?' Then I started thinking about things that I regret, and I made a commitment to change everything I can that I truly regret."
She enrolled in a night and weekend program through Ferris State University and started down a path to complete 60 credits and student teaching in six years while working at MEA during the day. She finishes in May, hopes to start a position this fall, and anticipates spending the next 15 years in a classroom.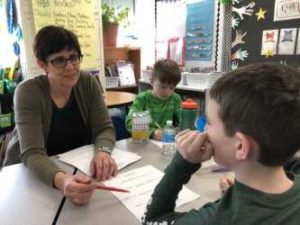 But there is a more richly detailed answer to the question of why Beier is starting a second career in a field known for low pay and long hours. Her story has to do with childhood trauma and an array of public school employees whom she credits with rescuing her.
"In my case, it really did take a village," she said.
***
Nowadays most every educator has heard of Adverse Childhood Experiences – known by the acronym ACEs. The term refers to the cumulative effects of childhood trauma on mental and physical health, education outcomes, and future job opportunities.
Different types of trauma can be scored to determine a person's risk for negative effects. "One time I added mine up, and my score – and my siblings' scores – are off the charts," Beier said. "It doesn't matter what the trauma is; if you have enough of it, something is going to happen."
The second of five children growing up in Maryland, Beier said her first-grade teacher was the first educator to intervene in a home life marked by parental absence – making sure she had food at lunch, snow pants and hand lotion in the winter, and enough praise to feel worthy.
"My parents didn't say our names very often, so to hear my name 10 times a day was affirming," Beier said. "She told me I was smart and nice. I didn't speak for the first few months at school because I was in awe. It's like there was singing in my head all the time. I just loved it there."
In second grade, a cafeteria worker made a difference when she saw Beier and her older brother and younger sister hanging around before school and eating lunches they'd brought. The "lunch lady" started giving them food to eat in the morning so they wouldn't go hungry at lunchtime.
"She made us peanut butter and jelly sandwiches – except for my brother, who was allergic to peanut butter. She made him a bologna sandwich every day. It was nothing fancy, but we weren't hungry anymore."
Like other troubled kids, she bullied others as she grew. Then she heard her fourth-grade teacher consoling a victim in a voice loud enough for Beier to hear. "She said, 'Ruth would never do that; she's a nice girl.' And it was like, oh – that's right. Some adults don't think I'm awful.
"That's when my life as a bully ended. I didn't like it anyway. I hated the way it made me feel."
By then, all of her siblings were in school – including twin brothers in second grade. All five would walk to school instead of taking the bus, so they could arrive around 6:00 a.m. to sit in the library and read.
When the principal told them to stop coming before 7:45, the children continued to arrive early but waited outside – until a custodian stepped in. "He let us in the back where there was a wing of the school the principal would never go to. And we would sit in a little alcove there."
The next year, it was a fifth-grade teacher who filled the void. "I don't know if the custodian told her or what, but my fifth-grade teacher would let us all in to her classroom every morning."
In ninth grade, a social studies teacher spoke to her about the trouble she was again getting into. In junior year the band director made Beier – a talented flute player – the drum major of the marching band.
And a couple of teachers convinced her she had talent in math even though she'd always felt overshadowed by a brilliant older brother who left for college after one year of high school.
All together, she says, those experiences saved her. "Without them – seriously – I surely would not be where I am now, and I may not have even survived."
***
Beier became an economist after falling in love with the subject while taking a class at MSU with a dynamic professor. She hadn't planned to follow in the footsteps of her father, an economist at the World Bank who lived overseas for much of her youth.
But when she asked him whether she should become a teacher or an economist, he told her to look at what they earn. "I said, 'Yeah. I guess I can't afford to be a teacher.' And I couldn't."
Since then benefits for public school employees – such as health care and pensions – have also eroded thanks to a 25-year cratering of financial support for public education in Michigan.
Beier says it's the source of today's educator shortage—people have lots of other better-paying jobs to pursue. "It's economics," she said. "Ten years ago, teacher pay was lower compared to everybody else, but not as low as it is now. And teachers had really good benefits."
Joining the ranks of MEA at the age of 34 felt "sort of like being a teacher," she said. "I thought of it as helping education professionals so they could actually get what they needed to survive and do well. It felt really good."
Over the years, Beier has become widely respected for her expertise and member advocacy.
During the Wayne-Westland strike, from her early assessment of the district's financial health, to her assistance responding to district proposals and fact-finding after the job action ended, Beier was an essential player, said Evelyn Baran, now retired who was UniServ Director at the time.
"She was with us every important day for a year," Baran said. "Bargaining teams loved her, members trusted her, and mediators and fact-finders always found her to be the most credible person on either side."
Eric Curtiss, president of Galesburg-Augusta Education Association, said he has attended her presentations at MEA conferences for several years. "Ruth is the gold standard for school finance. She's come to our district a couple of times and helped us get through tough bargains."
In recent years, Beier worked with MEA IT staff to develop a sophisticated online tool which provides union negotiating teams precise financial information for use at the bargaining table.
The MEA Proposal Cost Calculator is a database that allows users to enter a bargaining proposal – for example, a 2 percent salary increase plus steps – and receive a report in just seconds that details costs to the district down to the penny.
Beier says her greatest accomplishment has been helping school districts understand and pass regional enhancement millages to increase general fund budgets (featured in the February MEA Voice). "Every place it's gotten passed, I've been involved, and it actually creates money."
***
All of Beier's siblings are highly accomplished adults. Her older brother is an Academy Award-winning computer effects supervisor and technologist in Hollywood; her sister is a CEO in Kansas; one younger brother is a computer programmer who sold his work to Microsoft and retired at 38, and the other is a naval engineer.
"What happens when school is your savior is that you are really, really into it," she said. "I love school. I've been taking classes every year since I was five years old. After earning my master's I have taken classes in Spanish, math, chemistry, bioilogy, psychology, writing, and of course, an entire elementary education program."
This year she has been completing her student teaching in a second-grade classroom at Ralya Elementary School in Haslett. Seeing her there is like witnessing a rebirth. She smiles non-stop. Her gait is light, and she seems to glow from within.
"When I walk into an elementary school, I just feel so happy," she said.
Her mentor teacher at the school, Suzie Zuke, first met Beier through her work on the union bargaining team but now she sees her in a new light – as a "natural" educator. "She's phenomenal," Zuke said. "Ever since day one, she came in ready to go and has worked on making a difference. She has the heart and the dedication of a true teacher."
A voracious reader, Beier went above and beyond observation requirements last fall to work with children one-on-one to boost literacy skills. Now she glories in getting kids excited about math through manipulatives and discovery.
She likes to let students figure out solutions and show her their thinking, so they solidify understanding by seeing many different ways to solve a problem. She also has students do timed math throughout the day to build fluency and confidence.
Mostly she loves being around young people, getting to know their individual quirks and needs, and helping them become their strongest and best selves. "Every day that I get up and remember that I get to go to school, I'm happy," she said.