MI Educator talks with U.S. Ed Secretary, White House Advisors: 'I am hopeful about public education'
Theresann Pyrett, president of the West Ottawa Education Association, traveled to Washington D.C. in late April to speak with the Biden Administration about the positive impact federal school rescue funds have had on her school district and ways in which Michigan educators need continued support. Pyrett is among a handful of educators from across the country who briefed U.S. Education Secretary Miguel Cardona in the private meeting.
Here is her report to her fellow MEA members:
We have been heard.
Wednesday's panel discussion was moved from the White House Roosevelt Room to a third floor conference room in the EEOB (Eisenhower Executive Office Building). While we did not get to enter the White House, the change in location had no impact on the quality of the discussion we had.
We were ushered into the room by a team of junior policy advisors and White House staff. We were permitted to take photos of the room and ourselves in the space. Then Secretary Cardona and Policy Advisor Carmel Martin arrived. We made introductions and met their teams. I handed over letters written by my students to Secretary Cardona.
Secretary Cardona wanted to ensure that all in attendance knew that the purpose of the talks was to inform White House decision makers as they look forward towards education policy and education spending. He also wanted to remind us about some of the things the administration has already done for education and give reasoning behind its importance.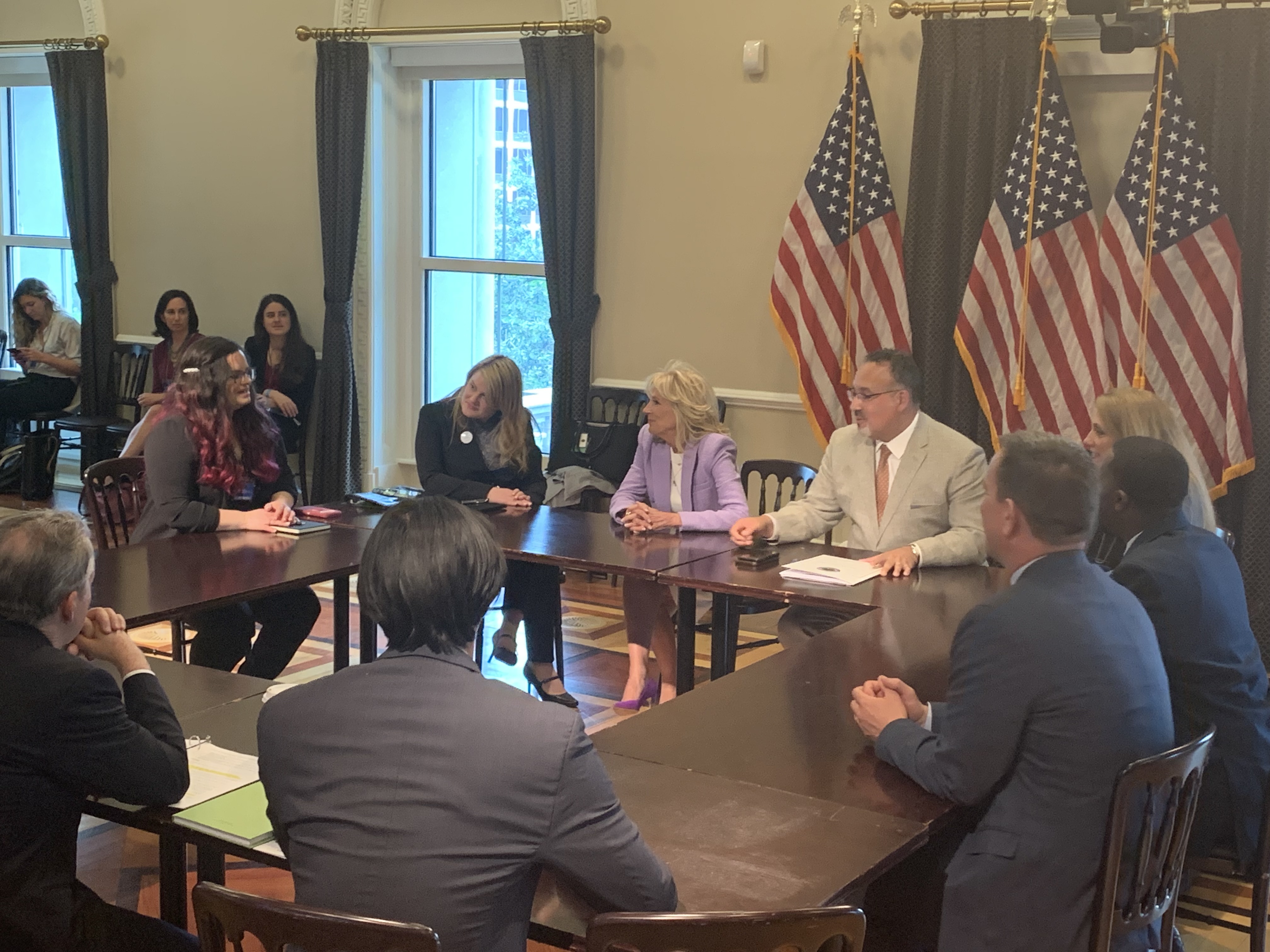 He detailed how members of his team in attendance coordinated vaccination efforts and put educators as priority community members on the list for early vaccination. They told us that by the end of summer 2021, 90% of educators had already received both doses of the vaccine. I made sure to extend our gratitude.
They also detailed their efforts in regards to student loan policy and wanted those of us in attendance to remind all educators we work with that they have until the end of October to file for all sorts of Public Service Loan Forgiveness extensions (applying payments, filing service waivers, loan consolidation, etc).
Then Secretary Cardona turned the floor over to us. We discussed a wide variety of topics:
The "New Normal" and why this is good opportunity to make needed changes to the education system.
Innovative ideas to support student mental health and what districts need to continue from programs they developed under COVID.
The need for continued funding to protect programs that benefit our students and our communities (meal deliveries, mental wellness programs, summer schools, virtual programming).
How we rose to meet student needs following the initial building closures of the pandemic, and what we are still doing to meet increased student need as we move through the pandemic.
Ideas for and pressures against restoring the prestige of education as a career (salaries, health care, inflation, public discourse, added responsibilities without removing old responsibilities, student loans, mentorship programs, recruitment, retention).
One thread wove through the entire discussion: Increased funding after decades of chronically underfunding schools has allowed us to assess student needs and work in more innovative ways. Every attendee also expressed fear at rolling back programs when funding starts to run out.
The discussion was thoughtful, impactful, compassionate, professional, dedicated, reassuring, and humbling. Fantastic things are happening in education all around the country, and we are a part of that.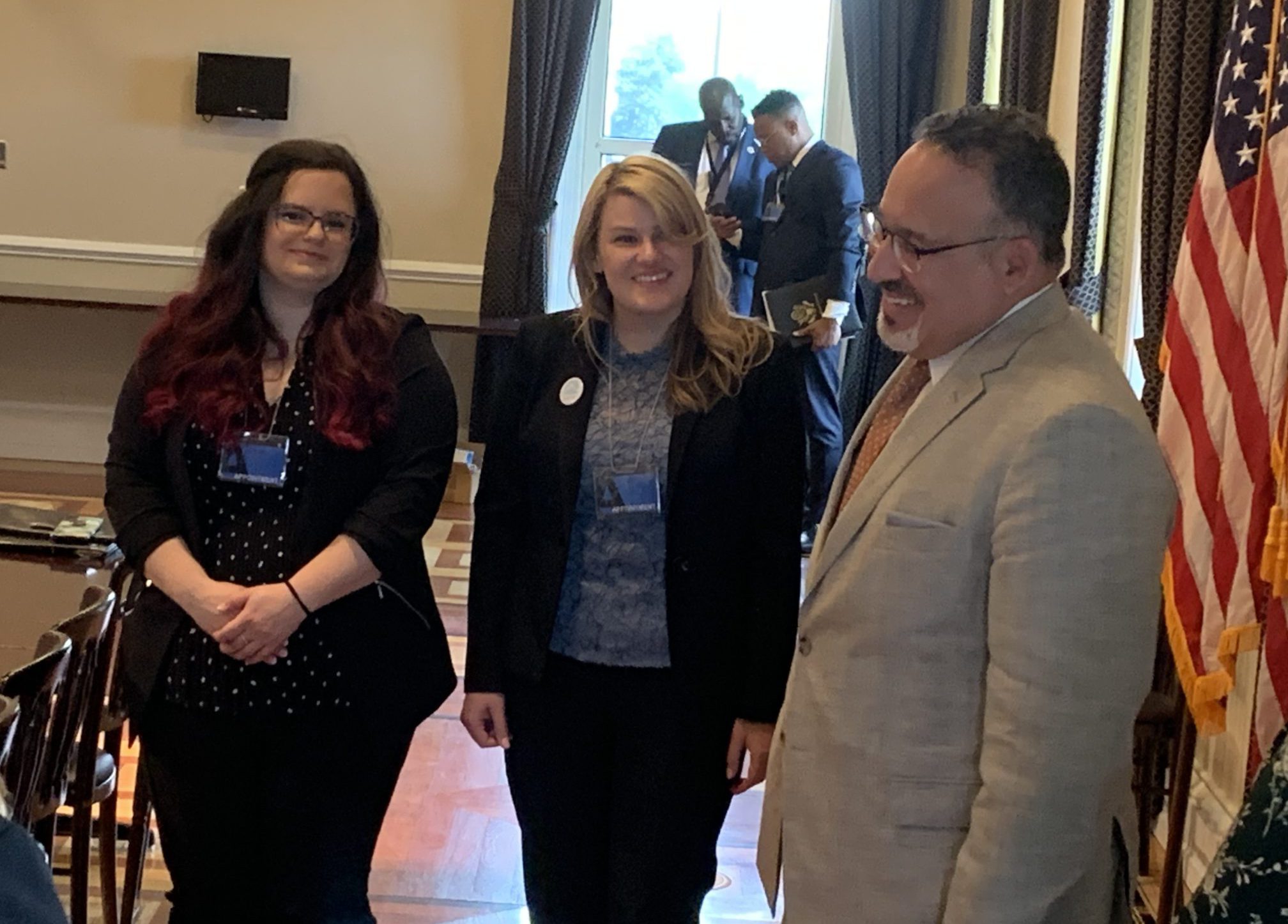 Secretary Cardona was inquisitive, inspiring, uplifting, and truly interested in what school looks like right now. He cares about what impacts the pandemic and the policies of the Biden Administration are having on students AND educators.
Carmel Martin, a White House advisor on education and domestic policy, was kind, caring, and compassionate. She took notes on everything we discussed and assured us that it would be part of her discussions with the President and his team.
Gene Sperling, American Rescue Plan Coordinator, was late, as it was also former Secretary of State Madeleine Albright's funeral that day. When he arrived he told us the remarkable story of his late mother, Doris Sperling, an Ann Arbor educator and advocate for racial justice for more than 40 years.
Mr. Sperling detailed how whenever he had a question about the impact of White House education policies, he would call his mother to better understand  possible inadvertent effects policies could have. That was his inspiration for our meeting.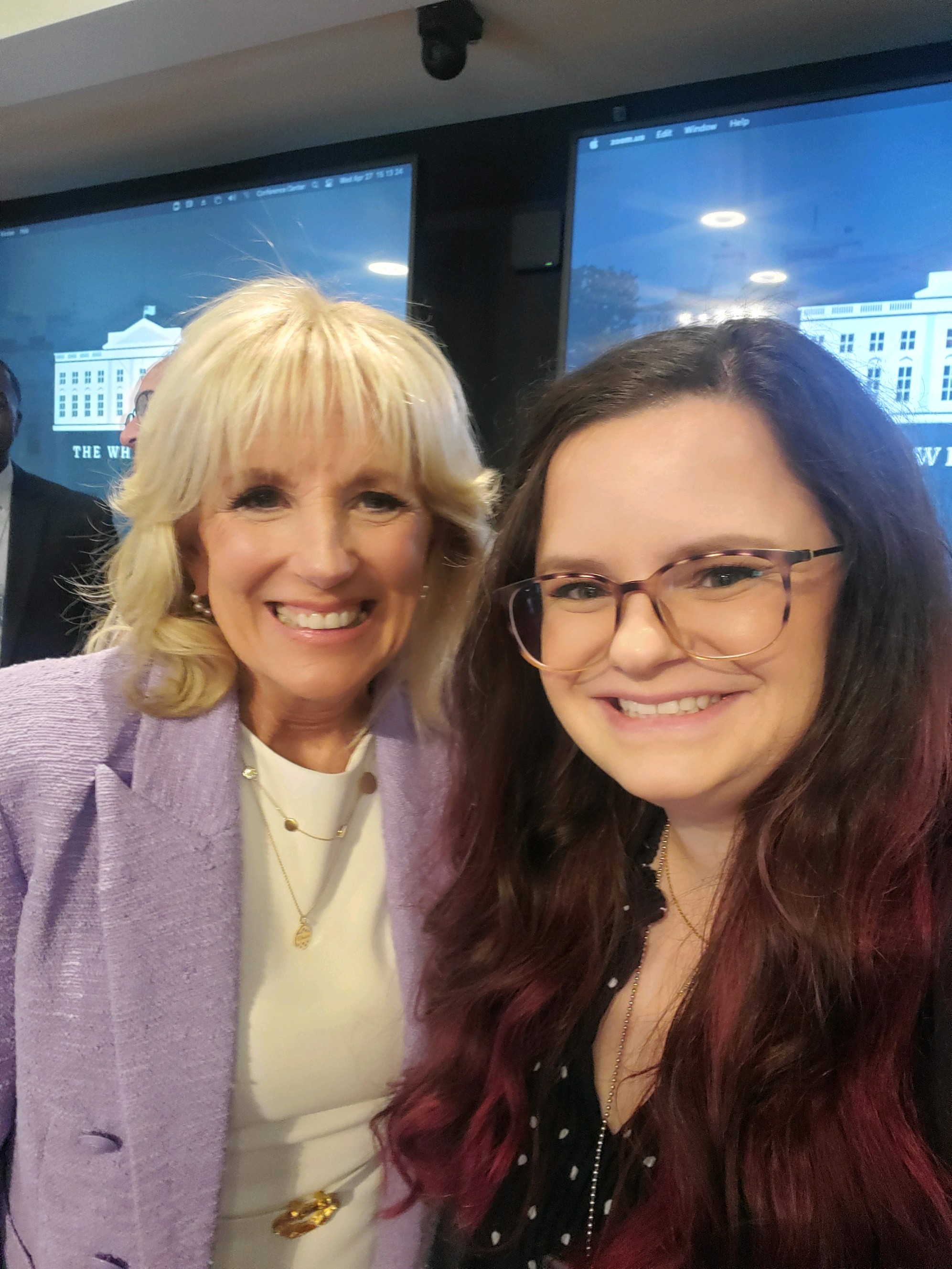 All White House attendees noted repeatedly how this administration has been the most education-friendly administration they have ever known. Each of them additionally expressed their hope for the future of education and their appreciation for our attendance and thoughtful discussion. Then…
… in walked Dr. Jill Biden, first lady and fellow NEA member.
She graciously made a tour of the room, shaking everyone's hand and telling them how grateful she was for their attendance. She sat with us for another thirty minutes and asked about how we have seen education change, what impacts that has had on our students and our colleagues, and what we are doing to support students' mental wellness and social-emotional needs. She also shared her reflections on teaching through the pandemic, standing in solidarity with our experiences.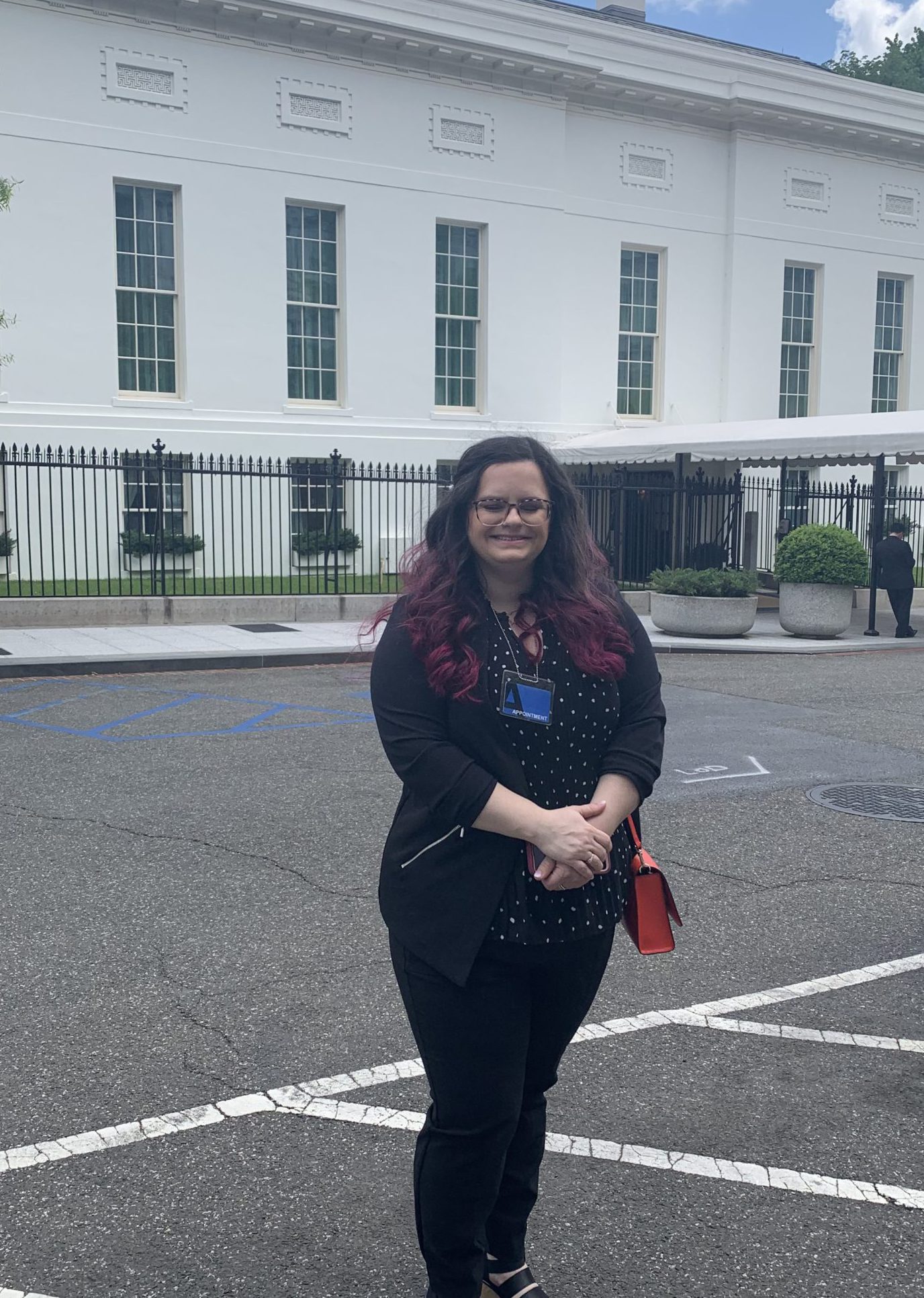 At the end the White House again reaffirmed their commitment to public education in the United States. (We took some photos too.)
I can confidently say that this White House GETS IT. They understand what we are up against, and they actively seek out areas where they need to hear more. They want to support us and want us to advocate for what we need.
Thank you for entrusting me to represent you. It has truly been one of the greatest honors of my life. Thank you to all those who reached out to me with the things they would like shared with the White House. We had approximately 2.5 hours of discussions and I fit in as much as I could.
The NEA and MEA really provided an amazing opportunity to represent the voices of educators with the panel discussion at the White House. As we move forward and through this pandemic, I am hopeful about public education.
We have a lot of work to do, but also a lot to look forward to!