#MiEdChamp: Mattawan Math Teacher Takes on National Role
MEA member Kevin Dykema uses an analogy about Global Positioning Systems—the ubiquitous online maps that help us find our way—to explain his philosophy about teaching math.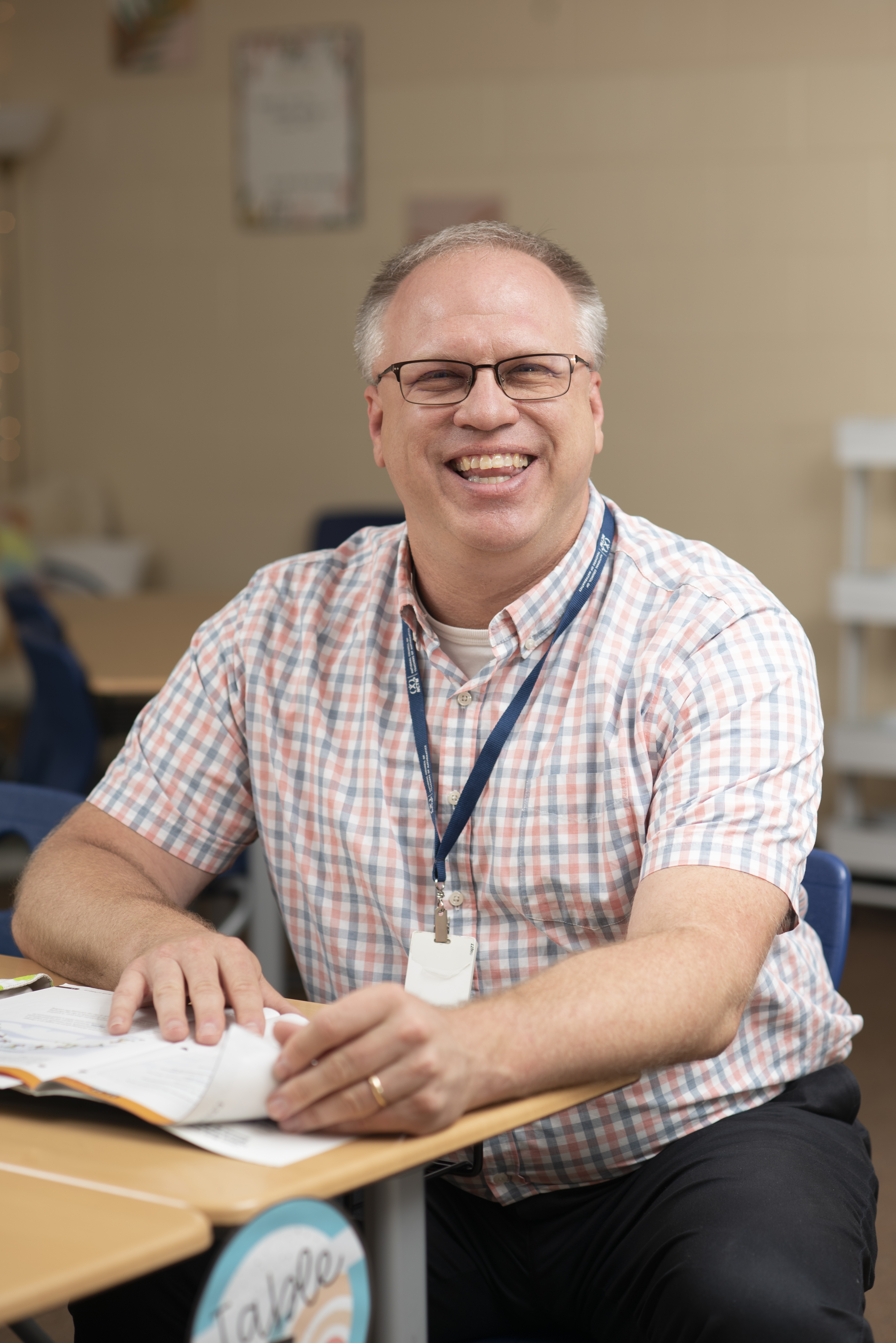 "Your GPS usually gives you three options to get to the final destination," he says. "Some of them may take you a little bit longer, but they all bring you to the same place. How many of us value that ability of students who go a different way?"
What's more, stepping back to take a big-picture view of the map with beginning and ending locations, and various alternative routes between them, offers students a better understanding of where they are and where they're headed than giving them one-way directions in a list of step-by-step turns.
"When I let my students talk and start to make some of their own understanding first, the way they see problems is different than how I see the problems, and they start to make connections they might not have seen in the past," Dykema said.
That idea of valuing students' sense-making and "productive struggle" over memorization of math procedures and facts is at the core of Dykema's classroom practice as an eighth-grade math teacher in Mattawan. It also is central to a book he co-authored which was published by Corwin last year.
For him, establishing relationships and trust with students is key to creating math connections, understanding, and confidence as students learn to engage in struggle to make sense. He strives to understand their "math identities" to focus on building from what they know and can do—rather than fixing what they don't know and can't yet do.
"Success breeds success," he said. "When we get our students to start to feel confident with what they're doing, they're that much more willing to persevere the next time."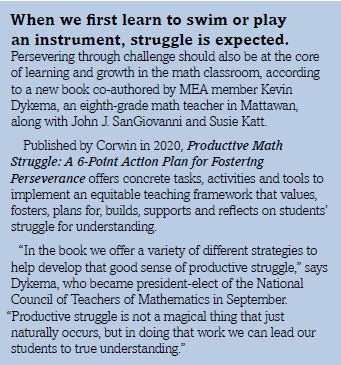 Starting this fall, and for the next four years, Dykema will take that message and more to a national stage. Last spring, he became only the third K-12 classroom teacher in 50 years to be elected president of the National Council of Teachers of Mathematics (NCTM)—a 70,000-member professional organization—after leadership roles at the Michigan affiliate and on the NCTM board of directors.
Starting now in his first year as half-time president-elect of NCTM, in the following two years as full-time president, and during a one-year half-time wind-down as past president, Dykema will convey the non-profit's policy positions to policymakers and members.
He also looks forward to bringing a K-12 classroom teacher's viewpoint to the national leadership role most often filled by college-level math professors or district-level math consultants—all of whom bring important views and voices to the table.
But especially on the issue of equity in math—the subject of his passionate advocacy—Dykema brings a broad view of equity and a ground-level perspective on how to pursue it. Classroom educators must be part of the conversation about how their teaching practice impacts each student, he argues.
"When we talk about pursuing equity, we often think of students of color, but it's also about students with low socioeconomic status, it's gender-questioning students, it's students in special education. We all have equity issues we need to address in our schools, so the question becomes what can I—as a classroom teacher—do to help address some of those issues?"
A first-generation college graduate in his family, Dykema holds a master's degree in math education from Western Michigan University, where he has taught courses for pre-service teachers. Because of his election to NCTM leadership, his Van Buren County district changed his job to consultant this year.
He was excited to coach new and early career Mattawan teachers on tips and strategies for reaching every student. That starts with helping students explore their math identities—those experiences and beliefs that make up their attitude toward the subject—which can be strengthened, he says.
Growing up, Dykema says he was a good math student and "great rule memorizer" who didn't understand a lot of what he was doing. It wasn't until he started teaching that he realized the value of using manipulatives so students could see multiple solutions and truly grasp concepts rather than rules.
Dykema is a frequent presenter at national, state and local conferences, and he often hears from teachers who worry they don't have enough time to linger over concepts with so much curriculum to cover. But he argues teaching for understanding saves time in the long run.
For example, if a middle school class covers integers in one lesson in September, that lesson would need to be retaught in November when it's time to solve equations with positives and negatives, and again in March when the curriculum calls for taking on even more complex equations.
"But if we allow our kids the opportunity to struggle, and provide supports to get them to the understanding stage, that may take two days in September. But when we hit November, we're building on it. They truly understand, so it's a vibrant refresher, not reteaching the whole lesson from scratch."
For too long, educators have felt that a lesson is failing if students are struggling to understand, but Dykema argues the opposite. Learning happens during struggle, so that is a good place for "teacher moves," he says.
"Think about how a kid learns to play a video game. They don't read the directions. They just dive in, get started. When they reach a point where they get stuck, that's when they go search the internet, try to find a help code, try to find whatever to figure it out. But we don't do that in a math classroom."
Learning to spot the difference between productive and non-productive struggle takes time and experience, he says. Getting students to engage in productive struggle requires relationship-building and planning.
Educators need more and better professional development, he argues. For real shifts in practice to occur, they need PD that is content-specific, and they need time over the course of a year to focus on one thing and reflect on their struggles with colleagues engaged in the same work.
"That's one of my goals over the next few years—helping bring that classroom-level focus to the forefront so classroom teachers have a say in where we're headed and start to see themselves as potential leaders."