New MEA affiliation brings secondary-level Educators Rising opportunities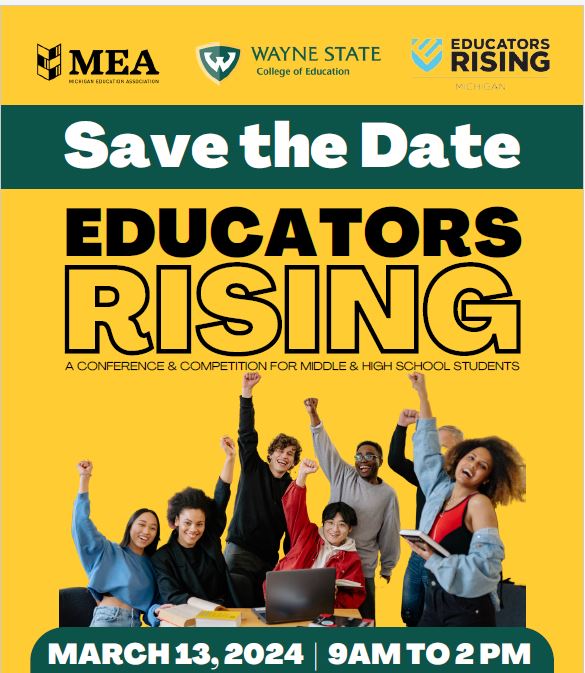 Save the Date for our first annual Educators Rising Competition and Conference to be held on March 13, 2024 from 9 a.m.–2 p.m. at Wayne State University.
MEA is newly affiliated with Educators Rising, a program for middle and high school students interested in education careers to learn about building content knowledge, responsive planning, implementing instruction, using assessment and data, and engaging in reflective practice.
This jointly sponsored conference will allow participants to meet with campus advisors and tour the Wayne State campus in the heart of Midtown Detroit, in addition to competing in the following topics for a chance to advance to the 2024 Educators Rising National Conference in Washington, D.C. in late June:
Bulletin Board
Teacher-Created Resources
Lesson Planning
Children's Literature
Researching Learning Challenges
Public Speaking
Wayne State University offers award-winning, nationally recognized bachelor's, master's, education specialist and doctoral degree programs in 29 programs with 39 degree and certificate options.
At the conference, students will learn from experts and each other as they participate in a series of whole group and breakout sessions centered around topics important to them and their chosen profession. Advisors and instructors will have time to collaborate.
Many secondary-grade students engage in this type of learning through Career and Technical Education (CTE) courses where skilled teachers guide them through these important skills.
MEA's affiliation with Educators Rising delivers opportunities for students whose schools offer elective courses in exploring education as a career, as well as advisors and their students who are interested in creating an extra-curricular club opportunity for students.
If you are an educator who teaches a CTE course and are not already engaged in the planning of this conference and competition, or you are an educator teaching an elective course or running a club for future educators and want to be involved, please reach out to Annette Christiansen at achristiansen@mea.org  or educatorsrising.org/start-a-program for more information.
Membership in Educators Rising is free for teachers/club advisors and $15 for students to join. It is a Perkins-eligible expense. If you and your students are ready to join, go to educatorsrising.org/join-1.
For continued information and to volunteer for the Educators Rising Conference, please fill out the form.