Northern MI grant project engages students, families, educators in deeper history
By Glen Young
Educators in northern Michigan are utilizing a national grant award to help develop curriculum to address topics of social justice and strengthen reading in local schools.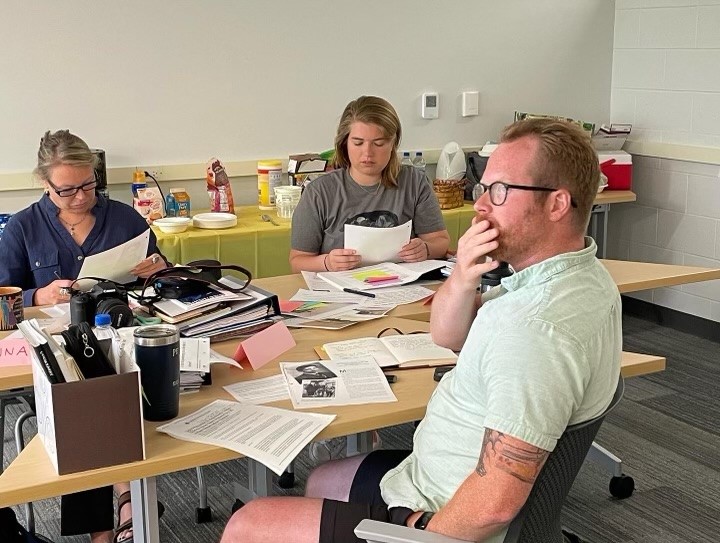 "Building A More Perfect Union" funding is supporting 38 groups nationally in anticipation of the upcoming 250th anniversary of the founding of the United States, according to National Writing Project (NWP), which coordinates the awards with the National Endowment for the Humanities.
Top of the Mitt Writing Project, an affiliate of NWP, received the grant last spring to conduct a year-long Teacher Leader Institute (TLI), operate a Family Literacy Project encompassing five area districts, and renew collaboration with the Little Traverse Historical Museum.
The TLI kicked off with a five-day workshop to identify areas of interest and create lesson plans for elementary through high school students. Work on the grant will conclude this summer.
Top of the Mitt founder Toby Kahn-Loftus said the books and films studied in the TLI proved transformative, including The Anti-Racist Writing Workshop by Felicia Rose Chavez and Cultivating Genius by Gholdy Muhammad, among others. "This institute has taught us all that power lies in those that get to tell the story of history, and that history is and will forever be profound, vulnerable, and complicated," she added.
TLI teachers have developed lessons on the 1901 Burt Lake Burnout, the life of slave and poet Phyllis Wheatley, and the complicated history of the 2nd Amendment, among others.
After meeting through the summer, the K-12 teachers met one day a month from September through December. January through May the group is meeting via Zoom to refine lessons and workshop their own writing, a key component of the writing project's professional development.
Carol Johnson, a Missouri teacher with professional roots in northern Michigan, says the institute has helped her rewrite her fourth grade history curriculum. Citing Roxanne Dunbar Ortiz's An Indigenous Peoples' History of the United States, also part of the reading list, Johnson says, "Our units now include more indigenous history and its intersection with early American history. Multiple points of view and stories have made our history units richer and more complex."
Traverse City Pathfinder elementary teacher Cara Burns, one of the TLI teachers, says, "This work has granted me the space to grow my social justice teaching today to help ensure my students have the tools to make a better tomorrow."
The Family Literacy Projects brought together teachers, students, families, and school administrators in Boyne Falls, Pellston, Charlevoix, Alanson, and Grayling. Each participating family receives a home library and other supports designed to encourage more reading.
Khan-Loftus says the projects "have inspired fundamental shifts in how parents and teachers view their roles both at home and at school in five small, northern, rural communities."
Glen Young is a writer, teacher, and outdoor adventure guide in northern Michigan. He is also co-director of Top of the Mitt Writing Project, and the author most recently of Four Seasons of Mackinac Island.