Pro-Education Candidates Surf the Blue Wave
Educators Win Legislative Seats to Clinch Democratic Majority
By Zach Crim
MEA Public Affairs
When Jaime Churches' alarm went off at 6 a.m. on Wednesday, Nov. 9, in many ways it was just another day preparing to teach her fifth-grade class in Gross Ile. But the hundreds of notifications on her phone betrayed the climactic events of the previous day and night.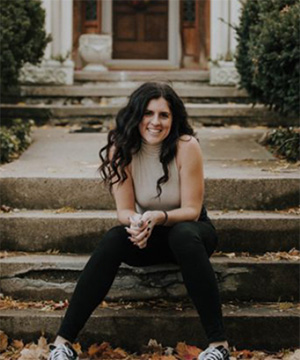 She had just been elected State Representative in Michigan's 27th District, one of several educators elected to state office. Churches' race had been called only an hour earlier, at 5 a.m., as one of the final seats to clinch a historic Democratic majority in both chambers of the Legislature.
Rather than the unbridled joy most candidates experience after a win, Rep.-elect Churches felt conflicted. Her thoughts went to her students and what her life would be like without seeing them each morning. She needed time to grieve that loss.
Churches knew to plan ahead, as she expected to be physically and emotionally drained after months on the campaign trail. She also knew an election win would mean explaining what it meant and the plan for transitioning a new teacher into their classroom.
That morning in school, she sat in a child-sized chair at the front of her class and greeted her students with her usual "buenos dias, boys and girls." She told them she won the election, then above the applause of tiny hands, she added: "I want to tell you what is going to happen next."
Churches' victory was emblematic of a groundswell of pro-education candidates winning office across Michigan. Both the Michigan Senate and House flipped from Red to Blue and would be led by a Democratic majority for the first time since 1983.
Public school supporters Gov. Gretchen Whitmer, Attorney General Dan Nessel and Secretary of State Jocelyn Benson all won re-election, with Whitmer's opponent's partnership with Betsy DeVos mobilizing education advocates across the state.
MEA-recommended candidates swept races for State Board of Education, Michigan State University Board of Trustees, University of Michigan Board of Regents, and Wayne State University Board of Governors. Both Proposal 1 and Proposal 2 passed with flying colors.
Perhaps the biggest victories came in some of the smallest races across the state. MEA locals endorsed a record number of candidates for local school boards: 355, double the number recommended last election cycle. Of those recommended candidates, nearly 75% won.
Communities across Michigan stood together and stopped in its tracks a coordinated effort for a far-right takeover of our schools. It's hard to overstate the impact these victories will have on the day-to-day lives of our members and the students they serve.
Thanks to the tireless efforts of MEA members and friends of education across the state, MEA-recommended educators like Jaime Churches will not stand alone at the Capitol. She will be joined by Sen. Erika Geiss, Sen.-elect Darrin Camilleri, Sen. Dayna Polehanki, Rep. Regina Weiss, Rep. Lori Stone, Rep. Matt Koleszar, Rep.-elect Jason Morgan, Rep.-elect Dylan Wegela, and Rep. Nate Shannon – all current or former educators fighting for our neighborhood schools and supporting one another through their bittersweet transition out of the classroom.
They can take solace in knowing that their days of serving students are far from over – they'll now simply support them from the Capitol instead of the classroom.