Savoring a Win for the People
Last month Congress passed the American Rescue Plan, President Joe Biden's $1.9 trillion stimulus package to provide critical funding for public schools, create and support jobs, cut child poverty in half, make health care more affordable, and put this pandemic behind us.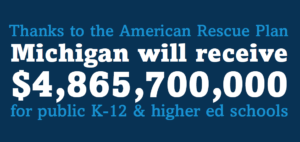 The passage of the historic economic relief package is proof that when we show up and make our voices heard, we shape the future for ourselves and our children.
That message will be important to remember as state budget season begins this spring. Michigan faces numerous pressing needs competing for attention and funding while Republican party leaders have so far this year taken a decidedly partisan approach to the pandemic.
As of press time for this issue, GOP leaders in the state Legislature continued to withhold $840 million in federal pandemic funds from last December—in a clumsy scheme to force Whitmer to sign away executive authority to shut down school buildings or athletics in a public health crisis.
The Legislature allocated $650 million of Michigan's $1.7 billion share of December's federal COVID relief money without additional strings. The funding is meant to supply schools with needed tools, supplies and equipment to ensure safety amid the pandemic.
Our children deserve better than to be used as pawns in a cynical ploy to score cheap political points, and MEA members have shared that message with lawmakers in responding to our call to action.
Stay informed about the latest MEA advocacy, and get involved! Go to mea.org/signup to sign up to receive MEA's Capitol Comments newsletter, and be the first to know what's happening in Lansing and how you can help.
Meanwhile, K-12 districts and higher education institutions in Michigan are set to receive nearly $4.9 billion from the American Rescue Plan to begin recovery efforts in the wake of the worst global public health crisis in a century. Public schools and colleges and universities can use the money to:
hire more teachers, paras, custodians, nurses and counselors
implement safety protocols and acquire PPE
improve ventilation and HVAC systems
help students deal with trauma and learning recovery
put devices and internet access into the hands of students locked out of online learning
feed hungry students and assist homeless students
Your advocacy matters—and our success makes a difference for American families, students, educators, schools and communities. Savor the victory, and stay tuned.