Turmoil Over Book Bans Affects Educators: 'This is the hill I'm willing to die on'

Part 2 of our 5-part "Freedom to Read" series
By Brenda Ortega, MEA Voice Editor
Michigan Education Association
MEA member Elizabeth Gates has had to organize against efforts to ban books in Greenville Public Schools, a rural district 30 miles northeast of Grand Rapids where she serves as an instructional coach and local union president.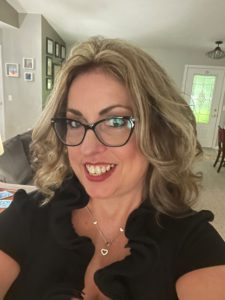 She looks for silver linings to buoy her spirits in troubling times.
"If there's anything good to come out of all of this, it's that we will have our certified media specialist back," Gates said. "When the pandemic hit, we had budget cuts and we cut our media specialist—put her back in the classroom—so now she will be reinstated in the fall."
Over the past decade Michigan has lost nearly half of its certified school librarians to cuts, leaving some districts without an expert trained in how to equitably handle book challenges, which have exploded in number across Michigan and the U.S. over the past year.
Our state now ranks 48th in the nation for the ratio of certified librarians to students.
"I can't believe that position got cut in the first place because there's so much research to show that having a certified media specialist in school is connected to higher literacy rates," Gates said, speaking from a position of authority: she holds a master's degree as a reading specialist and served as president of the Michigan Reading Association in 2017-18.
An unprecedented rise in book challenges is affecting school and public library board meetings in communities from Rochester in Oakland County, to those surrounding the Saginaw Bay area and Grand Rapids, to the Upper Peninsula, according to Debbie Mikula, executive director of the Michigan Library Association (MLA).
In those places, "a vocal minority are advocating for censorship of titles they might personally find offensive in place of collection development policies that follow the professional ethics and practices of librarianship," wrote Mikula and two other MLA leaders in a recent joint op-ed in Bridge Michigan.
In Greenville, organized opposition groups began appearing before the school board amid the pandemic. For months protesters showed up at every meeting angrily denouncing mask-wearing before moving on to other topics, including calls to ban books.
"This is the hill I'm willing to die on," said Gates, who taught high school English Language Arts for 24 years before taking on the instructional coaching role five years ago.
Although not ready to retire, Gates was prepared to submit her resignation if two award-winning titles were removed as requested (Me, Earl and the Dying Girl and Looking for Alaska). Following a meeting between book challengers and district leaders – including Gates – the board voted against removal.
"I started in this career because of my love of books and reading and understanding how foundational that is in education. When you start banning information or erasing people's stories because you don't like those kinds of people, it's not OK."
Both books challenged in Greenville were recently removed from shelves in Thornapple Kellogg Schools, south of Grand Rapids, following objections by a community group now reportedly trying to remove Lois Lowry's classic 1993 dystopian novel The Giver from the middle school curriculum.
Gates turned out people to push back against censorship at a key board meeting in January. Thanks to social media and direct outreach to friends and acquaintances in the community, more than three times as many voices spoke against banning books than for it.
"The meeting was held in the middle school cafeteria, and we filled the place," she said.
One of the community members who answered the call to attend was MEA member Greta Skogseth, who teaches children's and young adult literature at Montcalm Community College and spoke of the slippery slope of banning books based on one group's objections.
"The next thing you know you're removing books that suggest a political point of view, or have objectionable language, and soon you don't have a lot of materials left," Skogseth said, adding her two daughters are avid readers and she owed it to their educators to stand up against attacks.
Yet Gates worries about upcoming school board races as two current board members are not seeking re-election. Meanwhile, as union president she hears every week from educators who are exhausted and ready to quit for lack of support.
As she testified at the January meeting, "Teachers do not want to work in a community that doesn't trust them. They don't want to work for a Board of Education that doesn't trust their professionalism. And they do not want to be where they are not valued. Teachers will leave, and they are leaving."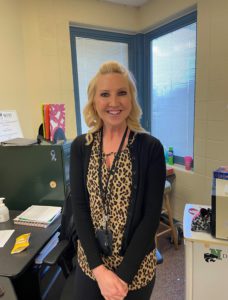 Veteran educator Sarah David, an MEA member who has taught eighth-grade language arts in Novi for 20 years, said she has never before had a problem with an angry parent until this year.
Last year for the first time David's classes read a short story about a bisexual character who opens up to her grandmother and finds that sharing her truth deepens their relationship. Many students expressed gratitude at seeing an LGBTQ character represented so beautifully, she said.
But this year when a digital newsletter was sent to parents with links to stories as the unit of study was set to begin, a mother complained about that one text – and "she came in hot," David said. "That's one of my main issues with all of this – that parents are not coming into conversations in a way that is respectful or open-minded. It's very accusatory."
As a result, for that unit the eighth-grade team decided to let students choose from three story selections featuring under-represented characters, and David went on to share her concerns at a school board meeting, "because I was just so upset about parents accusing us of indoctrinating."
Fear over potentially angry conflicts with parents is draining educators' time and energy, David said, adding she keeps her personal views out of class discussions on hot-button issues. "Kids will ask me flat-out what I think, and I say, 'It doesn't matter what I think. It's about what you think, what your family thinks, what your moral compass is.'
"But I do want all of my typically underrepresented kids to feel like they are seen and valued, that this is a community where we all have our place. That is very important to me."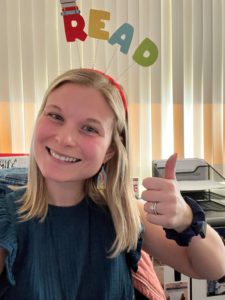 In other cases educators have been publicly called out by critics, as happened to MEA member Madison Skupin, who was a first-year teacher in Novi last spring when she and several others were accused by name of brainwashing students via a flyer distributed in mailboxes throughout the community.
Skupin had included books in her fifth-grade classroom that represented all kinds of characters from diverse backgrounds, including racial and ethnic minorities, people with disabilities, and folks from LGBTQ families, she said.
"I found books that supported people of all types and from all sorts of backgrounds, and I was so happy because I know books can be windows and mirrors and doors for students. Then everything happened last year, and I thought, Where did I go wrong? I would have liked to have a conversation with the people who had a problem with it, but everything they did was anonymous."
The controversy weighed heavily on her, Skupin said, but she was lifted up by support from administrators, local union leaders and coworkers. At a school board meeting soon after, when new public communications were shared, 95% of the commenters supported her and the others.
"I would say the majority of people are supportive; it's just that the non-supportive people are louder. And I think that teachers already have so many stressors, so when you add COVID and all of those issues and book banning on top, it's a lot. I know a lot of people my age that are very serious about leaving the profession already because it's too much for them."