Upcoming webinar series helps educators integrate arts into their practice
MEA's upcoming "Informed by the Arts" webinar series will provide tips on how educators of all backgrounds and specialties can integrate the arts into their practice.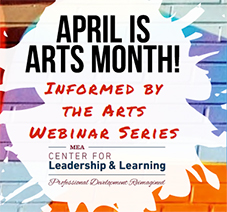 The series begins Tuesday, April 19 and runs every Tuesday, Wednesday and Thursday through the end of April. MEA members in good standing can sign up here: https://www.mobilize.us/mea/event/451713/
SCECH credits and certificates of completion are available for interested MEA members.
The program is being led by MEA's Center for Leadership and Learning, in collaboration with the Michigan Arts Education Instruction and Assessment Project, the Michigan Art Education Association, the Michigan Council for Arts and Cultural Affairs and the Michigan Music Education Association.
Here's a rundown of sessions:
Tuesday, April 19: "Visual Journals & Sketchbooks: The What, Why & How!"
Wednesday, April 20: "How to Fund and Grow Your Arts Program"
Thursday, April 21: "Getting to Center: Self-regulation through the Arts"
Tuesday, April 26: "Grant Writing for Fine Arts Educators"
Wednesday, April 27: "Integrating Design Thinking in the K-12 Classroom"
Thursday, April 28: "Processing the Pandemic Experience with K-8 Students Through Music and the Arts
For more information and details about each session, visit https://bit.ly/informed-by-the-arts-2022.