Whitmer budget proposal continues historic investment from preschool to post-secondary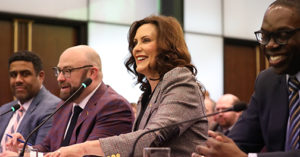 Yesterday, Gov. Whitmer proposed a $20.9 billion education budget for the coming year — continuing a string of historic funding increases that, if enacted by the Legislature, would total a 22% increase since she took office four years ago.  This long-needed funding sets up students, educators and schools for success in the long term.
Note that this is the beginning of the process — the House and Senate will begin discussions about the budget (both any amendments for the current year and the new budget year that starts Oct. 1) in the coming weeks, with final passage in late spring or early summer.
PreK-12 Funding
The Governor's budget proposal starts with a 5% increase to the school foundation allowance — a $458 increase that would bring the per-student funding to $9,608.
In a media statement after the budget release, MEA President Paula Herbart emphasized the importance of districts using these funds to improve compensation for employees:
"We must continue working to attract and retain the best and brightest educators for our students, and that's why we strongly support the governor's plan to provide across-the-board 5% increases in per-student funding for local school districts. It's critical that school districts use this funding to increase compensation for teachers and education support professionals, so we can keep good educators on the job and attract new talent to the education profession. After all, our kids deserve to have trained, skilled and well-compensated educators working in their schools."
Continuing the commitment to weighted funding for students with additional learning needs, Gov. Whitmer also proposed significant increases in these key areas.  The foundation allowance for special education students would increase by 12.5%, getting closer to a full foundation allowances for these students.  Schools with a large number of at-risk students, English language learners and rural students would see another $66.5 million.
A major policy proposal in the budget is $160 million for free school breakfasts and lunches. If passed, Michigan would be the 4th state in the country to provide free meals to all public school children on an ongoing basis (CA, CO, ME), providing a total of over 18 million meals annually. Gov. Whitmer alluded to this proposal in her remarks at the MEA Winter Conference, saying, "Kids who are hungry can't learn, so let's feed them. Kids deserve to feel safe and supported at school, physically and mentally, whether in kindergarten or college. So let's make sure that they are."
Regarding the latter priority, the Governor proposed continuing the $214 per pupil for school safety and mental health for at least the next two years by budgeting $300 million for school mental health and $318 million for school safety. Additionally, there would be $25 million to open 100 new school-based health centers.
To help support student success, Gov. Whitmer is calling for over $730 million in investments for academic interventions. Included in this is $300 million for the MI Kids Back on Track program to provide school-based tutoring and support for students in need of targeted help.  Additional funding is included for literacy grants, literacy coaches, math intervention programs, an increase in adult education, and other special services for students who are falling behind.
To begin movement toward the goal of universal pre-K programs announced in her State of the State address, the Governor is proposing an additional $306 million, including $73 million for the Great Start Readiness Program and funding and tax credits to help recruit more professionals into early childhood and childcare programs.
The Governor's School Aid budget also included the following:
– $900 million into a new Rainy Day Fund for schools
– $500 million for school infrastructure
– $702 million in additional payments into the Michigan Public Employees Retirement System.
– $150 million for EV buses.
– $25 million additional (one-time) for before and after school programs.
– $25 million to continue the Future Educator Fellowship and another $50 million for student-teacher stipends.
The Governor also recommended reducing funding for cyber charter schools. All cyber charter schools were recommended to receive 20 percent less, or $7,687 per pupil, an overall reduction of $42 million.
Community Colleges and Universities Funding
The Governor is proposing a 4% increase for community colleges and universities, with an additional $59 million for Infrastructure, Technology, Equipment, and Maintenance (ITEM) funding for community colleges and $141 million for ITEM funding for universities.
Gov. Whitmer wants to use $140 million in remaining federal stimulus funds to expand access to Michigan Reconnect, a state program that offers free community college or skilled trades training. Her proposal would allow Michiganders who lack a college degree and are over the age of 21 to qualify, down from the current minimum of 25 years old.
The Governor's proposal also continues funding for the Michigan Achievement Scholarship, a bipartisan initiative to lower the cost of college by thousands for most students.  This $100 million investment allows the program to continue providing students up to $8,250 over three years for community college tuition, $20,000 over five years at private colleges, or $27,500 over five years at public universities. Nearly two-thirds of graduating students this year can get a higher education tuition-free by combining federal aid and the scholarship.
To learn more about the Governor's budget proposal, visit Michigan.gov/MIBudget — which includes the slides from her formal budget presentation