Whitmer Proposes Budget Increase for Education
Gov. Gretchen Whitmer got a close-up look at the work of a literacy specialist when she job shadowed MEA member Kristyn Cubitt at Troy's Wass Elementary School in March.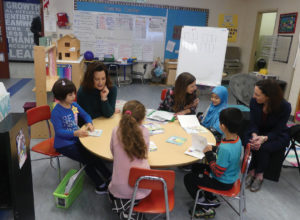 Whitmer observed Cubitt co-teaching a readers' workshop lesson followed by a coaching session with a third-grade teacher. She also saw Cubitt run a Leveled Literacy Intervention with a small group of kindergarteners and conduct a one-on-one daily intervention with a first grader.
Michigan's educators deserve leaders who appreciate the work they do and will fight for them, Whitmer said afterward. "When I learn more about the work they're doing on a daily basis, I can make smarter choices as governor that will help our educators and students."
The governor observed and asked questions for three hours, Cubitt said. "It was exciting to have Wass represent the literacy work happening across our district. Narrowing our focus on what we do in literacy and doing a few things really well is work we're proud to share."
Here are the K-12 education highlights of Whitmer's budget recommendations
The visit came on the heels of Whitmer unveiling her state budget proposal for fiscal year 2021, which includes increases for education and weighted funding for students who are costlier to educate.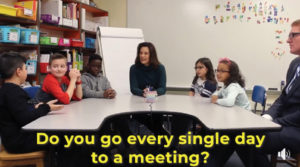 Last year, Whitmer was able to secure funding to triple the number of literacy coaches and move the state toward a more equitable school funding formula.
"This year, I'm building on that progress by introducing a budget that includes the largest increase in funding for school operations in decades, a heavy focus on early literacy, teacher reimbursements for school supplies and universal pre-K for kids who need it most," she said.
Whitmer is proposing a $415 million increase in K-12 funding and additional money for universities and community colleges.
Under the Whitmer plan, base per-pupil funding would increase $150-220 per student with additional dollars going toward special education, English language learners, and economically disadvantaged students.
"Whether it's a literacy coach helping kids read by the end of third grade, a parapro helping students with special needs, a teacher, a school secretary, or a member of the custodial or cafeteria staff, the people who go to work in our schools every day deserve to be treated with respect by the leaders who will fight for them," Whitmer said.
MEA lobbyists will continue to monitor the budget closely throughout the appropriations process. The House and Senate issue their budget proposals in the spring.