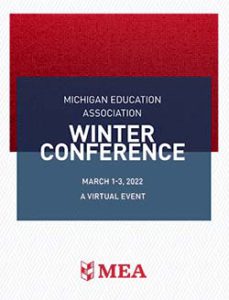 MEA's Center for Leadership and Learning is pleased to announce the 2022 Virtual Winter Conference being held Tuesday, March 1, through Thursday, March 3. Sessions will be virtual from 5:00 – 6:30 p.m. and 6:45 – 8:15 p.m., each evening. You can view the Conference Announcement here.
UPDATE – the registration deadline has been extended to Wednesday, February 23.
Important Information:
The opening session and remarks with Paula Herbart will be Tuesday, March 1, starting at 4:45 p.m. Members wanting to attend should register for the session as they would for any other session.
Zoom Links for session will be included on the confirmation email that each participant receives.
Members will need to verify that they receive the confirmation email. Please let everyone know that they should receive that email within just a few minutes of finalizing their registration on the system. If they do not receive a confirmation email, they should follow-up with Shasta Pohl using Conferences@mea.org, as soon as possible.
To register for the conference, click here, or go to www.mea.org/login.