MEA Conference for Aspiring and Early Career Educators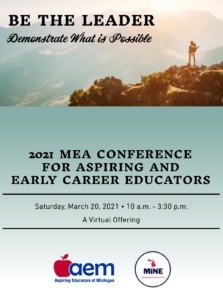 2021 MEA Conference for Aspiring and Early Career Educators
The 2021 MEA Conference for Aspiring and Early Career Educators will be held virtually on Saturday, March 20, 2021. The conference includes sessions on professional practice, leadership and career growth, and advocacy and political action.
Learn more about the conference offerings.
Log in to our Members Only page to register (click on Event Registration).
Contact Jessica Fowler at jfowler@mea.org or 517-333-6262 with questions