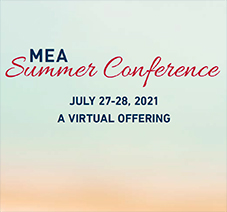 The Summer Conference 2021 will be virtual again this year.
The conference will be held on Tuesday, July 27 and Wednesday, July 28 beginning with a message from MEA President, Paula Herbart, at 11:00 a.m.  There will be a total of 45 session offerings throughout the two days.
Each participant will be required to register on-line for the conference at MEA.org. There will be no fee for the conference which is only open to MEA Members in good standing.  It will be important for members to watch for a confirmation email to confirm their registration was processed correctly.  Session links will be included in their confirmation email.
Please help us spread the word about this training and learning opportunity. Registration for the conference will be available beginning Monday, June 14, and will close on Friday, July 16.
If you have any questions, please contact me or Jenifer Wagner at Conferences@mea.org.