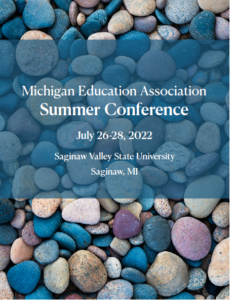 MEA's Center for Leadership and Learning is pleased to announce the 2022 Summer Conference being held in-person on Tuesday, July 26, through Thursday, July 28 at Saginaw Valley State University. You can view the Conference Announcement here.
The registration deadline is Friday, July 8.
Important Information:
The opening session and remarks with Paula Herbart will be Tuesday, July 26, starting at 2:00 pm. Members wanting to attend should register for the session as they would for any other session on the registration form or online.
Members will receive a confirmation email within just a few minutes of finalizing their registration. If you do not receive a confirmation email, you should follow-up with the Conference Assistant at Conferences@mea.org, as soon as possible.
To register for the conference go to www.mea.org/login.