Above and Beyond – Ben Henri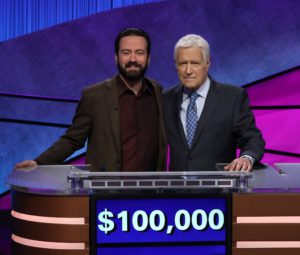 MEA member Ben Henri teaches his vocal music and Quiz Bowl students in Grosse Pointe to celebrate each other's successes, because "It makes everything that much sweeter," he says. Last month his lesson came full circle when a group of his students held a watch party to see him compete—and win the $100,000 grand prize—in the Teachers Tournament on the quiz show Jeopardy! They sent him a video of their "post-game freakout."
One boy said he and friends had to walk around the block to release adrenaline. "He said, 'Mr. Henri, we've done concerts and shows, but my heart has never been racing like this before,'" the 2020 Teachers Tournament champion said. Henri grew up watching the show in a family of trivia buffs—his brother was a 14 of the 15 educator contestants from the tournament remain in touch, and Henri is glad for the extended support system. The global pandemic has revealed the consequences of steadily declining taxes and spending on public services, and he worries about the future of education, he says: "I'm confident in the abilities and stick-to-itiveness of my
colleagues. But if teacher compensation isn't adequate, and if the resources aren't there for us to reinvent our job in the space of weeks, then it makes it difficult to recruit people and to do our jobs." Read the story at mea.org/henri-wins-jeopardy.