Living Life as an Educator
By Anthony Barnes
Special Education teacher
Kalamazoo Public Schools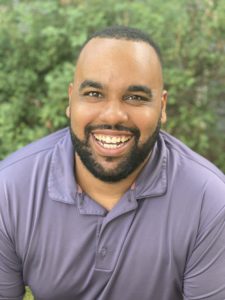 Being an educator is much more than a job or a career; it is a lifestyle. Living as an educator means that you strive for the betterment of the next generation. This work does not end when we leave our classrooms and the confines of the brick and mortar school buildings. During these uncertain times of economic collapse, global pandemic, and civil unrest, the work we do as educators is of utmost importance.
Now is the time for teachers to continue to do the difficult tasks we have chosen to take on: We must lead, inform, take a stand, support, and educate.
As a relatively new educator, I often find myself asking how I can accomplish five main objectives (Yes, I formulate my thoughts into objectives; it must be a teacher thing). How can I best serve my students and their families, take a stance, navigate distance learning while supporting my special education students, incorporate anti-racist teaching into everything I do, and keep myself centered. I want to do it all!
However, as hard as I try to live this lifestyle I have chosen, the more difficult it becomes. If there is an easy way, I have not found it. Once I admit to myself that I am not superhuman and do not have all the answers, I think about how I can incorporate my five objectives into everyday action, how I can embrace all the teachable moments in life, and how I can support others while seeking support. It is a lot to shoulder, but our best and brightest have been doing it for eternity, and now it is my turn.
Our everyday actions define us as human beings and like it or not, as teachers, we have a lot of eyes on us. We have two choices. We can use the spotlight to educate, or we can hide from it. I choose to educate. This means living in teachable moments, taking every opportunity to educate the people around me, and being OK with the discomfort it may bring. It is essential to know that for all educators, this will be different. The way I approach teachable moments is different than how you will, and this is a beautiful thing! Our students need all of us and our uniqueness; diversity is what will allow our students to be well-rounded.
For me, living in teachable moments means embracing all parts of my identity, checking my bias, and keeping an open mind while being ready to speak out and educate at any moment. Often, I find myself having teachable moments with the children in my neighborhood, teaching them about the dangers of playing in the street, the types of flowers that grow in my yard, and a lot of interesting facts.
Additionally, teachable moments pop up with my family and friends, typically in a more severe context, such as public health, racial justice, and LGBTQ+ rights. These are not as comfortable or fun, but just as necessary. I have found that when I live in teachable moments and keep myself centered, all of my objectives fall into place without draining too much from my battery.
Finally, while living a life of teachable moments and supporting others, it is imperative to be humble and accept support from others and continue to learn. If I do not take support and recognize the importance of learning from the world around me, I have grown weak and weary.
Living the teacher lifestyle is a lot to shoulder, but I have built a beautiful network of people in my life who support me and help keep me centered. Without this, I would not be able to achieve any objectives—and my objectives matter because I want to be a part of building a better world for our students, our future.
Anthony Barnes is the newest member‑leader of MiNE, the program for Michigan New Educators creating programming, networking, and socializing aimed at supporting early career educators for success in the classroom and leadership in the union. Search for MiNE and connect on social media.