Aspiring Educators of Michigan Promote Advocacy and Literacy
A group from MEA's Aspiring Educators of Michigan (AEM) designed a multi-layered project for March is Reading Month that gave children from several elementary classrooms across the state a window into another culture, which in turn helped them look more closely at their own communities.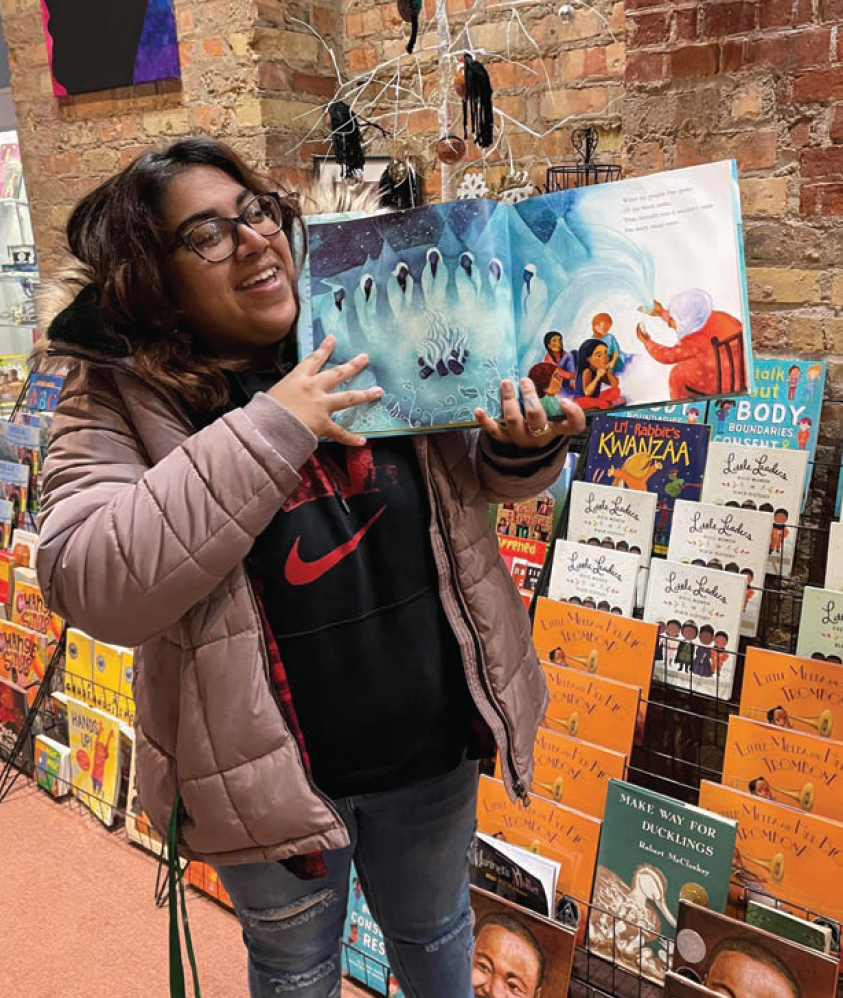 Members of the AEM Social Justice Committee designed the project to value children's voices and help young people to see their actions can make a difference in the world, said Maya Murray, the committee chair and a junior studying elementary education at Michigan State University.
The project was built around a 2021 Caldecott Medal-winning picture book, We Are Water Protectors, described as a bold and lyrical rallying cry to safeguard the Earth's water from harm, written by Carole Lindstrom, an Indigenous writer who is Anishinabe/Metis and is tribally enrolled with the Turtle Mountain Band of Ojibwe.
"We Are Water Protectors is a culturally relevant and important addition to have on the shelves, since it shows how one person can stand up for the community they love by taking action and advocating for what is right and for the voices that have been historically silenced," Murray said.
Inspired by Indigenous-led movements to protect the planet's water, and vibrantly illustrated with watercolor paintings, the book is described as "a tribute to Native resilience" and "an inspiring call to action for all who care about our interconnected planet," in a starred review by Kirkus Reviews.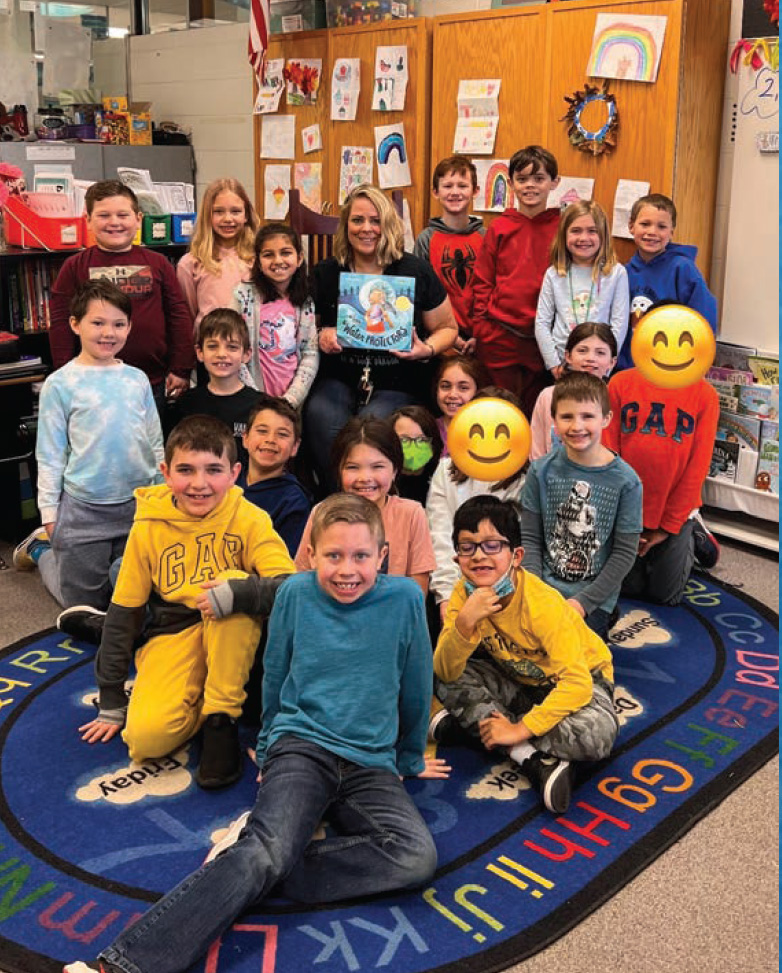 It is the first Caldecott Medal-winning book illustrated by an Indigenous woman, Michaela Goade, who is Tlingit and a tribal citizen of the Central Council of Tlingit & Haida Indian Tribes of Alaska.
AEM members learned about the book through a diverse children's literature workshop offered by aspiring-educator leaders at Wayne State University, including Abriana White, an at-large member of the AEM Board of Directors, who stressed the importance of bringing more diverse books to classroom read-alouds.
"I am proud to be part of this project because children will have an opportunity to learn the importance of advocacy in their communities," White said.
The group of aspiring educators purchased copies of the book for the project from Black Stone Bookstore & Cultural Center near the AEM chapter at Eastern Michigan University. Titled "More than a Land Acknowledgment," the project was supported by a NEA Create grant.
Essay Contest
Each of the ten AEM chapters at universities across the state received five copies of We Are Water Protectors. Chapter members connected with elementary school teachers and librarians who were asked to read the book with students and encourage participation in an essay contest as part of the project.
The essay contest asks students to reflect on and write about the following prompt: Think about issues affecting your community. If you had $100 to make a difference for a cause you care about, how would you spend it?
Five winners from across the state will be selected as winners and notified in April. Each will receive $100 and will be asked to document their advocacy. AEM leaders hope this early experience will help set students on a path of advocacy that will last a lifetime.
Utica second grade teacher Casey Joss said she agreed to participate with her students because it offered an authentic writing assignment for students that was meaningful and intended for a real audience.
"This contest gives students a chance to practice their learning in ways that appeal to their interests and will help them develop lifelong skills," Joss said. "As an added bonus, they will see that even someone their age can make a difference in their community."
Supporting Literacy
The project also seeks to support literacy by donating $500 to the library of JKL Bahweting School, located on tribal trust lands of the Sault Ste. Marie Tribe of Chippewa Indians, which serves a largely tribal population of students.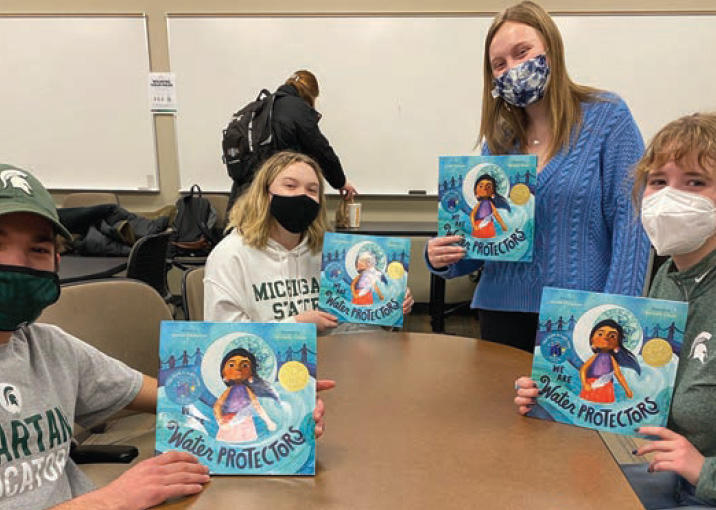 The check was delivered by MEA President Paula Herbart and AEM State Organizer Annette Christiansen at a school board meeting in March. AEM members were excited to support the purchase of high-interest books they hope will encourage a love of reading for the JKL Bahweting students.
AEM Engagement
One of the best parts of the project was seeing how much kids have to say about the world around them, said Katie Kukulka, a senior elementary major at Western Michigan University. "Sometimes they just need the outlet or push to realize they can make change happen and advocate for something they care about," she said.
Along the way, the AEM members reaffirmed their own beliefs about the power of individual actions, said lead organizer Murray. "Being a part of this project has shown me how bright the future of this profession is, and how change really occurs when passionate people put their heads together and do all they can for the communities they are a part of."
Related:
The Future is Now: Aspiring Educators Run Inspiring Statewide Project