Call Her Miss Michigan or Miss Rivard: 'It's all good'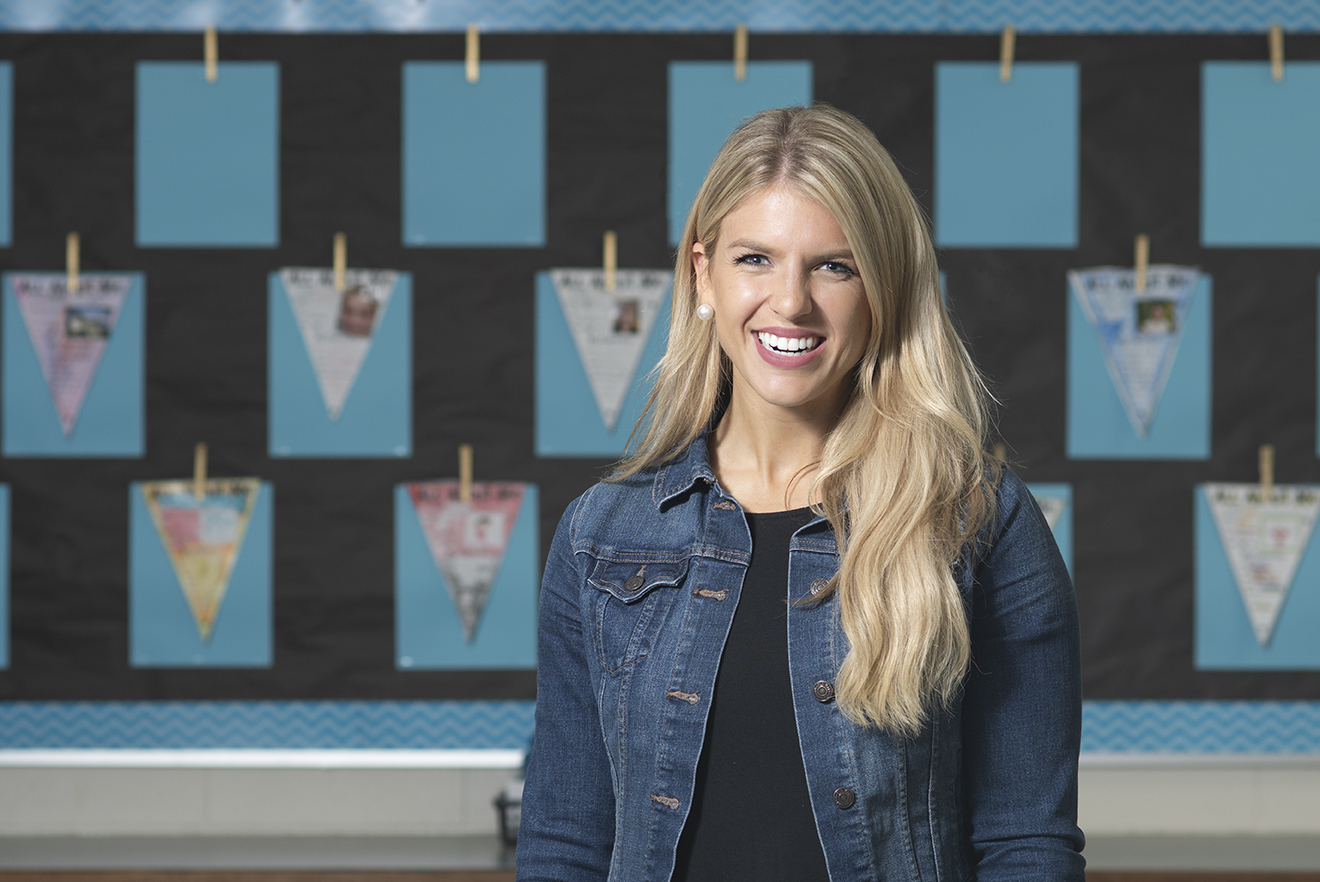 By Brenda Ortega
MEA Voice Editor
Pardon the cliché, but MEA member Mallory Rivard is living her dream—and not only because she's on her way to compete in the Miss America pageant representing Michigan in December.
"My dream has always been to be Miss Rivard," she says. "It's always to be a first-grade teacher. It's always to help kids succeed."
People are surprised to learn the state's top beauty queen is a working educator in a low-income neighborhood school in Bay City. "They're like, 'Wait. What?' They think all [pageant winners] do is take pictures and look pretty all day.
"I'm a real person, I do real things, and I'm here to do my job. Yes, I get to be glamorous sometimes, but at the same time I'm wiping boogers. It's OK."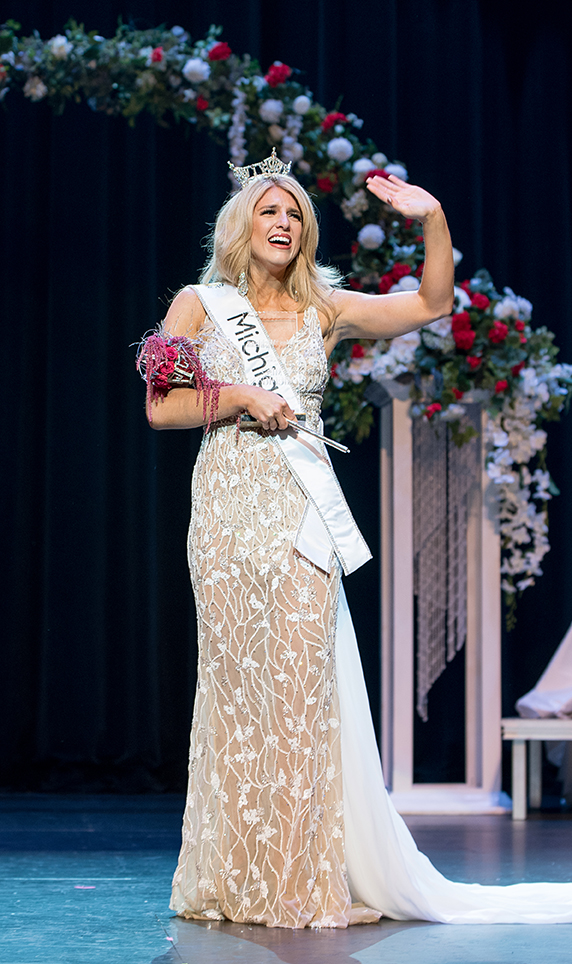 The same gifts that help the 24-year-old compete in pageants also allow her to run a classroom: a passionate commitment, dazzling smile, and commanding presence. So it's not surprising that one youngster in class was having trouble distinguishing between the two.
"One little girl calls me Miss Michigan every day, because she thinks that's my name," Rivard said.
This year marks the first time in the state's pageant history that Miss Michigan is being allowed to keep a full-time job during the busy one-year title reign. The allowance by the Miss Michigan board of directors came at Rivard's insistence.
"I wouldn't be myself if I had to give up a year of teaching. This is where I'm meant to be."
Even so, Rivard says she's glad to have two years of teaching experience under her belt or she might not have been able to juggle all of the demands on her time. She logged 15,000 miles this summer making appearances as Miss Michigan.
"Now all of my appearances or obligations are either on weekends or after school, and there is something every weekend or every other evening. I have a business manager that schedules me outside of school, so I'm very, very busy, but it's such a dream come true."
In June, Rivard took home the crown after seven tries and two back-to-back first runner-up finishes. Through competing in various pageants she has earned $35,000 in scholarship money to finish college debt-free at Saginaw Valley State University. She is pursuing a Master's degree.
Most importantly to her, winning the state title puts a spotlight on the social impact initiative she chose to champion based on her school life: a literacy effort known as "Read to Succeed."
"After two years of teaching first grade here at MacGregor Elementary, I saw the need," she said. "Parents don't necessarily know how to best help their children learn to read at home, so I started digging into different organizations to see what else I could do."
Her research brought Rivard to the READ Association of Saginaw County, where she helped develop and lead several sessions of the Raising Readers Academy, a free 12-week program to help parents learn tools and strategies for building their children into strong, joyful readers.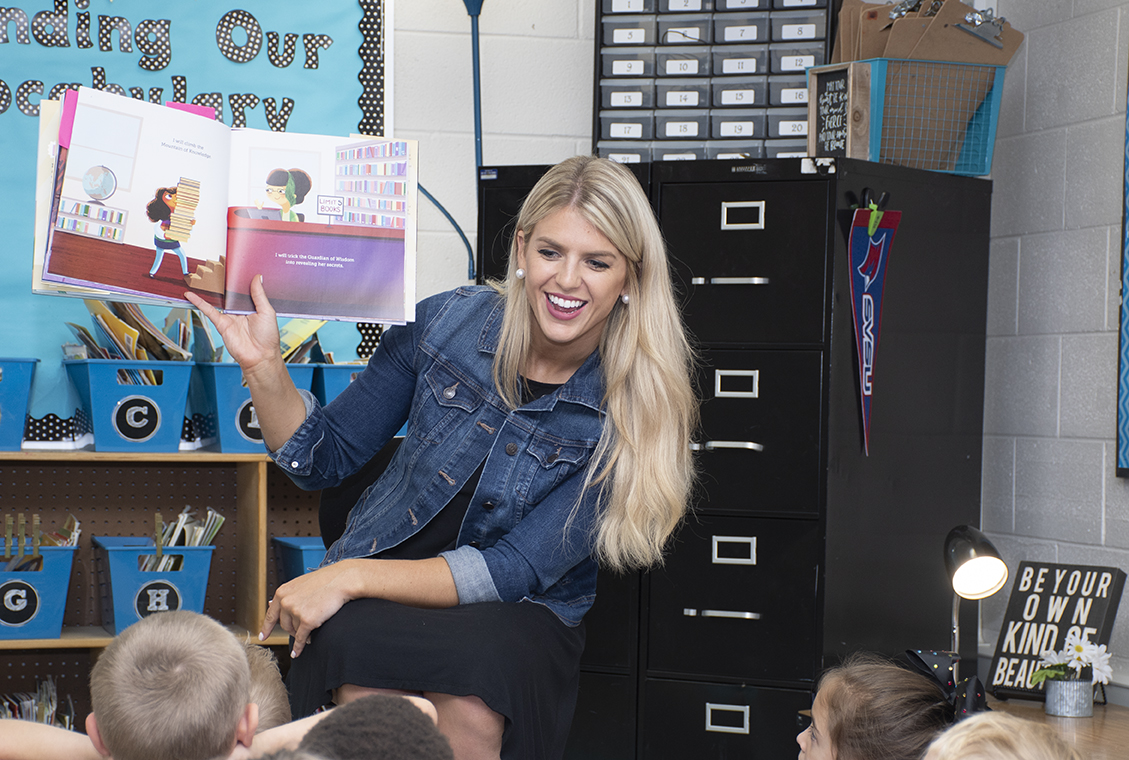 In Bay County, she joined "Milk and Bookies" events featuring Rivard in her crown and sash doing a read-aloud that concluded with milk and cookies plus a free Scholastic book for every child in attendance, thanks to community sponsors.
"I just try to help out in any way possible," she said. "I also have talked to different legislators in the state about bills that have been or might be introduced that I could testify for in the coming months. That's what I see as my role this year."
Another concern that led Rivard to her literacy platform is Michigan's three-year-old third grade reading law which requires K-3 students to be tested and retested throughout the year. Struggling readers below a certain level are given an Individual Reading Improvement Plan (IRIP).
Educators across the state have complained that the law's required testing crowds out time for teaching and learning. "There is a two-page list of testing I have to get done in three weeks, and we're going to try to teach, but our number-one goal is getting through testing," she said.
In addition, the law includes a controversial retention mandate taking effect next fall for third graders who do not meet a prescribed cut score on the standardized M-STEP test next spring.
The experience of other states with similar policies suggests that retention will disproportionately affect children from poorer communities, such as the one where Rivard teaches. "This is going into effect, and many parents across the state don't know about it, and some people think it's a fix-all, and it's not."
Rivard has many ideas about real fixes to address Michigan's reading woes, starting with the most obvious: smaller class sizes. "I give 100 percent, and I try my best to get to know all of my students individually, but what if you could really hone in on goals with fewer students?"
What if all four-year-olds had access to free preschool through Head Start and Great Start Readiness Program (GSRP), she wondered. "And maybe we need to start providing busing for GSRP to help parents be able to use it," she added.
A big problem she encountered in her first year of teaching was that her children didn't have their own reading materials or library cards. "I was telling Johnny, 'Read before bed! Read before bed!' And Johnny said, 'Miss Rivard, I don't have any books to read before bed.'"
She asked for donations on Facebook and was able to fund a free monthly $1 book for all of her students, which she expanded to include all of her school's first-grade classrooms the next year.
"Sixty-six percent of children living in poverty don't have a single book in the home. These kids are resilient; they want to do their best, but how do we expect them to read when they don't have books? They need access to books that they like, that are new and current and representative of who they are."
Rivard grew up in Bay City "on the other side of the river," a mostly rural, white, middle-class area. Her experience teaching on the opposite side of town has revealed harsh disparities she didn't know existed between the lives of residents, which she believes need to be discussed.
"If we want change, we have to talk about it," she said. "Every kid, regardless of their zip code, deserves the same opportunity. Just because these kids live on this side of the bridge doesn't mean they deserve any different or any less."
She inherited a nearly empty classroom when she started teaching full-time in 2017 and estimates she has spent more than $1,200 outfitting it with books, flexible seating, soft lighting, and friendly décor to make school a safe and welcoming space for her students.
"I would love to invite lawmakers into my classroom to see what it's like to be one person and have 27 first graders, who may come to school without breakfast in their belly or go home and not have dinner.
"These kids have so many different struggles that sometimes in the morning you come in and think OK, what bugs will I have to squash before they even walk in the door? What worries can we put away so they can focus on trying to learn and grow?"
The game changer for Rivard has been literacy coach and MEA member Jayme Johnson, who models best practices, gives feedback, and helps out in the classroom at times.
"He's been such a blessing, because I'll be completely honest—first year, I knew what best practices were, but I didn't know how to implement everything. I feel like I use little tools from his tool belt every day."
Rivard also credits another MEA member—her mentor, nine-year first-grade veteran Whitney Legner—with teaching her systematic tricks of the trade for smooth classroom operation. In addition, Principal Brad Pennell gave her time to observe experienced teachers when she struggled in her first year.
Pennell has told Rivard she got the job two years ago because of her stellar interview—a skill she developed and sharpened through pageants and related appearances.
Now as she prepares for the 99th Miss America pageant, airing live on NBC on Dec. 19, Rivard believes her classroom experience has prepared her for the competition, which includes talent and interview portions.
"With teaching, literally every single day is an interview prep. You never know what those kids are going to ask you or what weird circumstances will come up, and there's something about sitting for parent-teacher conferences that is like no other experience."
Whatever happens, the national competition is "a cherry on top" of her already amazing life.
"It's special to meet the candidates from around the country, who are spectacular and motivated professional women," she said. "I'm going to go there and wear fabulous clothes and have a lot of fun. And win, place, or draw, I get to come back and be Miss Rivard, so it's all good."