Conference Appeals to Aspiring and Early Career Educators
MEA member educators in the first 10 years of their careers are invited to join university student members for a newly expanded MEA conference in March that will deliver professional development, networking opportunities, and training sessions.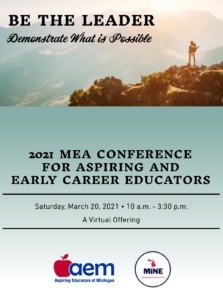 Participants at the free virtual event on Saturday, March 20, will discover classroom tips to put to use the following Monday. But they also can expect to make meaningful connection with a supportive community at the 2021 MEA Conference for Aspiring and Early Career Educators.
One round of "action camps" is part of the all-day agenda, according to Annette Christiansen, MEA professional issues organizer. In these breakout sessions, conference-goers group themselves according to themes or topics they want to discuss.
"People will come together and discuss a topic, and there's a lot of give and take," Christiansen said. "One minute you're asking for help, and the next you're giving advice. None of us has the answer to everything, but all of us have the answer to something."
In addition, members of MEA's early career leadership program known as MiNE (Michigan New Educators) and MEA's college student program, Aspiring Educators of Michigan, will be on hand to continue building a network of involved and connected early career educators within the union.
"One of the main things that aspiring and newer educators need is a community," Christiansen said, "a place where it's safe for them to say, 'I'm struggling with this thing,' and to hear back from someone who says, 'I struggled with that, too. Here's what I did.' You have to be given the time and space and support to develop your craft."
The conference is virtual because of the pandemic – and for that reason it also will be free to members in good standing. Numerous sessions offer participants the option to receive State Continuing Education Clock Hours (SCECH) or ESP certificate program credit.
A session on behavior management will feature the top 10 tips from a 15-year special education teacher who uses case studies for participants to figure out, along with theme-related music and videos to keep her session interactive and engaging.
"Teachers have the tools to work with these students," said MEA member-presenter Christine Rushlow, who is a resource room teacher in Plymouth-Canton. "Sometimes they just need a refresher and the encouragement to try these strategies again."
Rushlow's presentation draws on her experience, research, professional development, and training in Positive Behavioral Interventions and Supports (PBIS) to offer proven strategies that can be applied immediately.
Rushlow differentiates between "what's in our circle of control and what is not." For issues beyond the classroom teacher's control, she discusses how to connect with community resources. Her number-one tip is positive reinforcement.
"Research shows that students have a positive opinion of a teacher who has a ratio of four positive comments to one negative or one redirection—and it can be as little as a smile or a reaffirming nod to as much as a verbal compliment."
Another important suggestion she makes is to pick and choose what battles to fight, a strategy called "planned ignoring" in which only targeted behavior is addressed. "If we become hyper-focused on the student and their negative behavior, it feels like they are being followed all day long by a police officer," she said.
"If I'm followed all day by a police officer as I'm driving, I'm sure I would probably get a ticket for something."
Rushlow's presentation begins with a discussion of the function of student behaviors – which generally involves either getting or avoiding something, she said. After sharing her top-10 tips, group discussion will center around brainstorming responses to various case studies.
For example, if a student's goal is to get out of math class, then removing him from the classroom reinforces the undesirable behavior.
Underlying her philosophy is the idea that students will do the right thing most times if expectations are clearly laid out and consistently enforced in a firm but fair manner. "We don't beg students to behave; we have the expectation that, 'You will behave.'"
A variety of sessions offer something for everyone around the conference theme of "Be the Leader: Demonstrate What is Possible."
From data-driven practice to understanding diversity and encouraging inclusion, what are some ways to keep a classroom running smoothly? Where does creativity fit into lesson plans? How can educators advocate for students in the civic arena, and what are some self-care tips to better handle stress in this demanding – and rewarding – profession?
The keynote speaker will be Michigan Teacher of the Year and MEA member Owen Bondono, a teacher in Oak Park Schools. For more information and to register, go to www.mea.org/aececonf.
Contact Jessica Fowler at jfowler@mea.org with questions.