Donations help jumpstart summer trades program for middle schoolers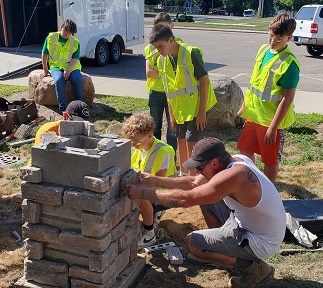 MEA member William Renner has always relied on community support to help equip his technology classroom at Hastings Middle School, but even he was surprised by the generosity of donations from area business and civic leaders to support a summer trades camp he operated this year.
"It was money, it was time, it was talent," Renner said. "Everybody that came in just brought so much to the students — things I didn't even know about, that I would not have imagined being able to do with middle schoolers."
As the community support snowballed, Renner transformed a $3,000 grant from the state's MiSTEM Network that was originally intended for students to build solar-powered dog houses into a multifaceted summer trades program for incoming middle-schoolers, who completed three projects and took part in several hands-on field trips.
The incoming sixth through eighth graders still built the dog houses, which will be auctioned off in October. But on top of that, the students also built bat houses that will be used for mosquito control at a YMCA campground, as well as an outdoor stone table that will be used by their school's art department as a workstation and display area.
Renner received numerous offers of financial and materials support as work spread around the Hastings community about the camp, resulting in $7,000 of contributions pouring into the four-week program.
Lumber for the dog houses came from Rick Reed Builders, while the YMCA of Barry County supplied the wood for the bat houses. The owners of Hawthorne Masonry helped guide the students as they built the outdoor table, with many of the materials donated by Stone Pro.
"Hawthorne Masonry taught the kids how to pour foundation, about rebar structure, and laying blocks and stones," Renner said. "They said they wanted to help because for every 10 masons who leave the field, less than three enter it, and we've got to start teaching kids about these career opportunities."
Other tradespeople, like plumbers and electricians, shared lessons as part of the program and talked about the good job opportunities available in their industries.
A district alum heard about the program and told his wife, who works for The Chervon Group — the parent company of Flex Power Tools — "and next thing I know they shipped us $3,000 worth of brand new tools and batteries," Renner said.
Ace Hardware sold him needed materials at a deep discount, and when Renner walked into Family Farm & Home to buy a multimeter, the manager "just gave it to me," he said, "once again saying that we need students that have these skills when they go out into the workforce."
Other donations for the program came from Lowe's, Home Depot, and West Michigan Gutter & Guards. The generous contributions freed up money that could instead be spent on transportation for field visits.
The group learned about engineering at a Waste Management landfill, worked on furnace and air conditioning units at Welton's Heating and Cooling, and received future job offers from the owner of Lewis Welding, who said he would train anyone willing to show up on time and put in the work.
"You could just see all of these middle schoolers' eyes grow huge because now they have an adult offering them a job opportunity five years in the future," Renner said.
"So many opportunities were brought forward because the community decided they wanted to do this for the students. It was amazing to see the kids making connections to core content and getting excited about working and learning in a non-assessment-based setting."
Renner said students were able to connect the dots between the hands-on work and their school lessons — especially math concepts from fractions to Pythagorean theory, as well as ways to measure lengths, areas and volume.
"All of a sudden a quarter-inch mattered, and close enough was not good enough; it had to be right," he said. "One of the kids came up to me and said, 'Mr. Renner, is this why my teacher kept telling me I had to learn fractions?'"
High school students from the Renner's program drew up designs for the dog houses. A few groups of younger students in the summer camp had trouble figuring out how to correctly nail together two boards for the internal framing, which created further problems with their next measurements.
When the students realized something was wrong, they asked Renner what to do and he told them to take it apart and try again. They did and got excited to find their measurements were now correct.
Later, when work on the dog houses had been moved to the hallway outside of his classroom to accommodate their size, he listened as students explained about fixing their mistakes to interested teachers and administrators passing by, he said.
"They realized it's OK to make a mistake and learn from it, and it was cool because some students were accustomed to shutting down as soon as something was hard or wrong," Renner said. "But they wanted to build this, so instead of saying, 'I did something wrong,' they talked about, 'Oh, I learned something.'"
About 20 students were chosen via applications to participate in the summer camp for three hours a day, four days a week for four weeks. Renner deliberately recruited a few non-traditional students, including some who didn't typically like coming to school.
One of those students — a boy who often gets behavior referrals for defiance or disrespect — is a great example of why Renner loves his work. The boy had to be persuaded to join, but by the end of the program, he found himself torn between becoming a welder or a plumber after high school.
"He struggles to sit in a chair; he's a busybody who really wants to work with his hands," Renner said. "I think, for the first time in his life, he saw a path to success that seemed achievable to him."
View Renner's highlight video from the summer program.