Funding, Literacy Top Launch Michigan Recommendations
Amid a contentious political scene nationally, a diverse group of Michigan leaders from the education, business, civic, and philanthropic realms—often at odds in the political arena—have spent the past 18 months seeking common ground on education policy.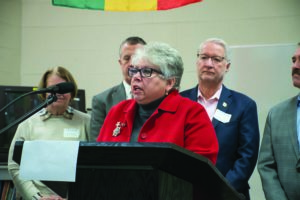 In December, the unusual coalition known as Launch Michigan released its first set of recommendations for rebuilding a public education system battered by years of underfunding and punitive accountability approaches.
The phase-one agenda for 2020 includes a focus on elementary literacy and increased funding based on need, commonly referred to as weighted funding, in which all schools receive the same base amount with additional money allocated for at-risk and underserved students.
Beginning the coalition's advocacy work with an emphasis on providing adequate and equitable resources is an important start, said MEA President Paula Herbart, a co-chair of Launch Michigan's steering committee.
"To be successful we must fund our students, we must fund our educators, and we must value and respect what they do for our economy in the state of Michigan and for the global society at large," Herbart said.
For too long, "fixes" to the education system have been mandated without the input or broad support of educators, said Doug Rothwell, a Launch Michigan co-chair and CEO of Business Leaders for Michigan.
"Launch Michigan represents a different approach," Rothwell said. "Never before in Michigan's history has such a diverse coalition aligned behind a common set of education improvement recommendations."
Read the full story at mea.org/launch-recommendations.