How to Build School Funding
An appeal for your activism
What would it mean to have smaller class sizes in your school? Or to have additional counselors and social workers in your district to address students' social-emotional and mental health needs?
What about returning a certified librarian to every building? Equipping students with books, supplies and technology? Committing to the arts? Covering rural transportation costs? Adding reading and math interventionists? Instructional coaches? Education support professionals?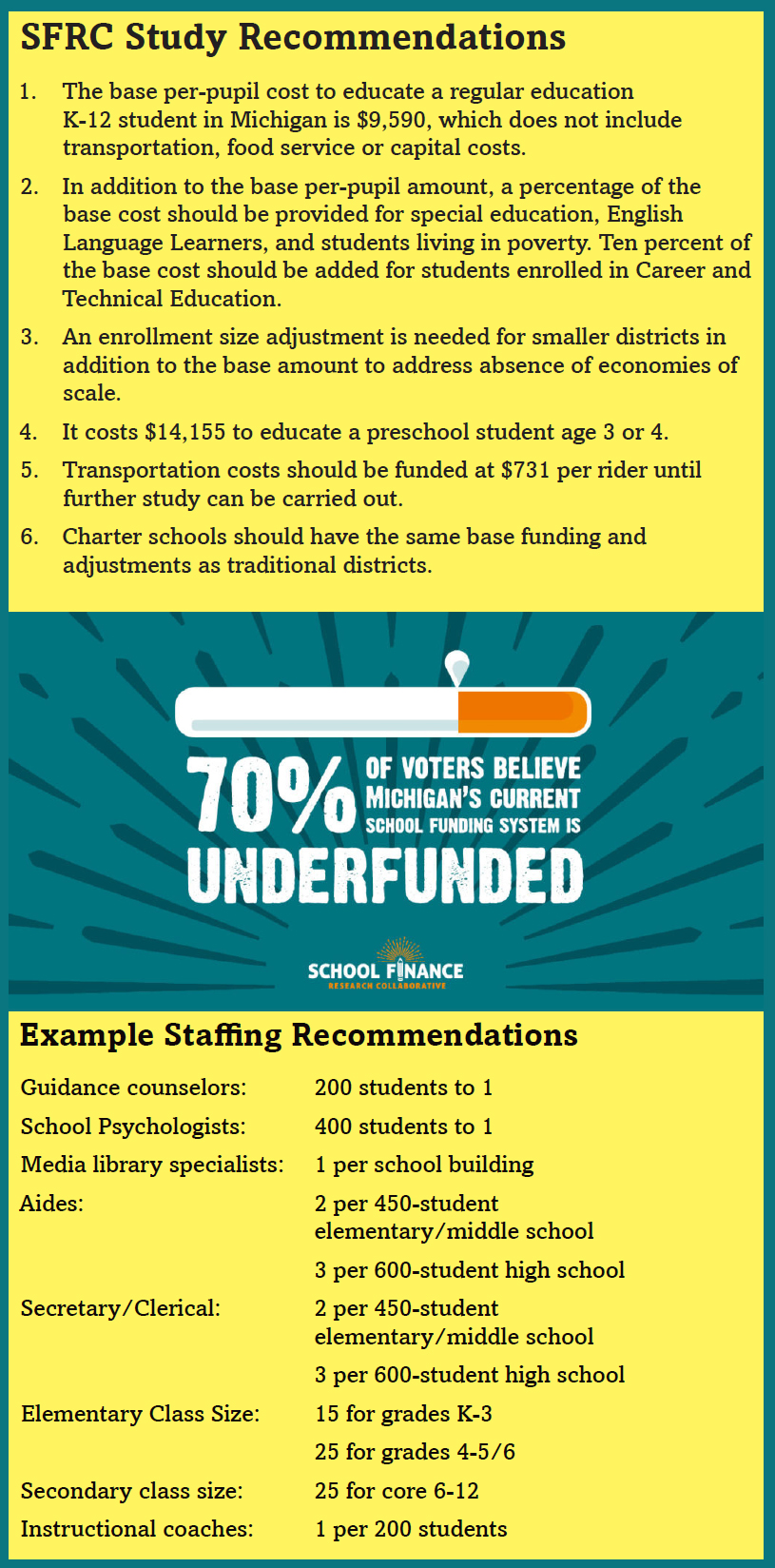 In short, how would teaching and learning change in the ecosystem where you live if your school had adequate funding?
An effort is under way to get educators talking about school funding, armed with facts from the most comprehensive study ever conducted in Michigan to determine what it actually costs to educate a child.
Released one year ago, the study by the School Finance Research Collaborative (SFRC) concluded the state is drastically underfunding education and should increase per-pupil spending across the board and add more money for districts with specific challenges.
However, the study accomplishes little if it sits on a shelf collecting dust, no matter how detailed its recommendations or how broad-based its support.
That is why advocates are committing to keep the study alive and relevant by using it as a tool for transformation—hopefully with help from educators who are willing to get involved at the local level.
If we want change, we each must take action and build our strength together from the ground up—which is the nature of unionism, said MEA President Paula Herbart.
"That means staking our position rooted firmly in truth, creating alliances with other leaders in our communities, and building pressure on lawmakers to do what we know is best for the children of our state," Herbart said.
If you would like to get involved, the first step is to learn what's in the report—then you're in a position to share concrete information with colleagues, parents, and civic leaders in your school and community.
To begin with, if you're nervous about bringing up conversation that might seem political, here are two facts that can begin to build a bridge across the partisan divide:
1) The SFRC report was funded by a diverse and bipartisan group of business leaders, foundations, and education experts; and 2) a poll last June found nearly 70 percent of likely Michigan voters support more funding for schools as outlined in the report.
The study was conducted in fall 2017 by the nation's top two school finance research firms by determining the costs of school personnel, student support services, and technology for all students to meet state standards. More than 300 Michigan teachers, special education directors, principals, and other educators participated in panels during the research process.
The study found the state had decreased inflation-adjusted per-pupil spending by an average of $663 per student from 2000-2016, compared to the U.S. average which actually increased by more than $1,400 over that period.
At the same time, schools are being held to more rigorous standards, "and our students will continue to fall behind if our school funding system doesn't address their wide-ranging needs," the study said.
The report's authors note the world has changed since the state's last major overhaul of its school funding system—Proposal A in 1994—including the advent of the internet, expanded global competition, and increased automation.
Proposal A is a school funding system that provides every school district the same amount regardless of their student population's needs, unlike higher-performing states which use  formulas for giving additional money to districts facing extra challenges—such as high poverty and greater numbers of English Language Learners (ELL).
"A new, fairer school funding system is needed that addresses every student's unique and individual learning needs because there is no one-size-fits-all approach to educating kids."
You can find videos, fact sheets, and other easily digestible breakdowns of the report's findings at fundmischools.org. Click on the "Resources" tab.
Lawmakers are beginning the process now of developing state budget priorities for 2019-2020. Be sure to sign up for MEA's legislative and political newsletter, Capitol Comments, to stay up on the latest information and ways to get involved. Go to mea.org/signup to join the mailing list.