Six members who signed up for MEA's new Staples discount program this summer were randomly drawn to win a "classroom refresh" featuring $250 in 3M products:
Betsy Spray-Comstock, teacher, Atherton
Amanda Feyen, teacher, Manistee
Erin Michalak, teacher, Clawson
Heather Skulan, teacher, Wakefield-Marenisco
Katherine Sibalwa, teacher, Byron Center
April Switzenberg, paraeducator, Mason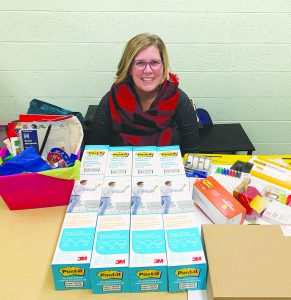 Winner Amanda Feyen (pictured) says she has used her Staples discount to purchase materials for programs she runs in Manistee: elementary music, high school choir, and theater.
"The discount on Avery products alone saves my program a bundle—over half the price I would have paid on Amazon," she said. "The Staples delivery also delivers your order right to your door or room! It was such a good experience!"
Have you signed up yet to take advantage of members-only prices? Either online or in person at Staples locations, you can receive an average discount of 30 percent on purchases. Learn more and register by logging into the MEA Members-Only area at mea.org/members-only.