Innovation: Peer Tutors Fight Inequities
When MEA member Jeff Austin started a writing center at Skyline High School in Ann Arbor six years ago, he didn't have a mentor or a network of support to help him. Now he wants to be one and build that for others to follow in his footsteps.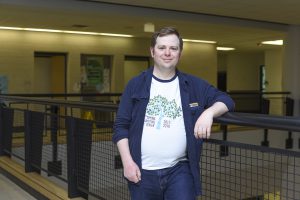 Austin's innovative tutoring program provides quality writing support by students, for students, throughout the school day and online to address achievement and opportunity gaps. The program operates as a for-credit class, with trained tutors who are juniors and seniors.
"We use peer-to-peer learning to disrupt some of the inequities we've seen around literacy and writing," Austin said.
Achievement and equity gaps exist between special and general education students, between students of color and white students, and between students from low and high socioeconomic backgrounds, he said. Those issues exist at Skyline and across the country.
"Our writing center can be a spoke in the wheel of support that helps students, because a lot of these issues are rooted in reading and writing."
Students can drop in for tutoring any time of day, and teachers can request tutors to come into their classes to work with individuals or small groups. Student tutors also run an online writing center serving Skyline and two other schools, including the district's alternative high school.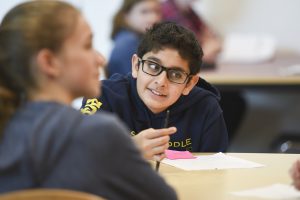 According to data collected by Austin, in one school year Skyline writing center tutors completed 1,207 consultations for 31 teachers across content areas. Students who used the center reported a median improvement of one full grade, greater writing confidence, and improved ability to evaluate their own work.
"There's a lot of information out there about really good things that happen when kids start to get metacognitive—when they start thinking about their writing and their work in deeper, more meaningful ways," Austin said.
Now Austin has found a way to reach even more students. He is using a grant from the state to help train and mentor educators from five other schools in Washtenaw County who are interested in starting a writing center.
For his innovative approach, Austin was among the first cohort of educators selected to be part of the Michigan Department of Education's Innovative Educator Corps.
The designation includes a $5,000 grant for program improvements and a $5,000 stipend to help spread his ideas to other educators. Both the grant and stipend are renewable for up to two additional years.
He is using the money to design and fund a training program that includes a weekend retreat and two conferences for both director and student participants from schools in Ann Arbor, Saline, and Dexter. A second group of interested educators from the county is being recruited.
Dexter High School English teacher Andrew Parker signed up to join the project after kicking around the idea with a colleague for several years. The MEA member teaches ninth graders, who often need extra help with essay writing.
He planned to start small with a few tutors working alongside him in an independent study arrangement. "The plan is eventually we would expand to serve all grades and all classes once students see the benefits," he said.
Building a writing center over several years has not been easy—especially given the fact that Austin still teaches three classes of humanities and sophomore English. Creating a student-led program is "immensely complex," he said.
The job involves recr uiting and training tutors, maintaining and reporting data, marketing and promoting services, and advocating for resources. Student tutors have to learn how to give meaningful and encouraging feedback while developing a comfortable relationship.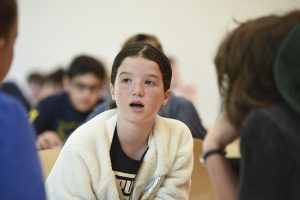 "There's never enough time, but the tutors are committed and work really hard," he said. "They're reading research, they're practicing, they're thinking and working through the complicated issues of what it means to talk to people about writing and help them through a process without taking it over or owning it for them."
Not a lot of writing centers existed when he first ventured into the arena, Austin said.
For help and support, he joined national organizations to tap into professional resources. Now he's a leader and conference presenter in the International Writing Centers Association (IWCA) and Secondary Schools Writing Center Association (SSWCA).
In addition, he built partnerships with faculty who operate writing centers at Eastern Michigan University and University of Michigan—both of which are helping him to train educators and students from his Washtenaw County Writing Centers Project.
Recently he designed a Secondary School Writing Center Census which he administered to 115 writing center directors across the country. He found 67 percent of the programs were started in the past five years, and 40 percent began in the last two years.
One-third of those surveyed learned how to run a writing center through self-training and research. Almost none had ongoing support or collegial networks to help sustain programs.
"What people said to me over and over was 'I wish I had support when I started,' or 'because I'm new, I really want a network.' Locally, too, there was a hunger for it, so I worked with my community partners and we put together a comprehensive coaching and mentorship program to get people off the ground."
Austin modeled his grant-funded training and support program after a network in Fairfax County, Va., which boasts writing centers in 18 of 21 high schools.
One of the best outcomes he has witnessed through the writing center is when tutors have positive ongoing interactions with students they are helping, Austin said.
"The best use of the writing center is when people are returning multiple times for a single assignment, and that's when these powerful relationships develop. Those students leave with a relationship with a peer that they know they can go to."
The system encourages literacy connections across departments and content areas. Student tutors in his program are helping to train others from the five startup schools. They also do community service and present at conferences along with Austin.
"What I'm most proud of is that over the last seven years we've become the student-centered, student-led organization that I always wanted us to be."