In Memory of an Innovator
Something was missing from opening day in Grand Blanc Community Schools this year.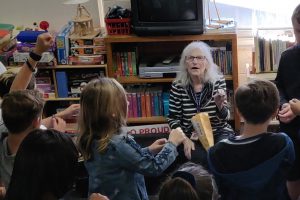 For the first time in more than a half century, MEA member Vickie Weiss was not in attendance. In June she completed an astounding 55th year teaching elementary school in the district, and in August she passed away at the age of 79 following a brief illness.
Described as a legendary innovator and "ambassador for learning" in the community, Weiss was largely responsible for creating City School (now the Perry Innovation Center) in the district nearly 30 years ago. There she was able to put her beliefs about how children learn into action.
"She was very much ahead of her time, and her legacy is going to live on long after many of us have gone," said Grand Blanc Superintendent Clarence Garner, who was mentored by Weiss when he began teaching in 1988.
The school that Weiss started in Grand Blanc in the early 90s was cutting-edge. Students learned in multi-age classrooms of grades 1-2 and 3-5 where they could move fluidly across groups based on skills rather than age. Every student experienced being youngest and oldest in class.
The school ran on an extended school year similar to what is now called a balanced calendar. Parent involvement was required. In addition, City School focused on experiential learning.
For example, Garner said, in the last couple of years her fifth graders studied the history of Detroit and visited areas of the city being revitalized to examine the cultural impacts of redevelopment.
Pam Bachner taught alongside Weiss for seven years at City School, and their friendship endured for decades. Weiss was known to be tough because of her high expectations, "but she always gave students an opportunity to make improvements," Bachner said.
"Every day was a fresh start in her eyes. She taught me and everyone that life is about learning."
Weiss always came up with real-life themes and issues to build mentor texts and learning experiences around, Bachner said. For example, when the city council considered a proposed park, students read council meeting minutes, met the politicians, and wrote letters on the issue.
She brought in musicians, dancers, visual artists, and jewelry makers to demonstrate and discuss their art. "And so on. Those opportunities weren't every three or four months," Bachner said. "It was on a regular basis. Her wheels were always turning."
Most importantly, she fostered relationships that made students and adults feel heard and important, Bachner said. Outside of class, Weiss coached students for 25 years in a competitive problem-solving program called Odyssey of the Mind, taking teams to World Finals five times.
Hundreds attended her funeral service, including former students who flew in from around the country and stood up to share remembrances.
No one has found records to determine if Weiss was the longest-serving educator in state history, Bachner said, but she added with certainty: "Vickie was the best ambassador for learning ever."