Member Spotlight: Terri Spencer
Terri Spencer clocks in to her custodial job at Clarkston High School at 9:30 a.m. By 1:00, the union president has helped clean three lunch periods and mop up at the end. Then room cleaning begins.
How many classrooms do you clean?
After 2:00 I'm responsible for 19 rooms, the girls and boys bathrooms, and I do another single bathroom, sweep the hallway and get all the garbage.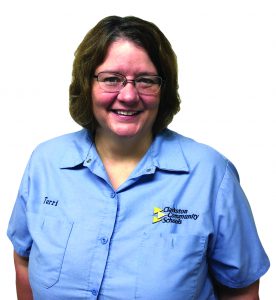 Is there any time built in to your day for the unexpected?
We have to wear a radio for the first half of the day, and if we have to turn off the water because a toilet is overflowing, or if we have to clean up spilled coffee, or vomit, or any of the other things that happen quite often, other people try to take over when you're gone. We make do, and we have that much more workload added on those days.
Is it hard to get it all done every day?
We have a "time study" that says how long each job should take. You have seven minutes for a classroom, half an hour for large bathrooms, and maybe 10 minutes for a small single stall. We actually run over our time studies. They've cut people in the past, so we're a skeleton crew.
What do you enjoy about your job?
I take pride in my work. I like the kids. The teachers are welcoming. I think teachers are appreciative of us because they've seen too many districts privatize. They're like, "I know Terri; she'll be in every day, and if at all possible my room will be clean from top to bottom."
Has your unit ever been threatened by privatization?
Our contract was opened up in 2009. They said if we didn't open our contract, they would privatize us. We took a $2.50 pay cut per hour, and that was hard. We finally negotiated a raise these last two years.
Why is your union shop better than a privatized district?
In some [privatized] schools there's a lot of turnover, it's not as clean, and you have a tendency for private companies to say, "Hey, we're not supposed to do that. That's not custodial work." Where we shovel snow 10 feet out, they say, "No, that's outside of the building." They have a problem with doing setups, like for parent-teacher conferences. We're Johnny on the spot.
We've had plumbing backing up on the floor, and we're there, cleaning it and redirecting the children so they're not going through raw sewage. We work together and get things done.
Divided we fall and united we win. I had an older parent—my father was born in 1915—and he was part of GM before they had a union. Back then if somebody went and got a drink of water out of the water fountain because the heat was so bad, they were carried outside the door and dropped. The conditions were horrible. He went to World War II, came back, got a job. Consequently, he was part of the union when the union came in. So I understand what it was like before unions, and how people were treated before and after the union. What I'm trying very hard to do is unite the custodians because when we are a group together, we can make a difference. When we're separate, it makes it very hard. We are the union.