More districts start programs enticing students to teach
School districts are taking advantage of state grants, creating new high school courses, and developing partnerships with colleges and universities to address the educator shortage by exposing students to career opportunities in the profession before they reach college.
The growth of courses and programs for high schoolers reflects heightened concerns around far fewer young people pursuing education careers as active educators are leaving – and especially as a significant percentage of the state's teaching force becomes eligible for full retirement over the next few years.
The state's Future Proud Michigan Educator Explore program is one element of the Michigan Department of Education's efforts to grow and diversify the educator workforce. The Explore program offers guidelines for introductory coursework that can be a companion to existing career and technical education cadet teacher programs.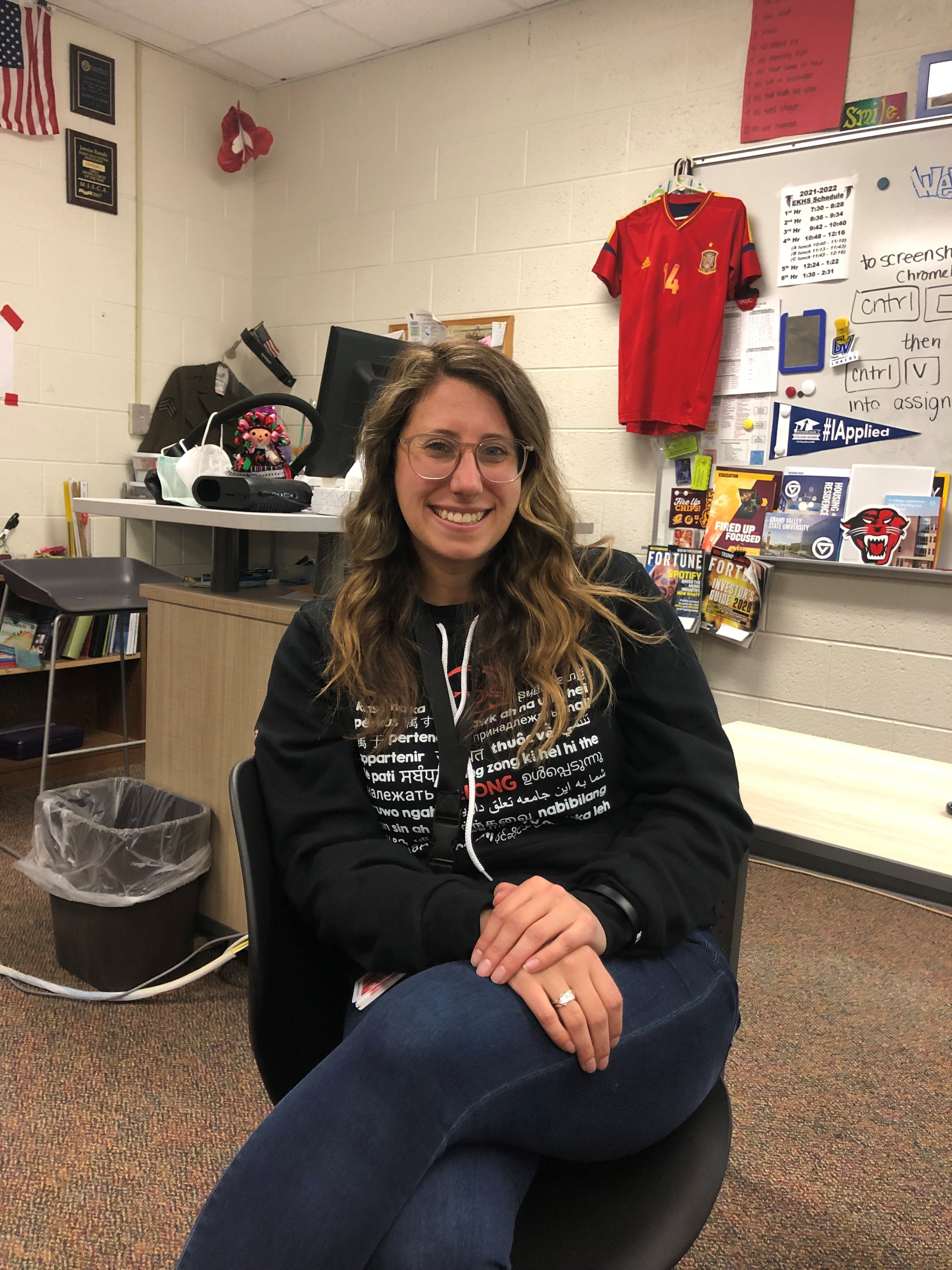 In March 2021, the state education department awarded 44 districts $10,000 grants to launch Explore programs. Another round will be issued this year with the application opening in August for grants to be awarded next spring.
At East Kentwood High School, an Educators Rising class offers seniors a chance to learn the basics of lesson planning, observe teachers at work, and visit college campuses to see what's involved in education degree programs, said MEA member Jasmine Ramahi, the eight-year veteran who teaches it.
"All the talk of a teacher shortage motivates me to try to empower these students to go into education because we need good teachers," Ramahi said. "People are looking for where they're valued and where they can leave an impact, and teaching can be that answer to make you feel fulfilled."
Students learn many concepts taught in introductory college courses, and the district is seeking state accreditation to award college credits for the three-year-old class. From one of the most diverse high schools in the state, the class attracts students who know they want to be educators and others who need encouragement to see themselves in the role.
Ramahi stresses that many kinds of educators are needed and all create their own ripple effects in the world. "This is a chance for us to maybe hire some of our awesome students down the road, so I approach the class with a positive attitude because I love my job and I want them to see me enjoying my day," she said.
The hope is that recruiting future educators who might not have considered the career but have leadership aspirations will help to build out a future education workforce that better reflects the student population. About half of all U.S. students are non-white, but 80% of teachers are white.
In Holland, a new partnership with Hope College launches this fall – a tuition-free Teacher Preparation Early College Program the district is calling a first-of-its-kind in the region. Students who commit to a 13th year of high school will emerge with two years completed of a bachelor's degree in education.
"We have a diverse learner population at HHS with over 50% of our students being students of color," said MEA member Sarah Le Febre, a 22-year English teacher who will run the introductory Future Educator Course. "I am eager to be a part of a program that 'grows our own.'"
Students will be assigned a mentor teacher and will spend two days a week in a clinical placement in a classroom in the district. Le Febre says she hopes to inspire students to join the profession by showing them the "beautiful realities" of a teaching career – both the joys and difficulties.
Le Febre admits her heart "skipped a beat" when her son – a recent college graduate – chose to pursue teaching in the footsteps of both of his parents. She was nervous for him knowing the mental, physical and emotional demands of the path, but she also felt immense pride in his decision, she said.
"I will not sugar coat the demands of this profession, the absurd evaluation system, the ridiculous low pay for the hours spent, but I will forever be a cheerleader for anyone who sees this profession as more than a career, but a life's mission," Le Febre said.