Panel Advises Governor on Recruiting, Retaining Educators of Color
By Brenda Ortega
MEA Voice Editor
Growing up in a small farming community in west Michigan, MEA member Angela Pérez didn't know what she would do with her life—but she wanted to do something. She was the first in her family to go to college when she started taking classes at Muskegon Community College.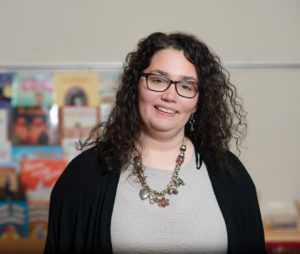 Pérez didn't imagine herself being a teacher. She'd never had a Latinx educator until she met her college advisor, who recognized her potential and steered her toward a program at Grand Valley State University (GVSU) that helped minority students become teachers.
Now Pérez works with English Language Learners in Muskegon—a job she loves. "I love being in a profession where we can help break the cycle of poverty and not only make a difference in somebody's life but help bring positive change in our communities."
Before Pérez started her work 18 years ago, the Minority Teacher Education Center at GVSU provided financial assistance and a sense of community for aspiring educators from under-represented groups, but the program no longer exists.
"I don't think I would have ever become a teacher had I not had certain support, and the fact that some of those supports are no long there makes you think, How many people are we missing? How many people are we just not getting to? People who could be great educators?"
The simple answer to that question? Too many. In short, the statewide teacher shortage has exacerbated what was already a problem in the education field: a lack of diversity among the educator workforce.
In Michigan, the teaching force is predominantly comprised of white teachers (92%), with the next largest group, black/African American teachers, comprising only 6 percent and all other minority groups 1 percent or less, according to the Michigan Department of Education (MDE).
Meanwhile, students of color make up one-third of the state's total population of students.
Research shows that improving teacher diversity can help all students, but students of color especially benefit by seeing themselves reflected at the front of the classroom. Having educators from various racial and ethnic backgrounds improves minority student achievement and graduation rates.
For that reason, Gov. Gretchen Whitmer tasked a subcommittee of her new Educator Advisory Council—appointed last year—to explore ways to improve recruitment and retention of educators of color in Michigan.
Pérez was among the six members of the subcommittee who presented Whitmer with a set of 10 recommendations in February. "When we started out and we asked what this problem looks like in Michigan, the data that came back just blew my mind," Pérez said.
The statistic that most delineated the problem for Pérez showed the white teacher to white student ratio in the state at 1:12, compared to a black teacher-to-student ratio of 1:60. "We are doing a disservice to our kids," she concluded.
The subcommittee began from a position that the same solutions to target the state's overall teacher shortage would help alleviate the shortfall of minority educators as well—summed up in the acronym SOS: Competitive salaries, opportunities for leadership, and necessary supports.
From there the group offered strategies to bring in more candidates of color—such as marketing the profession, actively recruiting high school students, alleviating the costs of becoming a teacher, and developing more scholarships for prospective educators of color (See recommendations).
Because the ranks of education support professionals are more diverse than the state's teacher corps, the subcommittee recommended the creation of career ladders for paraeducators to become certified teachers.
Such an approach is behind a partnership in Kalamazoo between the local union, school district, and Western Michigan University, says MEA UniServ Director Tim Russ. The program will help support staff earn teaching credentials through district-funded tuition assistance and expanded scholarship opportunities.
"Many support staff have the educational background and skills to be great teachers, but the cost of higher education is a barrier to advancing on a career path to the classroom," Russ said.
The advisory panel also looked at methods for retaining educators of color once they join the profession through new teacher supports, such as coaches and mentors; networks that connect educators of color at the district, region, or state level; and simplified college debt forgiveness.
In Ann Arbor, a union-led Minority & New Teacher Affairs committee collaborates with the district to help recruit, hire, develop, and retain new teaching staff. Both Ann Arbor and Kalamazoo have boosted their percentages of educators of color above the state average.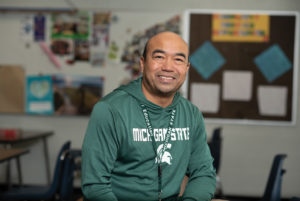 The subcommittee "shot for the moon," said MEA member Ben Pineda, a middle school social studies teacher in Haslett who served on the panel. One recommendation urged policymakers to reduce the role of standardized testing in student assessment and in educator evaluations.
"I think standardized testing is ruining our education system in the United States, and we shared that experience with the governor," said Pineda said. "The fact that we have the ear of a governor who's committed to education is so important. Now we need legislators to walk the walk. We can't keep losing great teachers."
Still going strong in the classroom after 32 years, Pineda also is a mentor teacher to education students at Michigan State University and facilitates a support program for other mentors.
"I love, love, love teaching," he said. "I love working with students, and I'm privileged to have a voice and to be involved in efforts that are building toward change and hoping for a better tomorrow."
MEMBER VOICES FROM THE FIELD: