Support Staff Conduct Picketing in Lapeer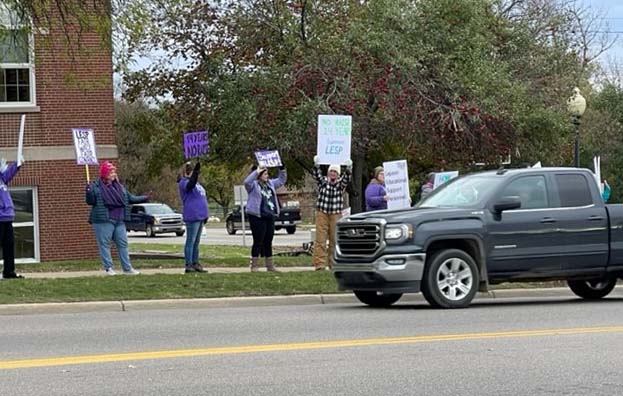 Education support professionals in Lapeer held an informational picket along Main Street last week to call attention to the fact they are working under an expired contract despite negotiating on a new agreement since last January.
The 125 members of Lapeer Education Support Personnel believe their previous sacrifices during challenging financial times for the district should be recognized and compensated now that the district is in a better place financially, said MEA UniServ Director Marty Zmiejko.
After picketing, dozens of union members attended the school board meeting where LESP President Myra Bray told board members a previous tentative agreement was voted down because wage increases were not distributed fairly across job classifications. The contract that expired on June 30 remains in effect.
"We have a unique union, encompassing so many different types of positions, but each and every one of us work hard every day, in the best interest of the students and to keep our district running smoothly," Bray said. "We had this in mind when we first came to the table in January, hoping, due to our past sacrifices such as the pay freeze we took last year, that we would finally be offered a fair and equal raise for all of our members.
"We stand united today to ask that you consider a fair and equal distribution of our wage chart to recognize that each and every one of us is valuable to the district, no matter what role we play."
The two sides are currently in mediation.