Teaching 'shouldn't require financial martyrdom'
By Brenda Ortega
Editor
Four years ago, MEA member Brady Crites returned to teach at his high school alma mater in Rochester after earning a Bachelor's degree in Germanic Languages and Literature and obtaining secondary teaching certification at University of Michigan.
But he couldn't return to live in Rochester. He can't afford it.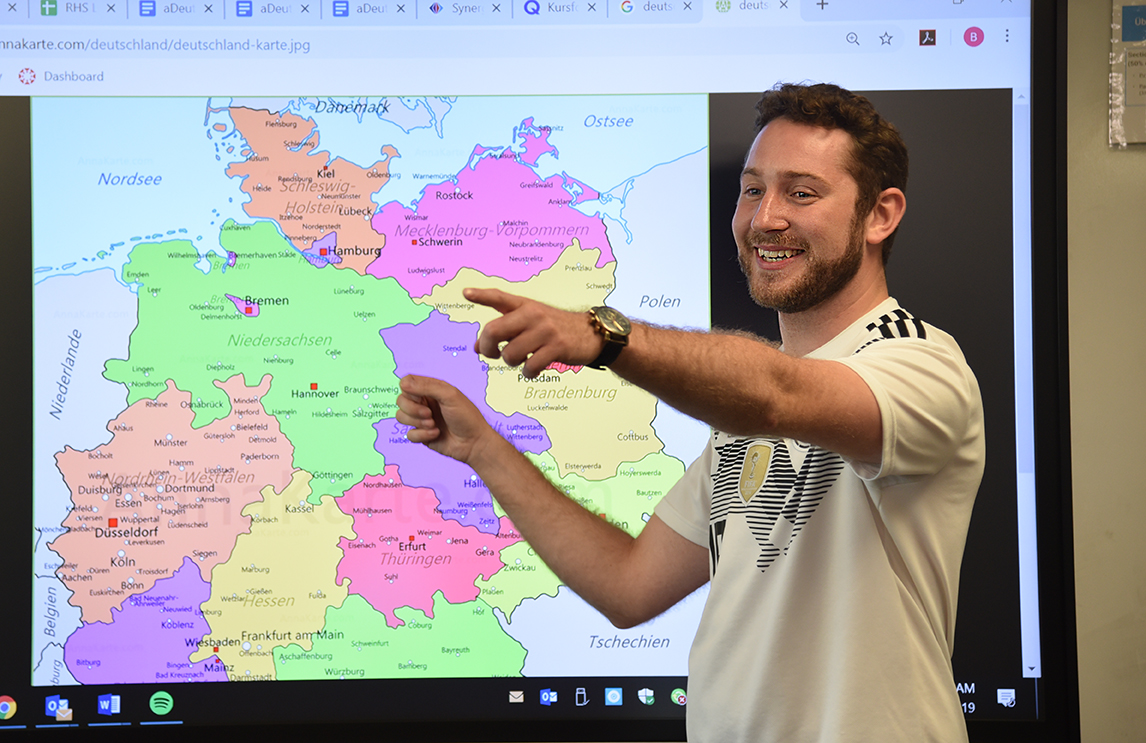 Instead 26-year-old Crites lives with three roommates in Ferndale, a 30-minute one-way commute in good traffic – which often rises to 50 minutes in rush hour conditions.
With no public transportation and few bikeable commuter routes, Crites bears the costs of a vehicle, plus gas and wear and tear on his vehicle, in addition to rent, food, health care, and monthly payments on $24,000 in student loans.
Soon he'll shoulder a total of $40,000 in student debt—Crites is working on a Master's degree in curriculum, instruction and assessment from Marygrove College—while making less than $48,000 per year in his fourth year.
"I'd like to have some money to do some fun things when I can, but as an educator in this day and age – especially an early career educator – you have to either give up doing fun things and traveling, or accept the reality of living with your parents until you're 30 years old or taking on a second job and working 60-plus hours a week," he said.
Like other educators across the country, Crites can't afford to live in the community where he teaches. Last week USA Today released a first-of-its-kind analysis of data from across the country showing nationwide disparities between teacher pay and costs of living.
"New teachers can't afford the median rent almost anywhere in the U.S, the analysis shows — a point often made during recent teacher strikes across the country," the newspaper noted.
Nationwide teacher pay has decreased 4.5 percent over the past decade, and Michigan has been among the "leaders" in this trend, according to the annual NEA report on school statistics released this spring.
Average teacher salaries in Michigan have declined 12 percent in 10 years. Over that time educators in many communities across the state absorbed multiple years of wage and step freezes while state lawmakers also shifted a growing share of health care and retirement costs to them.
In addition, starting teacher salaries in Michigan rank 32nd in the nation, which may explain why one in five new teachers leave the profession in the first five years—an all-time high—MEA President Paula Herbart said in a Sunday op-ed in Crain's Detroit Business.
Many young teachers are simply unable to pay off student loans and support themselves on such low salaries," Herbart said. "Districts across the state are reporting difficulties filling positions. The loss of so many bright, young teachers is yet another symptom of the lack of funding our schools are suffering under."
Michigan educators will join the #RedForEd movement sweeping across the nation with rallies at the Capitol on June 18 and 25.
Crites agrees that declining educator pay over the past decade has contributed to teacher shortages in Michigan and elsewhere across the U.S. "I'm afraid that without competitive teacher pay, the quality of education will continue to suffer," Crites said.
He enjoys his job teaching beginning through Advanced Placement German language classes. He appreciates his colleagues, administrators, students, and parents. He loves exposing teenagers to new places, people, ideas, and cultures through the lens of language.
"I like everything about teaching, but the pay is the one complaint I have," he said, "and sadly the pay plays a fairly big role in how my life plays out. I don't think I could ever live in Rochester, where I work, and realistically pay the bills and save up enough money to one day buy a home of my own."
Crites lives in a rented house with three friends from high school – an engineer, an accountant, and a marketing professional. "I know in the next three to five years, we all will be ready to get married or start a family or purchase homes. As the public school teacher in the group, I also know I'll be the last to meet that next step in life."
Friends, family members, and colleagues tried to warn him away from teaching when he declared his major as a college freshman. Other professions offer greater financial security, they said.
"Entering the profession, I knew that was the reality, but I'm frustrated that it is the reality," he said. "It shouldn't require financial martyrdom to do a job that is very important, a job that ensures the success of our future."
Does he regret his choice?
He loves being part of the cultural, collaborative, human experience of educating young people. It's all he wants to do, he says, but he knows he faces a less secure financial future than his roommates who chose other professions.
"I don't regret becoming a teacher, but I do have those hesitant moments and fantasies of changing careers when I reflect on my finances, because certainly my well-being does not depend solely on love."
Join our fight to win the funding our students deserve. RSVP today to participate in #RedForEd rallies at the Michigan Capitol June 18 and 25.