Troy educator turns worry into gun safety advocacy
By Brenda Ortega
Michigan Education Association
MEA Voice Editor
MEA member Justine Galbraith has been teaching for 18 years, including six as a middle school English teacher in Troy. Growing up in school, her generation never knew the term "school shooting," and she laments how young people now live in its terrifying shadow.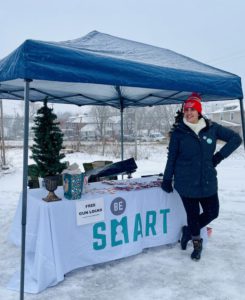 So she does what she can to make change.
Since 2016 Galbraith has volunteered with the Michigan chapter of Moms Demand Action for Gun Sense in America. In 2019 she was appointed by Gov. Gretchen Whitmer to the state's School Safety Commission, and most recently she joined MEA's new Protect Our Schools Action Team.
She volunteers on political campaigns to help elect candidates who support commonsense gun safety measures, and much of her year-round work has focused on a firearm safety program offered through Everytown for Gun Safety, the parent organization of Moms Demand.
Called Be Smart for Kids, the safety campaign provides information about secure firearm storage and free gun locks at community events. Since the Oxford school shooting, the goal also has included getting school boards across the state to adopt a Secure Storage Resolution.
The resolution commits the school district to sending home information about what safe gun storage looks like, which Galbraith points out: "That doesn't mean sticking your firearm in a drawer or a higher shelf. It means locking up your firearm unloaded and separate from ammunition every time."
Making schools a conduit for safety information, giving families the resources to know where to buy gun safes or locks or how to get them free or at a discount, can save lives, she says. In the past year, nine school districts in Oakland County and 13 statewide have adopted the resolution.
As in the Oxford case, "When school shootings happen, more than half the time it's a student who brings the firearm to school, and in 80% of those cases they get the firearm at home."
Since Oxford, the Moms Demand group has tripled its membership, she notes. "It came really close to home, and parents are scared."
One of those new members is her good friend and teaching partner, Audrey Wright, whose children attend Oxford Community Schools and whose daughter was in the building at the time of the shooting last year. Read about Wright and others who have turned tragedy into activism.
"It's bittersweet," she says of the exponential growth in gun safety activism in Michigan. "We are always happy to have more people join our efforts, but you know why they're here – because these are people who are maybe physically wounded but definitely emotionally wounded. It's a painful win."