MEA expands to support aspiring educators in high school
MEA member Kate Singer's journey to becoming a first-grade teacher in the Pontiac School District began not in college but during high school in Lake Orion, where she completed a program that introduces students to a career in education through hands-on experiences.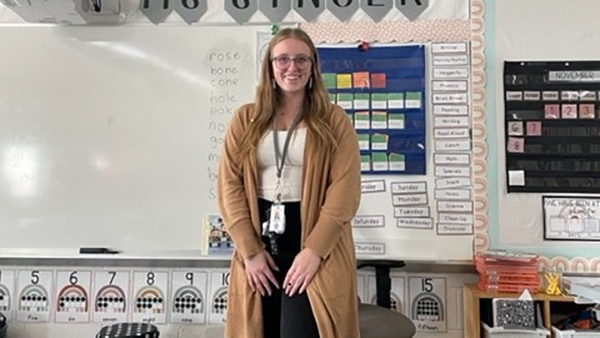 Currently teaching her first year at Rogers Elementary School, Singer says thanks to her high school's Career and Technical Education (CTE) offerings, including the local Educators Rising chapter, she got to see classrooms in action early on.
"This helped me enter my university knowing that teaching was for me," said Singer, who went on to earn her teaching degree at Central Michigan University and served as secretary-treasurer of MEA's Aspiring Educators of Michigan (AEM) while in college.
"It also helped me to build connections with my like-minded peers and educators in my community. This was something I was able to lean back on after graduation. I reached out to the educators I had worked with during my time in Educators Rising to find interview and job opportunities."
Now MEA is newly extending its work to address the educator shortage and support aspiring educators by serving as State Coordinator for Educators Rising, following the lead of NEA at the national level.
Educators Rising is a career and technical student organization (CTSO) with learning opportunities integrated into existing education and training programs. Middle and high schools can create local chapters connected to Teacher Cadet, CTE programs, or future educator clubs.
MEA will partner with educators across the state who work with middle and high school students interested in education careers. These students will join our collegiate-level Aspiring Educators of Michigan as part of our commitment to educators from aspiring through retiring.
As part of its role, MEA will plan state conferences and competitions which can lead to National Conference opportunities where members, teacher leaders, and educators from around the nation come together to showcase skills and knowledge gained in their programs.
Students in education-related CTE programs work under the guidance of a mentor teacher. The Michigan Department of Education (MDE) has supported agreements for students to receive credit with teacher prep programs in the state and also offers credentials that students can obtain.
Many high schools and intermediate school districts across Michigan are offering or starting up programs, including the Macomb County ISD, which placed high school students in elementary summer school programs in 2021 and 2022. Programs in the thumb area (Huron, Tuscola) are producing early childhood workers in their rural areas.
Rochester Community Schools offers a course called Education Careers where high school students spend part of their week with MEA member Sarah Millard in classroom instruction, glimpsing the complexities of the profession. The rest of the week students get experience working with children alongside amazing professionals in elementary classrooms.
"I am proud of Rochester Community Schools for supporting the importance of beginning teacher training before students even enter college teacher training programs" Millard said.
MEA is hoping to support member educators as they continue to grow their programs and connect them with other educators engaged in this important work.
If you or someone you know is currently teaching or planning to start a CTE or elective future educators program or club, please reach out to Annette Christiansen at achristiansen@mea.org to help MEA develop a program that supports you and your students.