Shana Barnum: 'It's heart-wrenching'
Shana Barnum is known as a prin­cipal with "one foot in the classroom" since she taught K-6 for 20 years before becoming an administrator in Mason in 2017. From that vantage point, Barnum is worried by what she sees.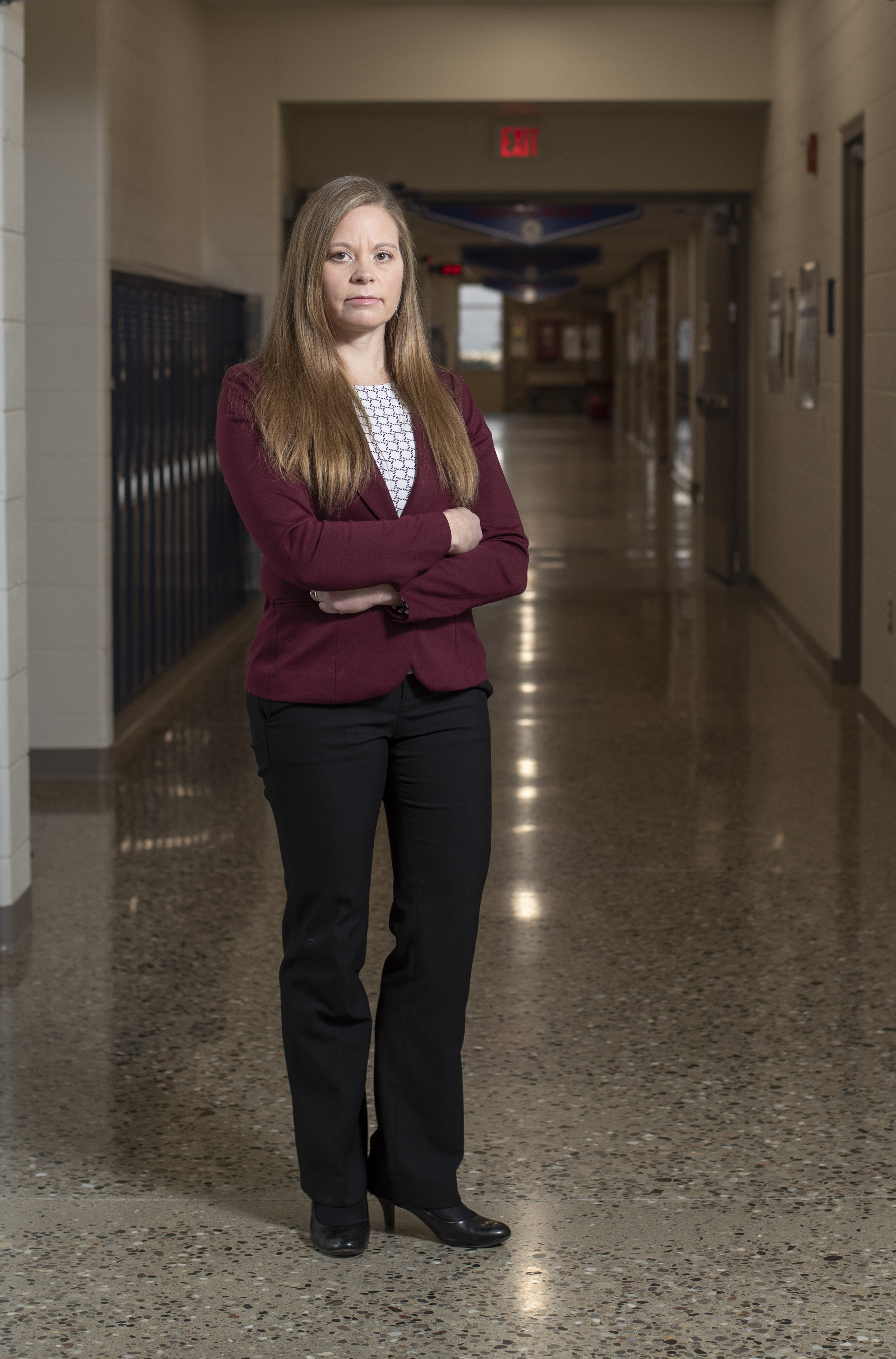 She knows her staff is overtaxed and overstressed—just like educators across the state. Two early career "rock star" teachers from her school have quit under the strain of the COVID-19 pandemic, and others have hinted they've thought about doing the same.
An educator shortage already exists and now they've been asked to do more than ever before, "but not much has been taken off the plate," Barnum said. That got her thinking. What could we do here and now to retain educators in Michigan amid a global health crisis?
A longtime MEA member and former union building rep—now MEA-Retired—Barnum came up with two teacher retention ideas and started pitching them. She got the attention of Sen. Curtis Hertel (D-Lansing), who represents the region that includes her school, Alaiedon Elementary.
Her first idea was to offer an extra year of retirement service credit to teachers who stayed through a school year in the pandemic. "If they taught one year in the 2019-20 school year, it would be counted as two years toward their retirement, and same for the 20-21 school year."
Teachers on her staff have been working extra-long hours addressing the needs of three different groups of students in the HyFlex model— in-person learners who rotate into the building in one of two cohorts, students alternating at home in cohorts, and full-time virtual learners.
The work of making and uploading video lessons, teaching live all day both in-person and online, responding to student work, and connecting with students in the building and at home who need extra attention has become all-consuming, Barnum said. "Our teachers were already stretched thin, and now they're working twice as hard."
Beyond the service credit enticement, Barnum urged lawmakers to quickly enact legislation to waive evaluations, which compound the stress: "When it comes up, you can feel the anxiety."
Teaching models vary among districts statewide, but most schools have experienced shifting back and forth from in-person to virtual learning forced by illness or absences that can't be filled due to a critical shortage of substitute teachers. Amid the instability, she said, it's not appropriate to evaluate teachers using a tool and metrics designed to assess in-person instruction.
Hertel said he was intrigued by Barnum's retirement credit idea and was already working with Democratic lawmakers on bills related to evaluations. All options were being considered.
Barnum intends to keep pushing for something to be done soon to stem educator losses, or the real loser will be the state of Michigan, she said. "It's heart wrenching to see amazing teachers leave in their prime who are so loving and passionate about their craft."
For someone who knew she would become a teacher since she was 10 years old, moments like this explain why she became a principal, she added. "I had a calling to support educators because I knew this is how I could have a greater impact on even more students and families."
Read about one of Barnum's teachers who left.
Read more stories from the series, "What it's Like: COVID Vignettes":
Karen Moore: secretary with a purpose
Karen Christian: COVID ICU survivor
Jacob Oaster: leader, teacher, innovator
Amy Quiñones: Charting New Waters
COVID-19 Q&A with Paula Herbart
Union Presidents Lead through Unprecendented Crisis
Jill Wheeler: On Books, Kids, and ESP
Gary Mishica: His Work is Hobby, Joy, Passion
Demetrius Wilson: 'We've made it work'
Claudia Rodgers: Committed to her Work
Danya Stump: Building Preschool Potential
Rachel Neiwiada: Honored on National TV
Tavia Redmond: 'Let me tell you about tired'
Gillian Lafrate: Student Teaching With a Twist (or two)
Jaycob Yang: Finding a Way in the First Year
Julie Ingison: Bus Driver Weaves Love into Job
Chris DeFraia: Sharing a Rich Resource
Eric Hudson: Playing a Part to Beat the Virus