Gary Mishica: His Work is Hobby, Joy, Passion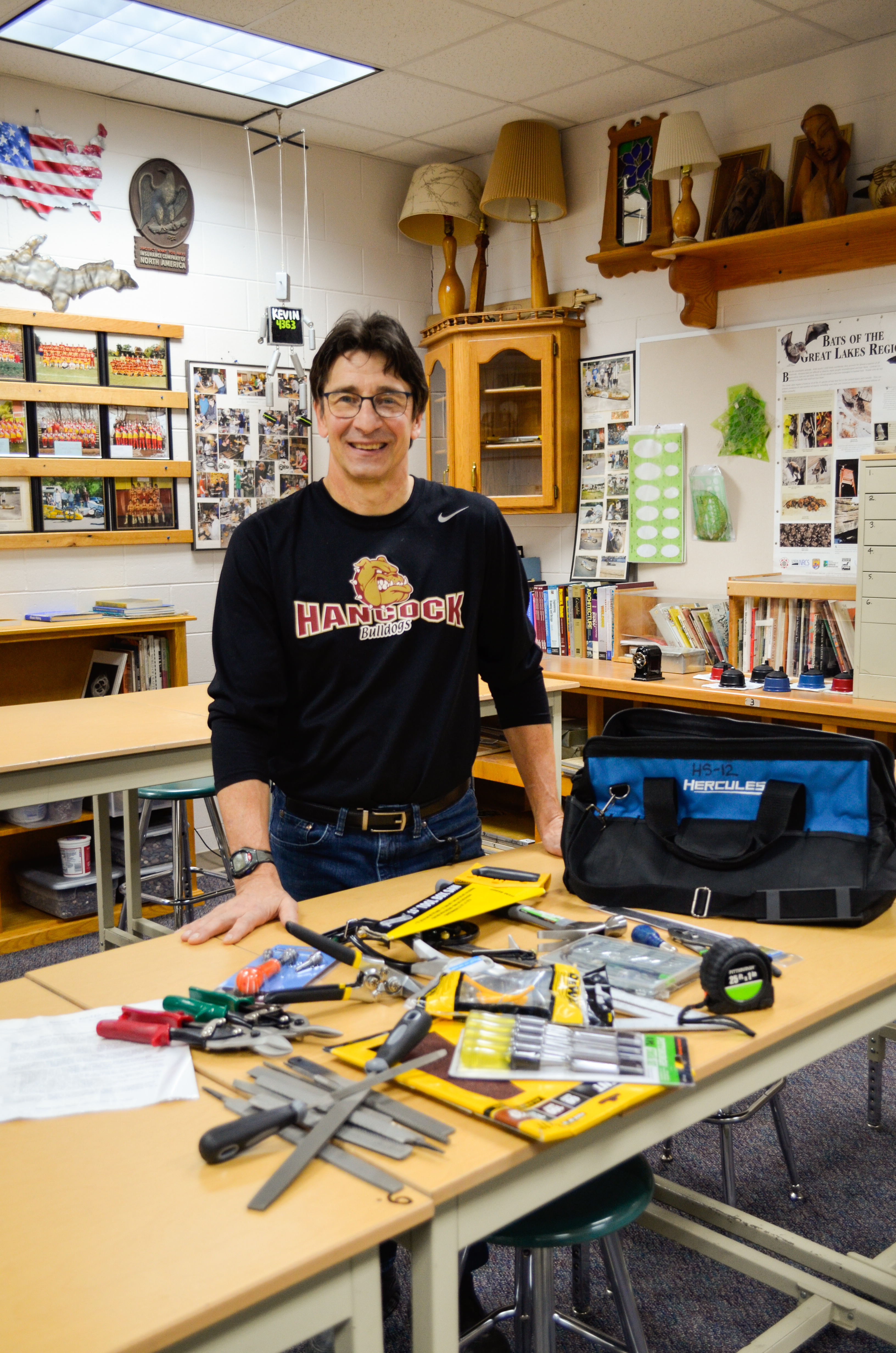 When he was a high school sophomore, MEA member Gary Mishica already had a collection of old cars and buggies to work on, so his parents shouldn't have been surprised to find another vehicle when they returned to their Copper Country home from a (rare) vacation.
They "flipped out" to see an orange 1942 Ford ambulance in the front yard, 27 feet long and 7 feet high, bought by their son for $100. "They said, 'You have one week to get rid of that,'" Mishica said. "Then it was a month, and before you knew it I had it there for five or six years."
From a young age, learning from his industrial arts-teacher father, Mishica found what he calls his hobby, his joy, his passion and his job—following in the footsteps of his paternal grandparents, mother, father, great aunt and assorted other relatives who served as educators.
"I've been at this all my life, and I've never wanted to do anything else," he said. "When you're surrounded by people that are dedicated to a profession, with this amazing passion, you're drawn to it."
Over a 39-year career, Mishica has used copper art sales, grants, and donations to assist in the development of a $2 million Industrial Education facility at Hancock Public Schools in the northwest Upper Peninsula. Students learn 16 trades in his program. They start in seventh grade and can stay enrolled for all four years of high school.
"I wish everyone could see what we do, because a lot of people made this learning environment possible, and it is pretty spectacular."
This year he added $35,000 in prize money to his budget for new equipment as one of two Michigan finalists in the $1 million Harbor Freight Tools for Schools competition.
He also was chosen by Harbor Freight to receive additional help during the pandemic. The company donated 100 toolboxes, each with $50 worth of tools, for students to take home and complete projects when COVID-19 forced building closures.
Using part of a $10,000 donation from a local contractor's will, Mishica sent home his high school students with the necessary tools and materials to construct sheet metal storage boxes and the wood to build a bird feeder.
In normal times he runs an optional Wednesday evening open shop, with help from three retired professionals he recruited as co-teachers, where students work on assigned or personal projects—much like his old car-collecting self. When required, he has shut down those sessions this year.
With just a few years of teaching left before retirement, Mishica prefers when his school can stay open and practice masking, distancing, and hand washing against virus transmission—using sanitizing stations that his students built for the district's schools.
His students' community service work abounds in the building and town—from a 42-inch aluminum bulldog adorning the high school entrance, to the pergola at the medical facility, and the benches now being built for installation at Veterans Park on Main Street.
"We're doing what we need to do to be safe," he said. "But in my eighth-grade industrial arts class, for the last two weeks, I've had perfect attendance. That's the dedication my students and parents have, and it's why I say I've been very fortunate to have a job that is everything to me."
Read more stories from the series, "What it's Like: COVID Vignettes":
Karen Moore: secretary with a purpose
Karen Christian: COVID ICU survivor
Jacob Oaster: leader, teacher, innovator
Amy Quiñones: Charting New Waters
COVID-19 Q&A with Paula Herbart
Union Presidents Lead through Unprecendented Crisis
Jill Wheeler: On Books, Kids, and ESP
Demetrius Wilson: 'We've made it work'
Shana Barnum: 'It's heart-wrenching'
Claudia Rodgers: Committed to her Work
Danya Stump: Building Preschool Potential
Rachel Neiwiada: Honored on National TV
Tavia Redmond: 'Let me tell you about tired'
Gillian Lafrate: Student Teaching With a Twist (or two)
Jaycob Yang: Finding a Way in the First Year
Julie Ingison: Bus Driver Weaves Love into Job
Chris DeFraia: Sharing a Rich Resource
Eric Hudson: Playing a Part to Beat the Virus
Sally Purchase: 'Art is a little bit like a relief'