A Year for the History Books
Among the first educators in Michigan to receive a COVID-19 vaccination on Jan. 11, MEA member Mark Carlson thought back on the past and society's liberation from smallpox and polio, terrors vanquished by vaccines long ago in the U.S.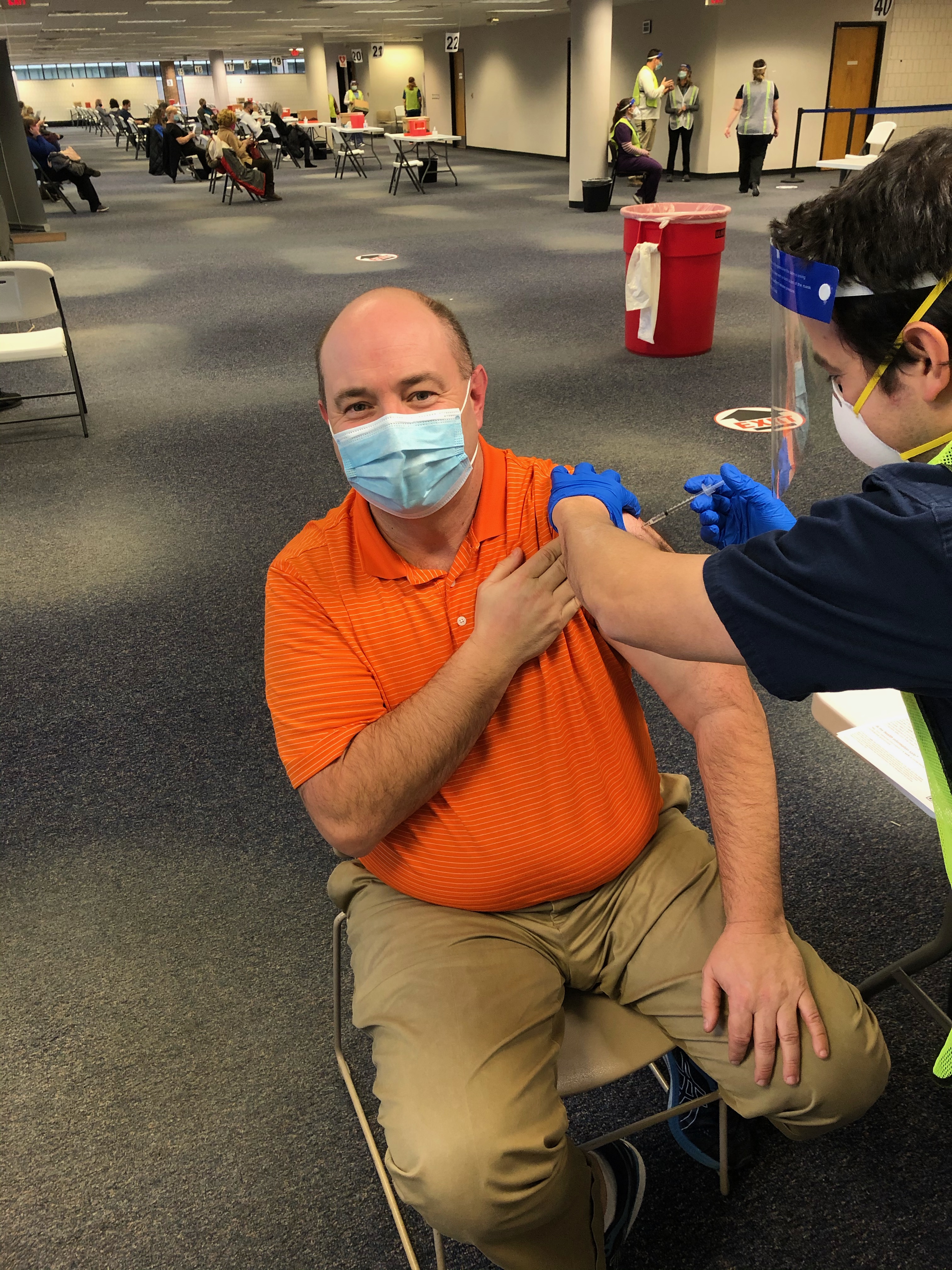 The Armada math teacher also dared to look forward for hope. The mix of feelings was surreal, he said: "After what we have been dealing with for the past 10 months, it means there is a chance of returning to some semblance of normal in the not-too-distant future."
In January, many educators lined up to get vaccinated—and many more worked to get in line with local health departments—following a pause of in-person instruction in December ordered by the Michigan Department of Health and Human Services (MDHHS).
Multiple MDHHS measures to reduce transmission lowered Michigan's case numbers from holi­day peaks, but an ineffective federal rollout slowed vaccinations in states. Meanwhile, Gov. Gretchen Whitmer encouraged all school districts to start planning to offer some form of in-person learning by March 1.
In addition to masking, the updated state guidance for schools recommended assigning children to cohorts to limit interactions, improving air ventilation systems, and keeping children six feet apart through creative use of building space, among other suggested safety procedures.
A COVID relief package approved by Congress in late December included $82 billion for education, which means the median Michigan district should receive an additional $650 per pupil to continue address­ing the COVID crisis, according to MEA Economist Tanner Delpier. Gov. Whitmer requested another $300 million in state funding be appropriated for schools, on top of the $1.6 billion that is Michigan's portion of the federal relief bill.
The new year began with a split screen of history—the hope of vaccines amid a global pandemic on one side and the ignominy of a violent insurrection against Congress on the other. The Jan. 6 siege of the U.S. Capitol attempting to overthrow the free and fair election of Joe Biden and Kamala Harris led to the second impeachment of President Donald Trump.
Based on Trump's repeated lies about the election, the mob attack echoed the horrific right-wing plot to kidnap and murder Whitmer by a dozen extremists, uncovered by the FBI in October.
For MEA member Blake Mazurek, the attack on Congress had a personal dimension. The Grandville history teacher served as one of 16 Michigan electors, and his signature was on ballots to certify the election inside a box in the Senate chamber.
Despite his own fears and uncer­tainties, like educators across the country, the next day Mazurek shoul­dered the solemn duty of guiding his students through troubled waters.
"What stood out for me was their incredible passion," he said of his students in a moving op-ed about the experience in Bridge Michigan. "These 13-year-olds listened, chal­lenged and worked through some tough issues. My heart grew because I saw what was possible. As we closed our discussion, I shared my gratitude for them, I learned from them. They restored my hope."
Read more stories from the series, "What it's Like: COVID Vignettes":
Karen Moore: secretary with a purpose
Karen Christian: COVID ICU survivor
Jacob Oaster: leader, teacher, innovator
Amy Quiñones: Charting New Waters
COVID-19 Q&A with Paula Herbart
Union Presidents Lead through Unprecendented Crisis
Jill Wheeler: On Books, Kids, and ESP
Gary Mishica: His Work is Hobby, Joy, Passion
Demetrius Wilson: 'We've made it work'
Shana Barnum: 'It's heart-wrenching'
Claudia Rodgers: Committed to her Work
Danya Stump: Building Preschool Potential
Rachel Neiwiada: Honored on National TV
Tavia Redmond: 'Let me tell you about tired'
Gillian Lafrate: Student Teaching With a Twist (or two)
Jaycob Yang: Finding a Way in the First Year
Julie Ingison: Bus Driver Weaves Love into Job
Chris DeFraia: Sharing a Rich Resource
Eric Hudson: Playing a Part to Beat the Virus