In the wake of MSU shooting, loss, grief, anger and activism
By Brenda Ortega
MEA Voice Editor
Like many other MEA members who are alumni of Michigan State University, Marissa Teslak returned to her beloved alma mater less than a week after the devastating mass shooting that killed three students and critically wounded five others.
A behavioral consultant in Warren Consolidated Schools, Teslak and her 11-year-old daughter Josephine participated in "Spartan Sunday" — a student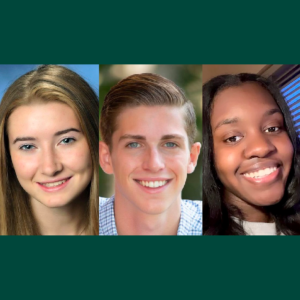 -organized grassroots effort to welcome people back to the reopened campus six days after the Feb. 13 tragedy.
The pair had hand-written 200 cards to give out, said Teslak, who wrote messages such as "Welcome home, Spartan," and signed hers with "Love, Marissa, College of Ed 2004." Her daughter chose to share inspiring quotes she found online.
"On one of them she wrote, 'You got this. You can do it. The world needs who you were made to be,'" Teslak said of her sixth-grade daughter. "At first she was nervous to talk to the students, but the more she did, the more comfortable she became walking up, passing out notes, giving hugs, being a part of them.
"She knew why we were there, because we talked about it beforehand," Teslak added. "She told me, 'They're probably scared to come back, Mom. I'm glad we're here. We'll make it better for them.'"
Teslak noted a palpable heaviness in the air as she and her daughter parked at the Breslin Center and walked to the Spartan Statue at the center of the event. Later the two prayed at the MSU Union, where the killer targeted victims after first firing at students in a classroom at Berkey Hall.
It's hard to find words to describe Spartan Sunday, Teslak said, but slowly the tension softened as hundreds quietly connected in both intense grief and love for MSU.
She and her daughter walked the campus at Josephine's request and visited Erickson Hall, home of the College of Education, where they found uplifting chalk messages to current education students written on the sidewalk near the entrance.
Then her daughter said she wanted to attend MSU and become a teacher, and Teslak began to cry. She wrote later in a reflection, "As tough as this job is, as hard as all of it is right now, she sees her teachers as the difference makers. She sees in them the love in education and a future in changing the world."
'There's no playbook'
Spartan Sunday and its return of caring alumni to campus was profound and healing for many people who are not students but call MSU home, said Martin McDonough, president of MEA's Administrative Professional Association at MSU known as the MSU-APA.
"For the members I heard back from, it resonated," McDonough said. "There was that sense of community coming back together that quite a few of them really needed."
The crushing loss of three students, terrible injuries of five more, and life-altering trauma for everyone involved hit hard and deeply for the members of the association representing 3,000 support staff employees across many job categories at the university, he said.
"When students come to us on campus, they live with us so they become family and our connection is close," McDonough said. "The people I represent work in housing, in admissions. I've got some of my people who right now are counseling others through this crisis."
The morning after the shootings, McDonough connected with members and consulted with MEA President Paula Herbart and MEA staff to learn of help that would be available. "My first thought was how do we support those that are supporting others — those are my people," he said.
MEA staff connected McDonough with Oxford Education Association President Jim Gibbons, who led educators there following a deadly shooting at Oxford High School just 15 months earlier. "I was very thankful for that call because knowing you've got somebody you can talk to is huge.
"He told me, all of a sudden we're members of a club we don't want to be part of," McDonough said. "Talking with Jim helped us get more anchored as we reached back to our members. He let us know there's no playbook. You've just got to lead with your heart. Where does your heart tell you to go?"
Private counseling for MSU-APA members was offered at MEA headquarters just a few miles from campus. McDonough said, "Without going into details, I have some people who are in a pretty big crisis. And I can say what we did with the counseling was invaluable and changed lives. It got some people to take steps in the right direction toward the help they needed."
The next week, Herbart wrote a column in The Detroit News backing legislation to curb gun violence: "We can't keep doing this. We can't accept school shootings as a normal part of life, offer 'thoughts and prayers' and move on. We can't keep wondering if today is the day the unthinkable happens to one of our children or grandchildren."
67 mass shootings
The sudden loss of three promising young people at MSU reverberated across the state and nation, but especially in the school districts from which they had recently graduated and looked out toward bright futures. The university has granted honorary bachelor degrees to all three.
Among the first murdered in the shooting spree, Alexandria Verner graduated in 2020 from Clawson High School, where her mother is a teacher and longtime MEA member and her father serves on the school board.
"She was a tremendous student, athlete, leader and exemplified kindness every day of her life," Clawson Public Schools Superintendent Billy Shellenbarger wrote about Verner in a letter to Clawson schools families.
"Her parents, Ted and Nancy, and sister Charlotte and brother TJ are equally grieving but are certainly already feeling the uplifting support of this tremendous community," he wrote. "If you knew her, you loved her and we will forever remember the lasting impact she has had on all of us."
Grosse Pointe had two 2021 graduates killed in the attack: Brian Fraser of Grosse Pointe South and Arielle Anderson from Grosse Pointe North. Grosse Pointe Education Association co-presidents Jackie Shelson and Taryn Loughlin issued a statement regarding the deaths of the two students, saying:
"We loved these two students, just as we love each and every one of the children who walk through the doors of our schools. Our hearts go out to their families, friends and loved ones, as well as to our entire Grosse Pointe community, as we mourn this senseless tragedy. Now more than ever, we must unite and support one another as we grieve."
Just 11 days later Jo Kovach, MSU student body president, memorialized all three Spartans in moving testimony before the state Senate committee considering gun safety legislation. She described the terror of being less than 600 feet away from the shooting when it happened.
"I don't remember the last time I had a full night of sleep or a real meal," she told the committee. "I need to take care of my 39,198 students who are all hurting beyond belief right now. You truly never believe it's going to happen to you until it does. And my beautiful home on the banks of the Red Cedar River was home to the 67th mass shooting this year already."
Young people lead

In the aftermath, MSU student leaders organized several protests and a candlelight vigil. Protesters sat on the Capitol steps facing out, demanding change, or in rows on the sidewalk to simulate a lockdown drill. They were joined by activists from the Oxford and Parkland, Florida school shootings.
Speakers described fear at barricading doors and huddling in closets amid gun violence, "generational trauma" experienced by young people who began active shooter drills in kindergarten, and rage at politicians for doing nothing to save lives in the wake of so many mass casualties in so many events.
Students who endured the chaos at MSU include survivors of Oxford and Sandy Hook school shootings who took to social media to vent, such as Emma Riddle, a freshman at MSU who tweeted at 12:31 a.m. on Feb. 14, before the shooter was found and took his own life:
"14 months ago I had to evacuate from Oxford High School when a fifteen year old opened fire and killed four of my classmates and injured seven more. Tonight I am sitting under my desk at Michigan State University, once again texting everyone 'I love you'
"When will this end?"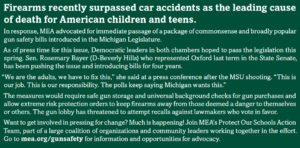 The morning after, a clearly grief-stricken Gov. Gretchen Whitmer — an MSU alum — vowed action would be taken. "We're all broken by an all-too-familiar feeling," she said. "Another place that is supposed to be about community and togetherness shattered by bullets and bloodshed."
But young people like Oxford senior Dylan Morris, who formed a non-profit with classmates aimed at mental health and gun safety, take nothing for granted. On Nov. 30, 2021, when a student gunman terrorized his community, Morris became an activist. In March he testified before a Senate committee.
"I couldn't understand how this could happen at any school, let alone mine. But here we are, still reeling from the effects of gun violence in our communities in Michigan, at MSU, in Oxford, my school, my community, my home. Is this America's idea of freedom? It's not mine."
Reina St. Juliana, co-founder of the non-profit No Future Without Today, also delivered powerful, emotional testimony. Her bright, bubbly, little sister Hana, a freshman, was gunned down at Oxford High School, and she asked: "Why wasn't Oxford enough? Why aren't the kids who are killed every day by gun violence enough?
"By the time it hits you or your loved ones, it will be too late. You will be left with the grief — your love that has nowhere to go."