Innovation: Learning to Work Toward a Vision
MEA member Carrie Warning says she's like a mother with her first- and second-year engineering and design students. She teaches and hand-holds the juniors but lets go with the returning seniors and takes a more hands-off approach.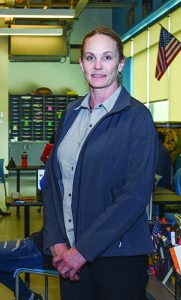 In fact, Warning employs a tough-love tactic with the older students at Genesee Career Institute in Flint, which draws students from high schools all over the county. She throws a lot of work at them in the beginning of the year, and "I let them fail a little bit."
Once students get frustrated, she helps them make plans and timelines. "It won't be easy when they leave, especially if they go into engineering, so I try to play the middle ground between high school and college. I give them a taste of the stress and then work with them to see the light."
Her strategy pays off. Between 80-90 percent of her seniors choose a career related to the class. "Most of them will go into a STEM career or something in manufacturing, and knowing I've helped build that interest is rewarding—stressful but rewarding," she said.
Warning's goal in her engineering and computer-aided design (CAD) classes is to raise students' awareness of the many and varied career possibilities in not only engineering but skilled trades. A big gap exists between industry jobs and the number of workers to fill them.
"Engineering is hard to get into through all of the schooling, but I want kids to know if you don't go with engineering, there are lots of choices available," she said. "There's skilled trades, technology positions, engineering technology. Tons of choices."
To build student confidence and interest, Warning runs an inquiry-based classroom centered around projects, an approach she calls a "pseudo-flipped" classroom.
Juniors in her first-year class move through required state standards within a designated time frame, given resources to learn material, pass quizzes, and demonstrate their learning through assigned projects.
Seniors who return for a second year pursue their own learning and project goals based on career interests, in addition to developing a professional portfolio with resume and cover letter, participating in industry field visits, and acting as ambassadors of the program with visitors and elementary schoolchildren.
For her innovative approach to preparing students for careers, Warning was among the first cohort of educators selected to be part of the Michigan Department of Education's Innovative Educator Corps.
The designation includes a $5,000 grant for program improvements and a $5,000 stipend to help spread her ideas to other educators. Both the grant and stipend are renewable for up to two additional years.
Warning used the money to create a new four-day, all-day summer camp for middle schoolers called "Toolin' Around," featuring hands-on activities in construction trades, electrical wiring, electronics, CAD, 3-D printing, automotive, and welding—plus a field trip and team building.
"My goal was to help spread the word about skilled trades and manufacturing jobs to younger kids before they got to the point in their high school career where they had little wiggle room in their schedules," she said.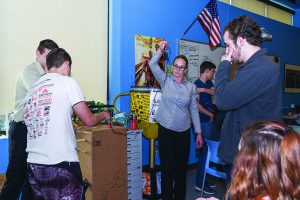 In addition, a course she developed will be offered in EduPass—the Genesee Intermediate School District's online professional development portal—to provide other educators resources to replicate her strategies.
Education is a second career for Warning. She began her professional life as an engineer who occasionally "got dragged into a training role." She found she liked teaching others and after 10 years working in industry she made the full-time switch 11 years ago.
She loves working with young people of all ability levels, from kids who are taking AP calculus to those with special needs. Some students exit the classroom directly into work in the field, while some pursue apprenticeship programs. Others attend universities such as Kettering, Michigan Tech, MSU and U-M Flint.
"Others are like, 'You know what? I'm going into business.' OK, well, that's a valuable lesson. You learned what you don't want to be, and you didn't spend any money to do it."
Incoming senior Ashlyn Bristol said she is returning for a second year to pursue her interest in mechanical and electrical engineering. "I like being hands-on," she said. "Taking things apart and putting them back together is my favorite thing to do."
Bristol already knows what she will work on with a friend during the upcoming school year: an uncompleted group project from last year. Graduate Jacob Hermann was one of the seniors in an ambitious trio that tried to design and build a pedal cart from scratch, including headlights.
Their design in the Inventor program came together, but the boys did not have enough time to 3-D print all of the parts and fully assemble the vehicle. "We learned a lot about time management and team work, but we also learned not to exaggerate what we could accomplish in the time frame we're given," Hermann said of the group's effort.
It's not a rare occurrence for students to not finish a project in time, Warning said. Typically it's not a problem, she added.
"It's learning to have a vision and trying to work towards it. The end product doesn't have to be a project; it's really the learning that matters."