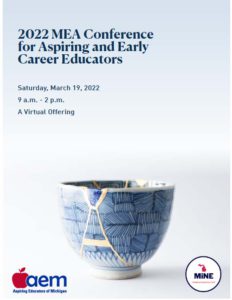 2022 MEA Conference for Aspiring and Early Career Educators
The Aspiring and Early Career Educators Conference registration is open! We appreciate your hard work and diligence during these trying times and want to support you in these efforts. We are excited to offer a conference focused on the social emotional needs of teachers and students.
REGISTER SOON: For the first 100 registered, we will be sending a small care package. This conference offers SCECH credits and will have prize giveaways at all general sessions.
Contact Annette  Christiansen at achristiansen@mea.org with questions.
Summer Networking Events
MiNE is planning a series of local networking events for August. Please follow us on Facebook or the MEA website to find a networking event to attend.