Above and Beyond: Huron Valley Teacher Wins Humanities Prize
MEA member Isaac Perry of Huron Valley Schools has won the Moveen Prize in Humanities, an annual award presented by Lynch & Sons Fund for the Arts, for his work as a community volunteer, advocate and organizer.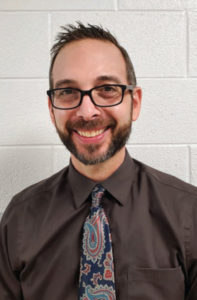 Perry, English department chair at Lakeland High School, was honored for numerous community efforts he has led, including as co-founder and chair of the Huron Valley Martin Luther King Day Committee, which has organized an annual March on Main Street in honor of the King holiday.
The Moveen Prize includes a month-long residency in the ancestral home of celebrated Michigan poet. writer and undertaker Thomas Lynch, in the townland of Moveen, in West Clare, Ireland, and a cash stipend to pay for travel and related expenses. The prize is described on the art fund's website as a gift of "transport, time, and space for the imagination."
Perry said the award came as a complete surprise, and he was rendered "rather speechless" upon hearing of it. He said he wanted to share the recognition with all of the committee members and volunteers who put together the MLK Day events.
"I am so thrilled that my dedication to honoring the legacy of Dr. King and the Civil Rights Movement in my community over the years is what led to this opportunity," Perry said. "I hope that our committee's success and recognitions like the Moveen Prize inspires others to do the same!"
The veteran educator was nominated by Lynch himself, who operates his family's longtime funeral business in Milford not far from Lakeview High School where Perry works. Lynch is the author of the National Book Award finalist The Undertaking: Life Studies from the Dismal Trade, along with other books of poetry and essays.
"This is the first time anything of this magnitude has happened to me," Perry said. "I have only traveled to Europe once in my lifetime, and that was to attend a wedding in Poland. I am very excited to visit Ireland with my son, Lincoln."
Lynch wrote of Perry that his work with the MLK Day Committee "has made it a vehicle for positive involvement in a variety of civic and cultural projects for citizens of all ages. And the MLK Day observance has become, in keeping with Dr. King's spirit, a local day of service rather than a day off of school and work.
"Over the years, Mr. Perry has implemented a Multicultural Fair, Multicultural Fashion Show, and Diversity-oriented symposium and breakout sessions to encourage community discussion on issues of tolerance and equality and collaborated with Michigan Roundtable for Diversity and Inclusion, Michigan Peace Team, Swords into Ploughshares Peace Center, La Sed, and other organizations in pursuit of community welfare."
The award also recognizes Perry's work as a founding member and board secretary of the Huron Valley Film Organization which has been responsible for restoration and preservation of the Milford Independent Cinema, and on the board of the Village Fine Arts Association in Milford.
The Moveen Prizes are awarded in different categories in hopes of supporting and facilitating work of lasting merit. There is no application process. Lynch & Sons Fund for the Arts is a non-profit arts foundation founded in 2016 that awards annual prizes in Poetry and Humanities.
In addition to chairing the English department at the high school, Perry teaches AP-level English and Computer Science at the high school.