Labor Voices: Oxford tragedy compounds breaking point for educators, students
For students and educators alike, we're at a breaking point.
That was already clear from conversations I've had across Michigan these past few months. Now, add last Tuesday's tragic shooting at Oakland County's Oxford High School and its immense weight to that already heavy load.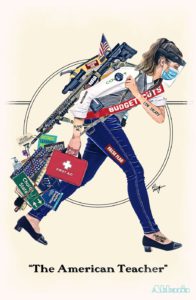 In Oxford, we lost four young people to senseless violence. Several others were severely injured — and hundreds more students and educators will cope with the fallout from last week's horrifying events for the rest of their lives.
In the days following, dozens of schools and districts shut down because of "copycat" threats that law enforcement rightly took seriously to keep students and school employees safe.
The feelings of fear and a shattered sense of safety are raw.
So too is the feeling of desperation.
Over the past week, I've repeatedly seen an illustration shared online of "The American Teacher" — bearing the weight of violence, COVID, distance learning, budget cuts, economic uncertainty, evaluation and testing, to name but a few. Those same weights are felt by our students as well.
A picture is worth a thousand words — and that one sums up how this latest trauma compounds so many others. 
Schools are grappling with the pandemic's toll on students' learning, behavior, social-emotional connections and mental health.
They're juggling ever-changing pandemic health trends mixed with crippling educator shortages that yield bigger class sizes and less preparation time.
Students are judged by standardized test scores that do little more than identify poverty, while their teachers' job performance is winnowed down by a bureaucratic, punitive evaluation system.
Now, add in the crushing awareness of another school shooting that could have happened anywhere and claimed lives of those we love. It's another episode in a growing mountain of school violence that will likely spur short-term outrage — and long-term inaction.
Students and the educators who serve them cannot take any more.
Three years ago, on the heels of the Parkland school shooting in Florida, I wrote in this column, "If you're still reading this and you aren't furious, I'm not quite sure what else to say."
Today we still long for a world where innocent lives aren't lost in our schools.
We must ensure our schools have the mental health supports necessary to help prevent tragedies from happening, and we must enact common-sense gun reform so weapons aren't readily available, especially to those in distress.
We must dismiss the fallacy already being promoted by some that more guns in schools will make anyone safer. To think an educator could or should fire on a student amid the chaos of violence is utter nonsense and lays waste to the nurturing role of teachers and classrooms.
We must stand united to address all these issues weighing on students and educators. There are recent beacons of hope: a safe and effective vaccine for children and adults, massive federal student loan forgiveness for educators, historic investment in Michigan's public schools.
Much work remains to get students the needed academic, social and emotional intervention, to address the educator shortage and to value the true worth of students and educators beyond a test score or evaluation rating.
And, while the pain and bloodshed at Oxford High School is fresh in our hearts and minds, let's start by sustaining our collective will to take real steps toward greater school safety — and to band together to support the Oxford community in this unimaginable time.
https://www.detroitnews.com/story/opinion/columnists/labor-voices/2021/12/08/labor-voices-after-oxford-shooting-educators-breaking-point/6416764001/