School Psychologist Shows How it Could Be


As with other roles in education these days, school psychologists in Michigan are in short supply. MEA member Joe Sbar—the current Michigan School Psychologist of the Year—says not enough college students are entering the profession to replace those retiring.
"We have an exposure problem," Sbar said. "It's a great job, but people don't know what we do."
A 10-year veteran, Sbar is a jack of all trades in his position at the Eastern Upper Peninsula Intermediate School District in Sault Ste. Marie, which serves 19 school districts in three counties spread over 4,000 square miles—including four islands.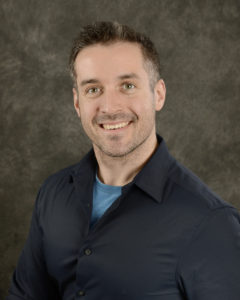 Thanks to a supportive boss and his own efforts to fully staff a department by recruiting college students into the profession, Sbar is able to take a proactive—rather than reactive—approach to helping K-12 students across the largest geographic service area of any ISD in the state.
His experience is not typical, he said. But it could be.
"Because our administration understands the value of involving us with projects, I have time carved out to do things preventatively," Sbar said. "In places that are poorly staffed or don't have administrators with the same sort of vision, the school psychologist can be in a position of putting out fires."
In the last several years, demands on school psychologists have expanded from supporting children with academic learning problems to also addressing emotional needs of students exhibiting extreme behaviors or suicidal thinking. "My job looks a lot different than it did five or six years ago," he said.
In Sbar's view, the growing responsibilities and pressures call for an even lower student-to-psychologist ratio than the 500-to-1 recommended by the National Association of School Psychologists. Michigan's ratio stands at 1,500-to-1.
Working in a college town, home to Lake Superior State University, Sbar has made it his mission to visit regularly with psychology students there, at Grand Valley State University, and at his alma mater—Michigan State University—encouraging them to pursue the dynamic profession.
He also supervises graduate-level interns, three this year. Because of his advocacy, the ISD where he works will be well-staffed with five psychologists next year—which is atypical for the UP. "We have a system to keep people coming in here, and we've become a hot-spot for recruiting interns," he said.
In addition to overseeing special education assessments, he supports athletes with concussions; conducts threat assessments of students at-risk of harming themselves or others; and coordinates the region's crisis response, which deploys teams of mental health professionals after a tragedy.
He also develops Multi-Tiered Systems of Support (MTSS) to ensure all students have the appropriate level of support to meet their social, emotional, behavioral and academic needs. "With enough school psychologists in place, they can be involved in many ways to support children holistically."
He worries about educators stretched beyond their limits to address growing student needs while simultaneously being asked to speed up academic recovery. He hopes teachers remember how important they are simply as a predictable loving presence in students' lives.
"Even if they can't get to all of the rigorous content they're expected to have students master, what matters is they are an adult figure who cares. Teachers right now—whether they realize it or not—are making an immeasurable difference that students will remember for the rest of their lives."
Read more about mental health needs and solutions from the experts on the ground:
Meeting the Mental Health Challenge
School Counselors Confront Crisis
School Social Worker: 'I am an educator' 
School Nurse: 'We treat the whole child'