School Social Worker: 'I am an educator'


For MEA member Andrew Stewart, half of his four-year career as a school social worker has been altered by COVID. He's seen a lot of change and upheaval, and he's learned some crucial lessons alongside his colleagues at Lincoln Park Public Schools.
The number-one takeaway Stewart has applied this year following last year's remote and hybrid learning is how important it is to engage parents, he said. Early in the pandemic, everyone was learning as they went and working with parents to ensure students had technology and resources they needed.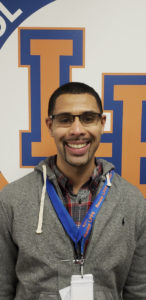 "Now parents are more open to coming to the school and asking for help if they need it to get food or clothing or counseling for their child," Stewart said, "so this year it's been easier for me to be bold and reach out to parents and say, 'What does your child need? How can I help you? Let's chat about how your child is doing and what we can do together.'"
Social workers address students' well-being along with their academic performance. The recommended ratio of school social workers-to-students is 1-to-250. In Michigan, it's 1:1,051.
As in schools everywhere, students at Raupp Elementary School where Stewart works have exhibited more behavioral issues more broadly across the population since the start of the pandemic. He said children are mirroring anxiety and grief from adults in their lives stressed by COVID and its effects.
After 18 months of uncertainty and diminished social interactions, children in many settings are more aggressive, less patient, more likely to push, yell, and fight. They have fewer strategies for solving disagreements or conflicts, Stewart said.
Younger students who haven't attended preschool or spent time in a classroom with 20 other students for a long while don't know how to share an adult's attention or wait for the teacher to respond. Older students are struggling with social interactions and making friends.
"Kids are aware that this is a different time they're living in," he said. "We've got a lot of parents that are anxious about health and safety, and we have kids who definitely are feeling tense and on edge as well."
In Lincoln Park, unlike most other districts, a school social worker is assigned to every building, so Stewart is able to do the kind of work that drew him to the profession. He gets to know children and families, delivers trauma-informed curriculum, and works with teachers and paraeducators to determine interventions when students are struggling.
"I'm privileged here in that I can focus on the kids at my school, and that makes me an educator," he said. "I can actually have groups and sit with kids and teach them about trauma, teach them about resilience, teach them about mental health."
Stewart fell in love with teaching kids as an AmeriCorps member working at an after-school enrichment program in his native Kentucky, which brought him to the Master of Social Work program at University of Michigan. He received additional training and certification to work in schools.
He hired into Lincoln Park just one year after the district launched its uniquely comprehensive Resilient Schools Project, which brought trauma-informed and restorative practices to every classroom with a team of occupational therapists and social workers supporting classroom teachers.
Now every child is dealing with difficulties, he said. "It's a hard time, so having access to a comprehensive program is good. What works for one student might not work for another, and we have a lot of ways to meet kids' needs."
Read more about mental health needs and solutions from the experts on the ground:
Meeting the Mental Health Challenge
School Counselors Confront Crisis
School Nurse: 'We treat the whole child'