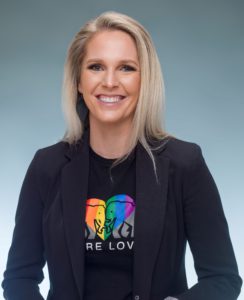 To advance learning, the blueprint calls for schools to build in time for teacher collaboration and for educators to cultivate high-trust classroom environments. Instruction should focus on priority standards with tiered supports for students through tutoring, small-group interventions, and enrichment activities.
Students' needs will vary widely, said MEA member Shantel VanderGalien, a national board-certified eighth- and ninth-grade English teacher in Kent County's Wyoming Public Schools and last year's Region 3 Teacher of the Year.
Looping teachers up a grade so they keep the same students for two years—even beyond the elementary level—is a proven strategy for targeting interventions, said VanderGalien, who contributed to the blueprint. "You can go into the school year already knowing your students and exactly what they need. I know it's harder at the secondary level, but why are we not intentionally looping—especially with math?"
Double-dose classes with the same teacher offer extra time daily in challenging required subjects like algebra. And high-dosage tutoring of three or more days per week can pay dividends, as can a whole-building focus on global needs such as students' numbers sense or literacy skills, she added.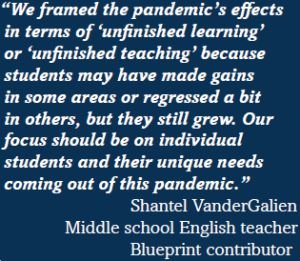 For example, VanderGalien this year is adding a read-a-thon project to her curriculum to incorporate eighth-grade math standards as well as language arts—an approach she discovered in the linked materials offered in the blueprint. "It's a few days out of my curriculum, and I get to partner with a math teacher on a research-based strategy. I'm willing to make those changes to help my students."

Related stories:
Family and Community Engagement
School Climate and Post-Secondary Opportunities