Family and Community Engagement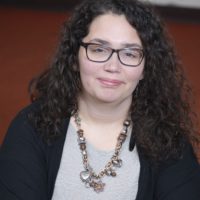 Beyond the concentration on students, schools must also be adept at family engagement, noted MEA member Angela Pérez, a Muskegon elementary ELL teacher. Pérez contributed to the blueprint and took over as chairwoman of the more broadly focused Governor's Educator Advisory Council in June.
Some families are disconnected from school life because of mistrust or language barriers, and those are often the folks most in need of supports who are least likely to attend school events, she said.
"Even before the pandemic, we needed to do a better job of engaging our families," Pérez said. "We have to be very deliberate in how we make offerings available and how we bring people to them. We need to plant the seed for trust in the community, and then keep watering it to help it grow."
The pandemic has not been an equal opportunity force of destruction, Pérez pointed out. The digital divide is one example. In many districts it took time to get devices and mobile hot-spots to students.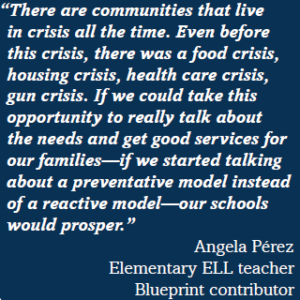 But it was up to educators like Pérez to visit front porches and demonstrate how to use the devices and hot-spots. "There I was, outside the window—in the snow many times—saying, 'OK push this button. Now put in the password. Wait, I can't see. Can you move it closer to the window?'"
The pandemic further exacerbated inequities for students who experienced added trauma, family job losses and homelessness, experts say. The state estimates that approximately 13,000 of the state's most vulnerable students disengaged from school and are missing from school enrollments.

Related stories:
School Climate and Post-Secondary Opportunities