School Climate and Post-Secondary Opportunities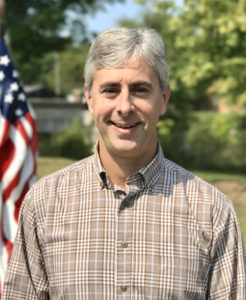 Districts should conduct an "equity audit" with broad participation from staff, students and families to develop and implement policies and practices that create a climate of inclusivity and belonging for all, the report said.
In addition, students who may not be planning to attend a four-year college need greater awareness of and access to a variety of post-secondary education opportunities, such as two-year colleges, trade schools, and career-technical programs.
"One of the guiding principles from the start was that we needed to pay attention to equity," said MEA member Greg Talberg.
The council chair was really purposeful from the start, saying that not everybody's starting in the same place, and our efforts need to focus on those places where needs are greatest."
Senior Dominic Gonzales, a student in Detroit, participated in development of the recommendations because he has seen the need firsthand. At 18, he is a manager at a McDonald's restaurant, helping to provide for his mother and siblings since the death of his father five years ago.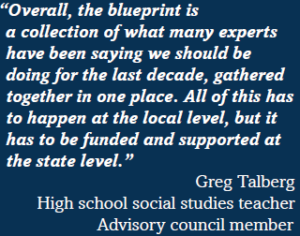 "I wanted to put in my voice and my opinions because over the last year it's become clear how important education is at all levels," he said. "But at the same time, I'm seeing the students having connectivity issues and confusion with how online school works and lack of motivation from all that's going on."
Providing culturally relevant professional development, empowering an equity and anti-racism committee to lead equity work, and establishing restorative justice practices can begin to break down barriers faced by students from marginalized communities, the report said.
The blueprint also points districts toward ways to catch and connect kids to opportunities who have been underserved even before the pandemic, Talberg said. "It's typically students of color, students from poverty, and students of parents who didn't seek out post-secondary education."

Related stories:
Family and Community Engagement