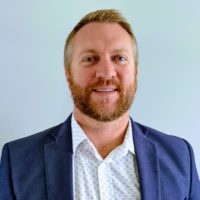 The mental and emotional health of students and educators top the list of concerns that demand immediate attention at this stage of the pandemic.
As the virus took its toll, as social distancing and masking became the norm, as schools shifted between remote and hybrid modes, young people experienced increasing rates of anxiety and depression. And nationwide problems with student mental health and suicide were considered an epidemic for several years before the crisis hit.
"Students are not going to be able to learn until all of their health issues are addressed," said MEA member Joshua Smith, a high school counselor in Jackson County's Western School District who served on the advisory council.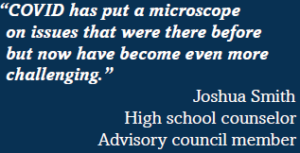 Meanwhile, Smith noted, Michigan is among the worst states in the nation in terms of its students-to-counselor ratio at 690-to-1, compared to a national average of 430 students per counselor, and the staffing level recommended by research of one counselor for every 250 students.
The document also acknowledges high levels of educator stress, depression, grief, trauma, and burnout—offering resources for staff wellness programs and policies.
"It's OK to give yourself permission to take care of yourself," Smith added. "Educators by their nature care about people, and sometimes we just want to put our head down and drive through, but at some point, we all need to see when a break is needed."

Related stories:
Family and Community Engagement
School Climate and Post-Secondary Opportunities